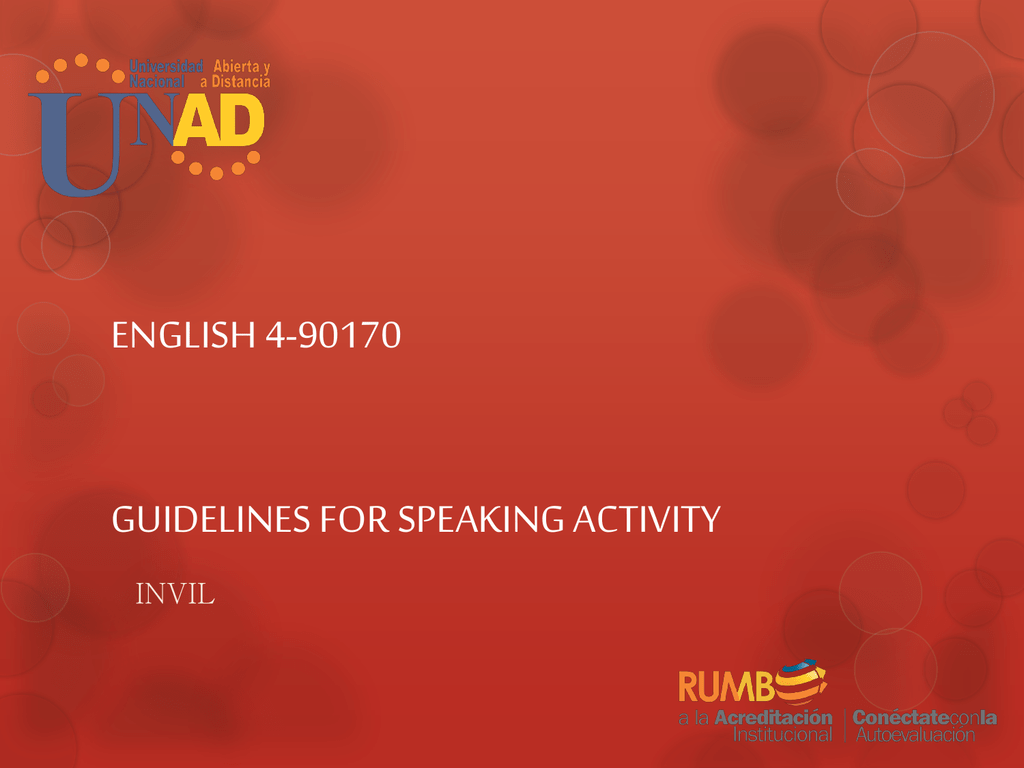 ENGLISH 4-90170
GUIDELINES FOR SPEAKING ACTIVITY
INVIL
Check the content units out and
study the syllabus of the course
Development of the activity no. 3 SPEAKING
assignment.
 Schedule
Opening: September 14th – 2014
Closing: October 14th – 2014
 Assessment weight: 100 points
1. Read carefully the activities guide HERE
You have to present only one interview and the topic will be
according to the one you choose.
Topics:
1. Talk about a hypothetical situation in the present.
2. Talk about activities you used to do when you were a child.
3. Talk about an anecdote that just happened to a friend.
For this interview you need:
- A good internet connection.
- Microphone and headphones
- An environment free from noise and
interruptions.
2. To register for this synchronous activity must enter to link
your tutor shared to you
When entering to the drive document, select a date and time according to your
preference time. Enter your name and complete information. You can select the
week in different tabs at the bottom.
By completing your information, it will be automatically stored in the drive. You can
view and register in the available time in order to connect and to introduce
yourself making use of the language English on the proposed topic according to the
date you selected.
3. The development of this
synchronous activity is done
through Skype tool. To do this,
you must send invitation to the
username your tutor shared
with you.
If you do not have an account
on Skype, please watch
the following tutorial
REMEMBER:
Enter to skype the day that you chose at least 15 minutes
earlier and sign up because you cannot present the
activity in a different schedule.
Greet and inform to the tutor that you will present the
interview for the speaking activity. Please, wait your turn
and follow the tutor´s guidelines.