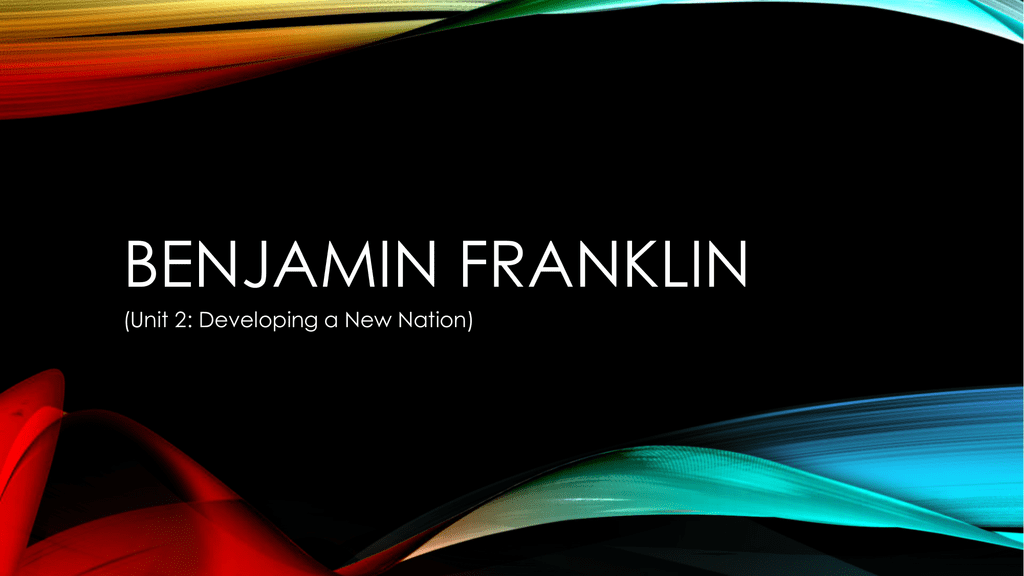 BENJAMIN FRANKLIN
(Unit 2: Developing a New Nation)
THE SCIENTIST
• Discovered Electricity
• Invented Bifocal glasses
• Improved the odometer
• Franklin stove (produced
more heat and less smoke)
• MANY OTHERS
THE WRITER
Poor Richard's Almanack- published every year 1733-1753
• weather forecasts
• practical household hints,
• puzzles
• popular for its extensive use of wordplay, and some of the
witty phrases
"God helps them who help themselves"
THE WRITER
Autobiography of Benjamin Franklin
• Published after his death
• Four Parts
1. To his son, William
2. Letters in Paris
3. Return to Philadelphia
4. His last 6 months
THE POLITICIAN
The Albany Plan of Union
• A plan to unite the colonies
• Council of representatives
• Power over the western settlements and Native American
relations
• Organize ARMIES
• COLLECT TAXES (to pay for the armies)
• The colonial assemblies REJECTED it because they wanted to
control their own taxes and armies
THE POLITICIAN
Created by Franklin in
1754 and published in
his newspaper, the
Philadelphia Gazette.
A plea for unity in
defending the colonies
during the French and
Indian War.
FREEDOM OF THE PRESS
• The right of journalist to publish the truth without restriction or
penalty
John Peter Zenger
• Publisher of the new York Weekly Journal
• Arrested for printing a series of articles that criticized the
governor
• Charged with LIBEL (the publishing of statements that
damage a person's reputation
FREEDOM OF THE PRESS
John Peter Zenger trial
• Wrote about the governor
• Everything was FACTS
• At the time, under American law,
libel meant UNTRUE statements
• A JURY FOUND HIM NOT GUILTY
Significance= press has a right and responsibility
to keep the public informed of the truth
ASSIGNMENT
• Read "How I Became a Printer" by
Benjamin Franklin on page 124-125
• Analyze Literature: Write a letter to the New
England Courant expressing your opinion about the
fairness of unfairness of being made an apprentice
at the age of 12.