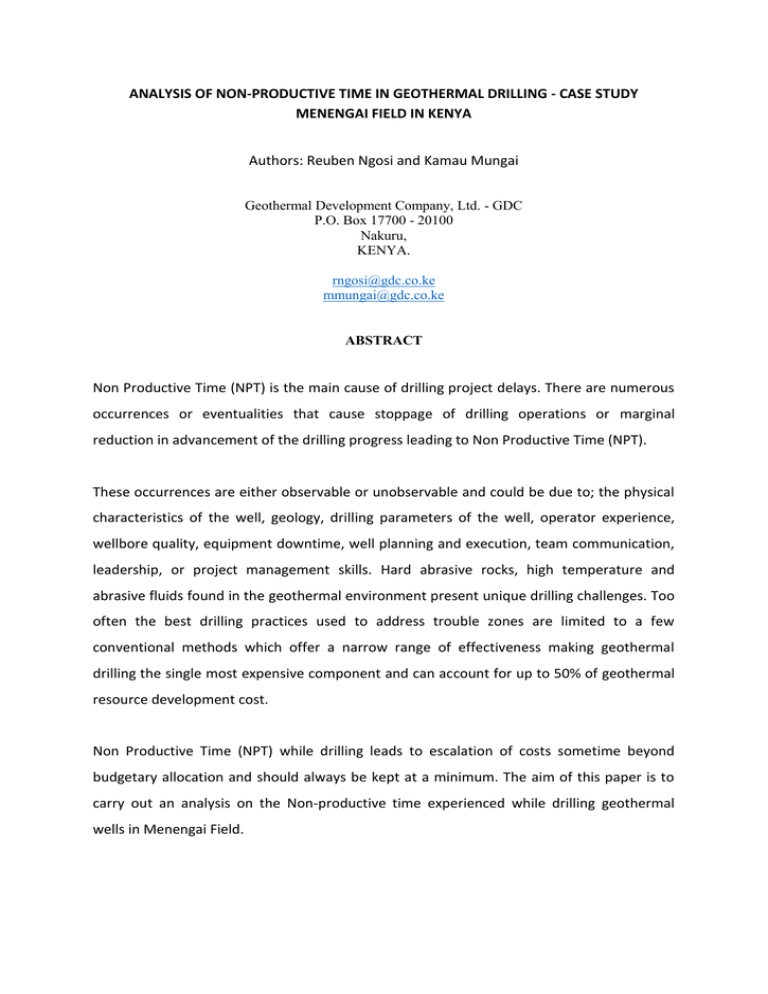 ANALYSIS OF NON-PRODUCTIVE TIME IN GEOTHERMAL DRILLING - CASE STUDY
MENENGAI FIELD IN KENYA
Authors: Reuben Ngosi and Kamau Mungai
Geothermal Development Company, Ltd. - GDC
P.O. Box 17700 - 20100
Nakuru,
KENYA.
rngosi@gdc.co.ke
mmungai@gdc.co.ke
ABSTRACT
Non Productive Time (NPT) is the main cause of drilling project delays. There are numerous
occurrences or eventualities that cause stoppage of drilling operations or marginal
reduction in advancement of the drilling progress leading to Non Productive Time (NPT).
These occurrences are either observable or unobservable and could be due to; the physical
characteristics of the well, geology, drilling parameters of the well, operator experience,
wellbore quality, equipment downtime, well planning and execution, team communication,
leadership, or project management skills. Hard abrasive rocks, high temperature and
abrasive fluids found in the geothermal environment present unique drilling challenges. Too
often the best drilling practices used to address trouble zones are limited to a few
conventional methods which offer a narrow range of effectiveness making geothermal
drilling the single most expensive component and can account for up to 50% of geothermal
resource development cost.
Non Productive Time (NPT) while drilling leads to escalation of costs sometime beyond
budgetary allocation and should always be kept at a minimum. The aim of this paper is to
carry out an analysis on the Non-productive time experienced while drilling geothermal
wells in Menengai Field.