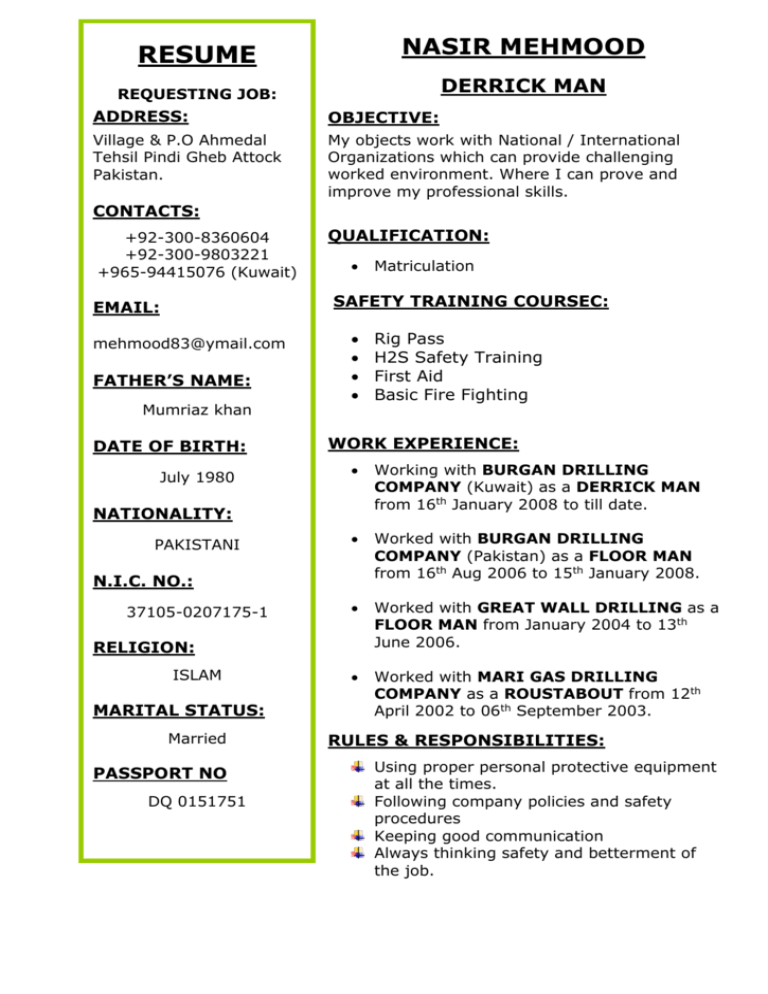 NASIR MEHMOOD
RESUME
DERRICK MAN
REQUESTING JOB:
ADDRESS:
OBJECTIVE:
Village & P.O Ahmedal
Tehsil Pindi Gheb Attock
Pakistan.
My objects work with National / International
Organizations which can provide challenging
worked environment. Where I can prove and
improve my professional skills.
CONTACTS:
+92-300-8360604
+92-300-9803221
+965-94415076 (Kuwait)
QUALIFICATION:

Matriculation
SAFETY TRAINING COURSEC:
EMAIL:
mehmood83@ymail.com
FATHER'S NAME:
Mumriaz khan
DATE OF BIRTH:
July 1980




WORK EXPERIENCE:

Working with BURGAN DRILLING
COMPANY (Kuwait) as a DERRICK MAN
from 16th January 2008 to till date.

Worked with BURGAN DRILLING
COMPANY (Pakistan) as a FLOOR MAN
from 16th Aug 2006 to 15th January 2008.

Worked with GREAT WALL DRILLING as a
FLOOR MAN from January 2004 to 13th
June 2006.

Worked with MARI GAS DRILLING
COMPANY as a ROUSTABOUT from 12th
April 2002 to 06th September 2003.
NATIONALITY:
PAKISTANI
N.I.C. NO.:
37105-0207175-1
RELIGION:
ISLAM
MARITAL STATUS:
Married
PASSPORT NO
DQ 0151751
Rig Pass
H2S Safety Training
First Aid
Basic Fire Fighting
RULES & RESPONSIBILITIES:
Using proper personal protective equipment
at all the times.
Following company policies and safety
procedures
Keeping good communication
Always thinking safety and betterment of
the job.