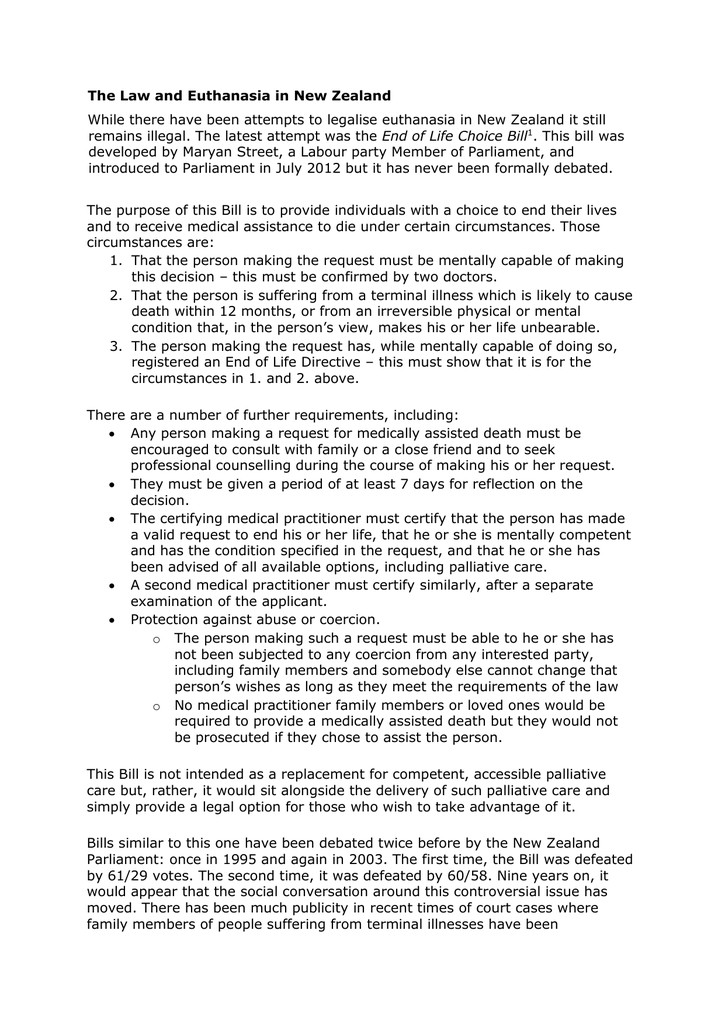 The Law and Euthanasia in New Zealand
While there have been attempts to legalise euthanasia in New Zealand it still
remains illegal. The latest attempt was the End of Life Choice Bill1. This bill was
developed by Maryan Street, a Labour party Member of Parliament, and
introduced to Parliament in July 2012 but it has never been formally debated.
The purpose of this Bill is to provide individuals with a choice to end their lives
and to receive medical assistance to die under certain circumstances. Those
circumstances are:
1. That the person making the request must be mentally capable of making
this decision – this must be confirmed by two doctors.
2. That the person is suffering from a terminal illness which is likely to cause
death within 12 months, or from an irreversible physical or mental
condition that, in the person's view, makes his or her life unbearable.
3. The person making the request has, while mentally capable of doing so,
registered an End of Life Directive – this must show that it is for the
circumstances in 1. and 2. above.
There are a number of further requirements, including:
 Any person making a request for medically assisted death must be
encouraged to consult with family or a close friend and to seek
professional counselling during the course of making his or her request.
 They must be given a period of at least 7 days for reflection on the
decision.
 The certifying medical practitioner must certify that the person has made
a valid request to end his or her life, that he or she is mentally competent
and has the condition specified in the request, and that he or she has
been advised of all available options, including palliative care.
 A second medical practitioner must certify similarly, after a separate
examination of the applicant.
 Protection against abuse or coercion.
o The person making such a request must be able to he or she has
not been subjected to any coercion from any interested party,
including family members and somebody else cannot change that
person's wishes as long as they meet the requirements of the law
o No medical practitioner family members or loved ones would be
required to provide a medically assisted death but they would not
be prosecuted if they chose to assist the person.
This Bill is not intended as a replacement for competent, accessible palliative
care but, rather, it would sit alongside the delivery of such palliative care and
simply provide a legal option for those who wish to take advantage of it.
Bills similar to this one have been debated twice before by the New Zealand
Parliament: once in 1995 and again in 2003. The first time, the Bill was defeated
by 61/29 votes. The second time, it was defeated by 60/58. Nine years on, it
would appear that the social conversation around this controversial issue has
moved. There has been much publicity in recent times of court cases where
family members of people suffering from terminal illnesses have been
prosecuted for assisting their loved one to die, at their request. The courts have
treated such cases with increasing leniency and compassion, as evidenced by an
18-month custodial sentence a few years ago softening to a 5-month home
detention sentence more recently. Police have prosecuted such cases because
they have been required to under the current law. Public reaction to such trials
has been overwhelmingly compassionate and understanding.
This Bill seeks to provide a law which prevents such convictions from occurring
when the request for medically assisted death comes from the express will of the
person suffering. It aims to promote compassion and the preservation of human
dignity. It also reinforces the notion that someone who is a vigorous, selfdetermining person throughout their life should be entitled to be selfdetermining at the end of their life, without criminal proceedings being visited on
any professionals or loved ones who might assist them.
Petition to NZ Parliament on investigating euthanasia
In June 2015 the following petition was presented to the New Zealand
Parliament: Petition of Hon Maryan Street and 8,974 others: "That the House of
Representatives investigate fully public attitudes towards the introduction of
legislation which would permit medically-assisted dying in the event of a
terminal illness or an irreversible condition which makes life unbearable."
The government has agreed to set up an inquiry and asked for the public to
make written submissions, regarding what they believed should happen. The
submissions closed on February 1, 2016 and there will be a public hearing later
in the year so people can go to parliament and make verbal submissions to a
committee, which was set up especially to discuss this matter. If, after the
hearings, the committee decides the law should change, a bill will be presented
to parliament, probably much the same as the one Maryan Street put forward in
2012.
This petition arose out of a public demand to investigate legalising euthanasia,
following the death of a young woman lawyer, Lecretia Seales, who, when she
was dying of a brain tumour, had tried to find a legal way for a doctor to end her
life, should she decide that was what she wanted. Her legal case was featured
widely in the media and she gained a great deal of support, even though she
was unsuccessful.
Adapted from: Draft for Consultation: End of Life Choice Bill. (2012). Retrieved from
http://www.parliament.nz/resource/0000197305
1
EUTHANASIA AND SURVEYS OF PUBLIC OPINION IN NEW ZEALAND
1. A survey carried out by Massey University in 2003 showed that 73% of people wanted
assisted suicide legalised if it was performed by a doctor but if done by others support
dropped to 49%. The wording for the two questions was:

"Suppose a person has a painful incurable disease. Do you think that doctors should
be allowed by law to end the patient's life if the patient requests it?"

"Still thinking of that person with a painful incurable disease. Do you think that
someone else, like a close relative, should be allowed by law to help end the
patient's life, if the patient requests it?"
2. A survey carried out on behalf of the Voluntary Euthanasia Society in 2008 showed that
71% of New Zealanders want to have it legalised. The question read:
"In some countries, though not all, if you have an illness that results in your being unable
to have an acceptable quality of life, you are legally allowed to get help from a doctor to
help you to die. If you had an illness or condition which resulted in your having a quality
of life that was totally unacceptable to you, would you like to have the legal right to
choose a medically assisted death?"
3. The 2008 survey by Massey University gave similar results.
4. In 2015 a 3 News/Reid Research poll showed 71% want the law changed with 24%
opposed.