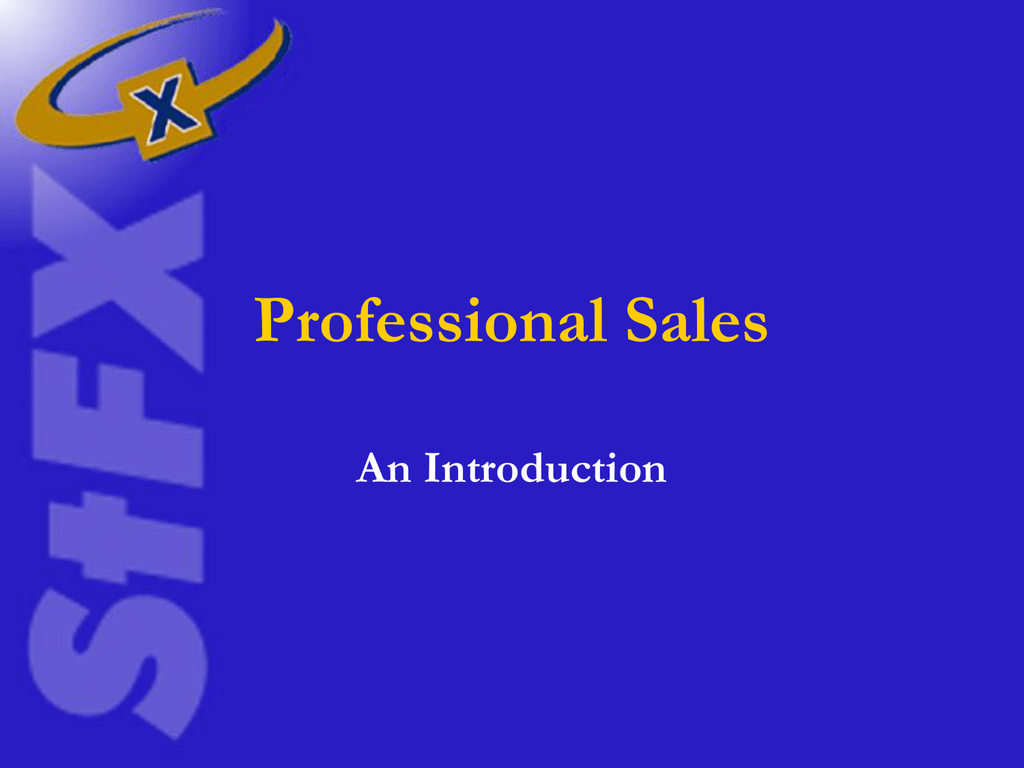 Professional Sales
An Introduction
Traditional Marketing Mix
Product
Advertising
Price
Promotion
Sales
Promotions
Direct
Marketing
Distribution
Personal /
Professional
Selling
Public
Relations
What is Professional Selling?
• Professional selling is the interpersonal
communication process in which a seller
uncovers and satisfies the needs and wants
of a prospect to the mutual, long-term
benefit of both parties
The Advantages of Personal
Selling
What are some of the advantages of personal
selling?
• Flexibility and adaptability
• Less waste than with advertising
• Helps hold on to repeat customers
• Answers customers questions
• Immediate and clear feedback provided
Limitations of Personal Selling
• Costs may be greater than advertising
expenditures. Why?
• Many customers want self-service
• Poor image in many consumer's eyes
Transaction-Focused vs.
Relationship Focused
Transaction-Focused
o Short term thinking
o Making the sale has
priority over most other
considerations
o Interaction between buyer
and seller is competitive
o Salesperson is self-interest
oriented
Relationship-Focused
o Long term thinking
o Developing the relationship
takes priority over getting
the sale
o Interaction between buyer
and seller is collaborative.
o Salesperson is customeroriented
Building Relationships
• Satisfied customers repeat their purchases
because they are satisfied with the value of
the relationship
– Taking care of existing customers reduces sales
cycle time and increases efficiency.
– What does this mean?
Word Association,…..
Provide both positive and negative
words and impressions of the term
"salesperson"
Why are there these perceptions?
What's Happening
Pepsi Case Competition
http://www.businessinsider.c
om/new-guinness-ad-breaksthe-mold-2013-9
Selling,…..
• Selling has been around since there were
goods to trade.
• The role of the salesperson has evolved . . .
becoming more professional and structured.
• Salespeople play an important role in creating and
maintaining a strong economy.
• Salespeople are solution providers (Advisors).
• Sales is a process focusing
on initiating, developing, and
enhancing customer relationships.
Effective Selling in a Highly
Competitive Selling Environment
• Salespeople must do their homework and
prepare before meeting with prospects
–
–
–
–
Study the market
Study the prospects' needs
Put the customer first
Engage in continuous learning and professional
development
Understanding the Customer
• To motivate the prospect to buy or consider
a product or service salespeople must:
– Understand how their prospect's mind works (a
customer behaviour approach)
– Be able to uncover the prospect's hidden needs
or wants
Ethical Dilemma
Alternative
Personal Selling Approaches
•
•
•
•
•
Stimulus Response Selling
Mental States Selling
Need Satisfaction Selling
Problem Solving Selling
Consultative Selling
Adaptive Selling:
the ability of a
salesperson to alter
his/her sales messages
and behaviors during
a sales presentation
or as they encounter
different sales
situations and
different customers.
Stimulus Response Selling
Simple in
design;
assumes
conditioned
response
improves
likelihood of
success; a risky
and unreliable
strategy.
Mental States Selling
Assumes
buyer
can be led
through mental
states; promotes
one-way
communication;
a risky and
unreliable
strategy.
Need Satisfaction Selling
Interact with buyer to
determine
existing needs; present
solutions to needs; solutions
limited to seller's products.
Problem Solving Selling
Interact with buyer to determine
existing and potential needs;
present multiple solutions not
limited to seller's products.
Consultative Selling
LongTerm Ally
Business
Consultant
Strategic
Orchestrator
The process of helping
customers reach their
strategic goals by using
the products,
services, and
expertise of the
selling
organization.