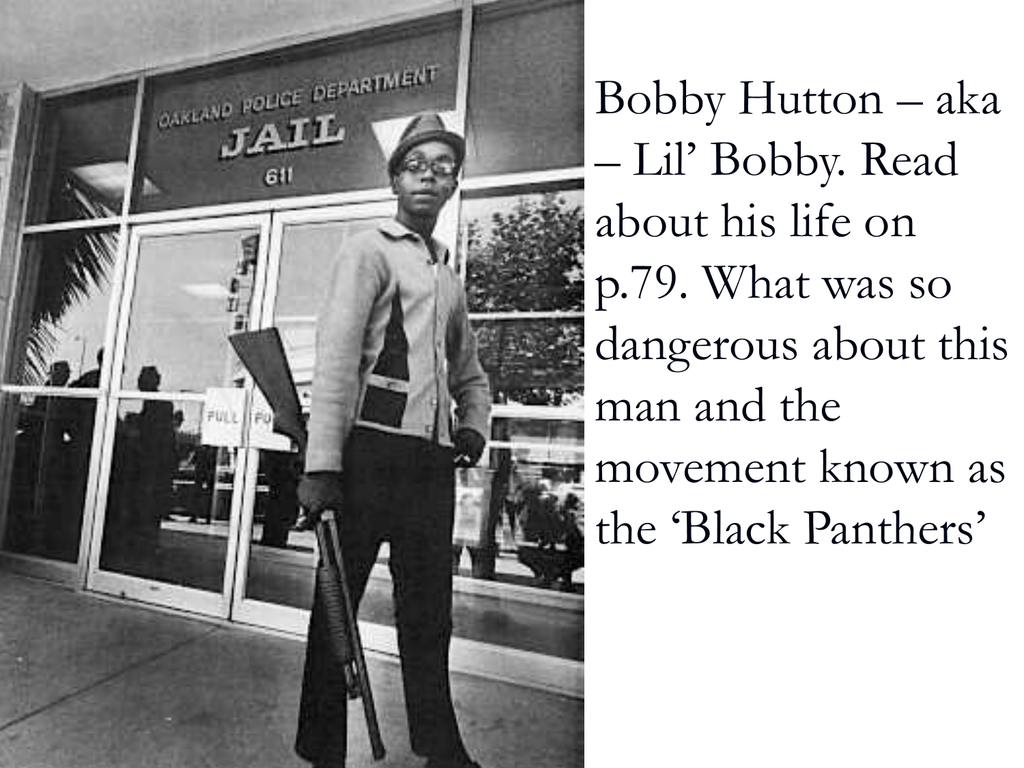 Bobby Hutton – aka
– Lil' Bobby. Read
about his life on
p.79. What was so
dangerous about this
man and the
movement known as
the 'Black Panthers'
Who were the Black
Panthers?
 Learning objectives
TBAT origins and aims of the Black
Panthers
To assess the reasons for their decline
 Your task

Read p.79-81 and note down the following:
The origins & aims of the Black Panthers
 The ideological inspiration for the movement


Can you explain what was so threatening about
them?
Origins & Aims




Founders – Huey P Newton & Bobby
Seale (1966)
Inspiration – 'the BP movement exists in
the spirit of Malcolm X'
Self- defence – militias in BP uniforms
Improved conditions – welfare schemes
for northern ghettoes
10 Point Programme










Power over their destinies
Free healthcare
End to police brutality
End to wars of aggression
Full employment
Anti-capitalist
Better housing
Better education
Better justice system
Better social conditions
How many of
these aims were
already covered
by King or the
NOI?
Ideologies





Black nationalist – self-government
Anti-colonialism
Supported revolutionary government, e.g.
Mao's Communist China
Opposition to Vietnam War
Admired Marxist aims to improve conditions of
working classes
 Your task





Read p.81-3 and take notes on the methods of
the movement. Focus on these areas:
Patrol the Pigs
Welfare programmes
Health care clinics
Education
You can choose a maximum of 2 pieces of evidence
for each category! Be prepared to explain your
choices
Methods




'Patrol the pigs' – police operations monitored;
Newton carried law books in car, intervening
when blacks stopped by police
Welfare programmes – 'survival programmes'
e.g. free breakfasts for school children, health
clinics, free 'liberation schools'
Health clinics - tested for sickle cell anaemia &
contraceptive care
Education – Liberation Schools educated black
Americans about past struggles & achievements
& helped raise self-esteem
Why did the Black Panthers go
into decline in the 1970s?
 Your task



Read about the reasons
why the Black Panthers
went into decline on p.834. Take notes under these
headings. Again limit
yourself - this time to 3
pieces of evidence
Internal pressure
External pressure
Decline






Focus of police attention esp FBI's COINTELPRO
organisation due to support of armed resistance & criminal
activity & suspicions of links with Communists
Many leaders killed or imprisoned, e.g. Newton arrested for
murder in 1967, or on the run
FBI used underhand techniques, e.g. tapped phone calls,
infiltrated organisation, forged letters
Funds spent on legal fees to detriment of 'survival
programmes'
Tensions between leadership, e.g. between Newton &
Eldrige Cleaver
Sexism - tensions between male & female recruits
 Role play
A group of Black Panther activists are to hold a press conference. The press are
suspicious about the aims and methods of this new movement. Ask questions
about the methods, inspiration, relations with Police, education programme
 Extension task

Read the extracts your teacher provides and note
down additional evidence for the decline of the
movement.
 Homework


Prepare for a timed essay question on the impact
of Black Power.
 Put together a top ten list of Black Power
music and films
 Plenary





Reasons for divisions within civil rights?
Aims of Black Panthers
Reasons for failure?
Characteristics of Black Power movement
Were the problems facing Black Power
similar to other civil rights organisations?