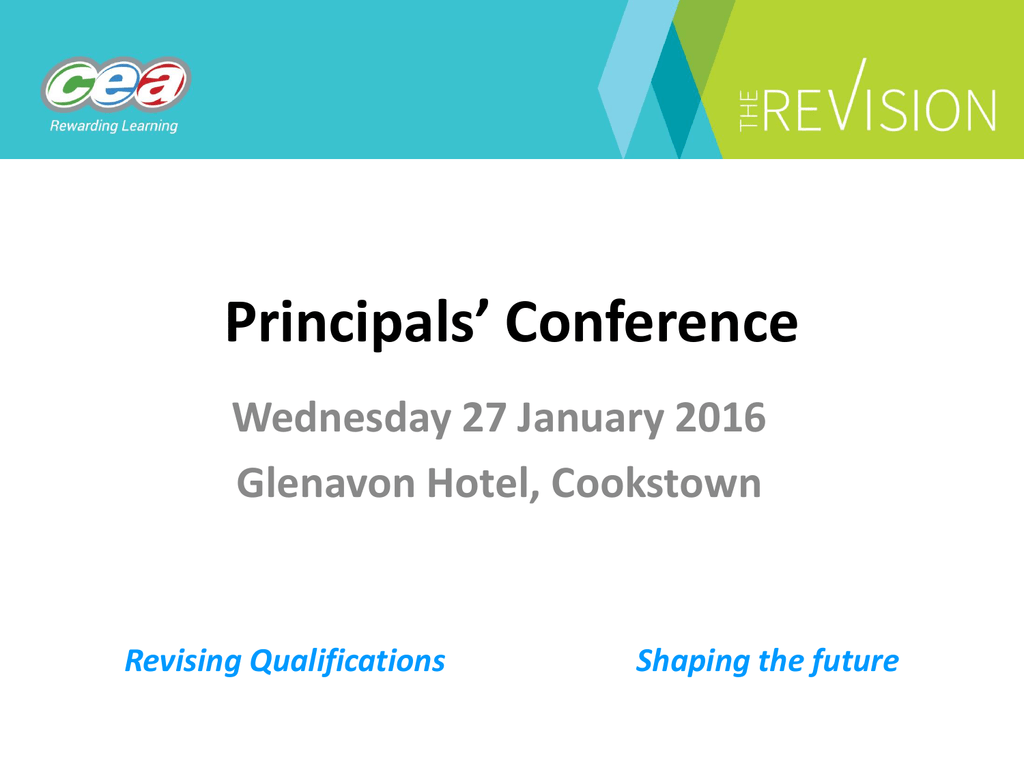 Principals' Conference
Wednesday 27 January 2016
Glenavon Hotel, Cookstown
Revising Qualifications
Shaping the future
Revision of GCE & GCSE Qualifications
Agenda
10.00
Registration and coffee
10.30
Welcome
- Justin Edwards, Chief Executive
11.00
Qualifications Update on GCE & GCSE Revision
- Amanda Swann, Examinations Business Manager/
- Gavin Gray, Subject Officer for Science
11.30
Group discussion and feedback
- Robert Shilliday, MarComms Manager
12.15
Closing comments
- Anne Marie Duffy, Director of Qualifications
12.30
Light Lunch
GCE Accredited subjects to date
•
•
•
•
•
•
•
•
Biology
Chemistry
Economics
English Literature
French
Geography
German
Government and
Politics
• History of Art
• Irish
• Nutrition and Food
Science
• Religious Studies
• Spanish
• Technology and
Design
GCE Accredited subjects online
The ReVision microsite
www.ccea.org.uk/therevision
GCE Support
Type of Support
Date
Sample assessment materials
Rolling basis from 21 January 2016
Student guides/subject Snapshots Rolling basis from 21 January 2016
Microsites
Rolling basis from 8 February 2016
Outline schemes of work
Rolling basis from 15 February 2016
Fact files (AS)
Rolling basis from 22 February 2016
Fact files (A2)
Rolling basis from September 2016
E-books (AS)
September 2016
E-books (A2)
September 2017
Launch and support events
March 2016
E-Book Subjects
•
•
•
•
•
•
•
•
•
Biology
Chemistry
Physics
Geography
History
Government and Politics
Religious Studies
Music
Health and Social Care
GCE Applied Business & Applied ICT
Qualifications extended:
• final certification Summer 2018
• one resit opportunity in Summer 2019
Reviewing:
• content
• level of demand
NEW - GCE Life and Health Sciences
Aim: To create a new innovative, cohesive Science qualification in partnership
with Industry to support the future workforce need of the Life and Health
Sciences Industries in Northern Ireland
Matrix Life Sciences Report
http://matrixni.org/wp-content/uploads/2015/02/MATRIX-life-and-health-sciences-foresight-report-2015.pdf
"Life and Health Sciences Sector in Northern Ireland has the opportunity to
improve the health of its citizens while providing strong economic growth for
the future" - Feb 2015
Life and Health Science are future, high/mega growth areas of the economy already 25% of NI economic output
DRAFT GCE Life and Health Sciences
AS Units
Unit 1:
Unit 2:
Unit 3:
Unit 4:
Unit 5:
Unit 6:
Experimental Techniques
Human Body Systems
Brain Science
Aspects of Physical Chemistry in
Industrial Processes
Material Science
Medicines, Drugs and Clinical
trials
First Teaching from September 2016
First Award for A2 Summer 2018
A2 Units
Unit 7: Scientific Method, Investigation,
Analysis and Evaluation
Unit 8: Medical Physics
Unit 9: Microbiology
Unit 10: Sound and Light
Unit 11: Oral Health and Dentistry
Unit 12: Organic Chemistry
Unit 13: Histology and Pathology
Unit 14: Genetics, Stem Cell Research
and Cloning
Unit 15: Analytical Chemistry Techniques
Unit 16: Enabling Technology
Industry Partnerships
Support for GCE Life and Health Sciences
Support
Type
Date
AS Units
Training on new unit content and
skills facilitated by industrial
partners
May and September 2016
A2 Units
Training on new unit content and
skills facilitated by industrial
partners
May and September 2016
Microsite
Programme of study, student
guides, e-resources, interactive
directory
From June 2016
Teacher Industrial Placement
Scheme (TIPS) - National Science
Learning Centre
Partners your school with a local
STEM employer, providing a one or
two week work placement for the
TIPS participant - bursary 'enthuse'
funded
Available to NI schools
Universities Support (Queens/UU)
Face-to-face and online
To be finalised
STEP Up (to Science)
Eligible schools (DEL)
Ongoing
Why study GCE Life and Health Sciences?
• Strong careers link focuses students on sectors with realistic
prospect of jobs in NI, UK and Internationally
• Skills and relevant knowledge necessary to access a broad
range of HE courses and Industry employment
• Compliments existing Science suite
• Creates flexibility in partnership arrangements
• Enhances Applied A-Level offer
• Full support package from CCEA, UU, Queens and Industry
• Strong linkage across 3 separate Sciences in specific industry
context
DRAFT GCE Professional Business Services
•
•
•
•
Growth of Financial and Back Office Support in NI
Programme for Government
Economic Needs
Consulting with Industry and Centres
Deloitte, Price Waterhouse Coopers, Grafton Recruitment,
Carson McDowell, First Derivative, CME, KPMG
• For first teaching from September 2017
• First Awarding:
– AS Summer 2018
– A2 Summer 2019
GCSE Qualifications update
Regulatory Framework
General Conditions of Recognition
• CCEA will ensure that each qualification
offered is fit for purpose by ensuring that it is:
– Valid
– Reliable
– Comparable
– Manageable
– Minimises Bias
Accreditation Process
• Northern Ireland GCE and GCSE Qualifications
Criteria
• Northern Ireland GCE Design Principles
• Two-stage process
– Stage 1: submission of qualification strategies for
approval
– Stage 2: submission of qualification materials for
review and accreditation
Specification and Specimen
Assessment Material (SAMs)
Northern Ireland Regulator will carry out an:
• administrative review
• subject-specific review
• review of regulatory requirements
Collaborative Approach to Change
Desktop Research
Writing Teams
• Teachers
• Education Professionals
Consultation
• Existing Specifications
• Draft Specifications
• Students
Quality Assurance - GCSE Revision
Subject Advisory Teams
• Teachers
• Employers
• Further and Higher Education
• Subject Associations
Quality Assurance – GCSE Revision
Equality Panel
• Access for all
Final CCEA Quality Assurance Panel
• Review of consultation comment logs
• Review of comment logs associated with all QA
panels
Only when CCEA Quality Assurance panel is satisfied that all
issues raised have been appropriately addressed, will the
Specification and Sample Assessment material be submitted for
accreditation
GCSE Revision Timeline
GCSE Digital Technology
Momentum Strategic
Action Plan (2014)
NESTA – Digital
Makers (2015)
"Here in Northern
Ireland the digital
sector forms the
backbone across
numerous industries,
including financial
services, ICT and
Creative Industries."
".. mobilise a
generation of young
people with … knowhow to make new
technology."
UK Digital Skills
Taskforce Report
(2014)
"Schools need time,
support and increased
funding to build
capacity for…..the
development of
digital skills more
widely."
Digital Skills
"The entire
workforce will need
to embrace
technological
change and acquire
new and differing
levels of digital
skills."
"There are not
enough
apprenticeships in
digital subjects."
"Digital brings with
it huge
opportunities but
also significant
risks."
"Digital business
can locate
anywhere in the
world – if we fail to
provide the right
conditions we will
become a 'branch'
economy."
"There is a
shortage of
medium and highlevel digital skills in
our workforce."
"Digital and
technology skills
complement
numeracy and
literacy."
House of Lords Select Committee on Digital Skills | Published February 2015
GCSE Digital Technology
Incorporates aspects of both
Computer Science and Information
Technology (IT)
30% core
Centres will have a choice of either:
• Application development route
(70%) or
• Programming route (70%)
Support for GCSE Digital Technology
Support
Date
Face-to-face training
November 2016
Online 6-week courses starting
November 2016
Dedicated microsite
January 2017
Outline scheme of work
January 2017
Student guides
January 2017
Fact files
March 2017
Programming guides for students
January 2017
GCSE Support
Discussion Themes
• How can CCEA help you in delivering the
qualifications that your learners need?
• Are there any professional and technical areas in
which you would like to see CCEA develop
qualifications?
• Is there any transition support that you would
need if you are progressing to CCEA qualifications
in certain subject areas?