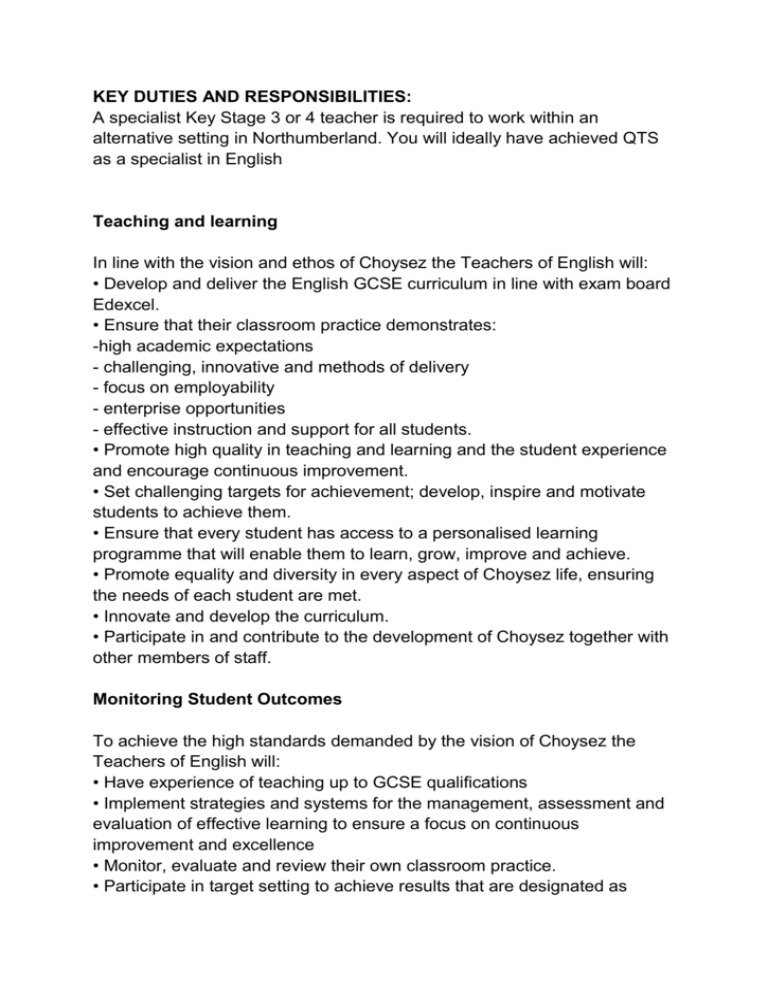 KEY DUTIES AND RESPONSIBILITIES:
A specialist Key Stage 3 or 4 teacher is required to work within an
alternative setting in Northumberland. You will ideally have achieved QTS
as a specialist in English
Teaching and learning
In line with the vision and ethos of Choysez the Teachers of English will:
• Develop and deliver the English GCSE curriculum in line with exam board
Edexcel.
• Ensure that their classroom practice demonstrates:
-high academic expectations
- challenging, innovative and methods of delivery
- focus on employability
- enterprise opportunities
- effective instruction and support for all students.
• Promote high quality in teaching and learning and the student experience
and encourage continuous improvement.
• Set challenging targets for achievement; develop, inspire and motivate
students to achieve them.
• Ensure that every student has access to a personalised learning
programme that will enable them to learn, grow, improve and achieve.
• Promote equality and diversity in every aspect of Choysez life, ensuring
the needs of each student are met.
• Innovate and develop the curriculum.
• Participate in and contribute to the development of Choysez together with
other members of staff.
Monitoring Student Outcomes
To achieve the high standards demanded by the vision of Choysez the
Teachers of English will:
• Have experience of teaching up to GCSE qualifications
• Implement strategies and systems for the management, assessment and
evaluation of effective learning to ensure a focus on continuous
improvement and excellence
• Monitor, evaluate and review their own classroom practice.
• Participate in target setting to achieve results that are designated as
outstanding by Ofsted.
• Utilise appropriate tracking systems that monitor student performance.
• Review on students' academic performance, attendance and overall
success rates.
• Optimise the performance of provision in relation to achievements of
targets, qualifications, progression and maximise college achievements.
Ensure that data relating to students is accurate and robust.
• Ensure students are prepared and able to sit their GCSE exams in
English whether this be at Choysez or at school.
Partnership working
As a representative of Choysez the Teachers of English will;
• Build strong relationships with a range of stakeholders including, but not
restricted to, Northumberland County Council, schools and other
educational establishments in the region, teachers, pupils, families,
community partners and awarding bodies.
• Support the Choysez Leadership team as requested to work with partners
and to help further develop Choysez.
• act as a champion and ambassador for Choysez both internally and
externally.
The Choysez teacher will be:
 A teacher of Qualified Teacher Status (QTS) or equivalent. NQT also
considered
They will:
 Have excellent time management and communicative skills.
 Have a versatile tailored approach in delivering all lessons.
 Be flexible and comfortable in adapting to new methods of teaching.
 Be able to adapt and differentiate the curriculum according to ability.
 Have experience of working as part of a multi- disciplinary team
 Have knowledge of SEN strategies.
 Have experience (or willingness to teach) of teaching young people who
are reluctant learners or have experience within an alternative setting,
special school or PRU.
It is vital for the success of the teaching position that the person appointed
is able to succeed within the Choysez ethos and appreciate and
understand our values.
You will be computer literate and comfortable using a variety of packages.
For the right candidate this will be a rewarding position offering personal
development and the scope to develop your role and progress further.
It will often be far from easy but for the person with the right experience you
will enjoy the challenges that arise when working with hard to reach young
people.
If you feel that you have the right experience and are interested in this
position please contact Choysez on 01670 821515 to come and visit us or
email your CV to us at admin@ choysez.org. Applications are being
considered on an ongoing basis for immediate start. Please arrange your
visit or return your CV to us as soon as possible.