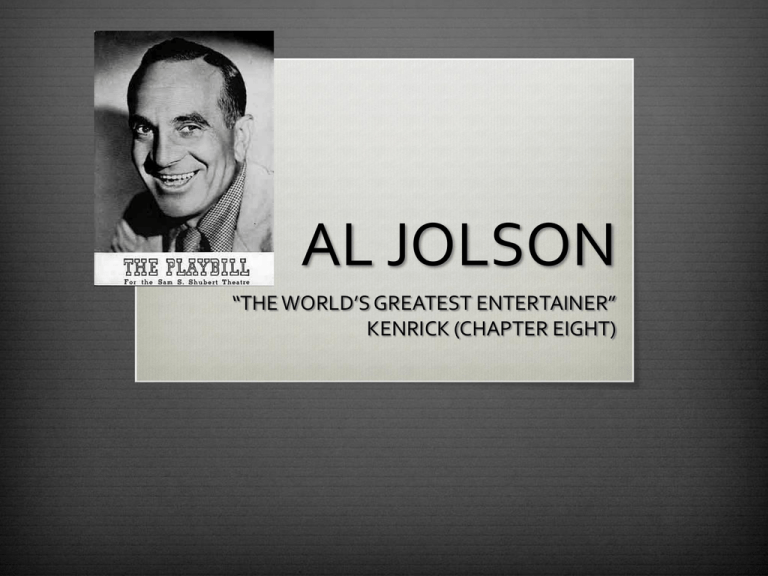 AL JOLSON
"THE WORLD'S GREATEST ENTERTAINER"
KENRICK (CHAPTER EIGHT)
Asa Yoelson
Born in Seredzius in the Lithuanian region of Imperial Russia. Although he would
claim Mar. 26, 1886 as his birth date, no documentation exists to verify it – it may
have been anytime from 1884 onwards . Asa was the fourth surviving child of cantor
Moshe Yoelson and his wife Naomi, after daughters Rose and Etta, and their son
Hirsh. The Yoelsons raised their family according to strict orthodox tradition, and
Moshe expected his sons would one day become cantors too. Moshe Yoelson
wanted to get his family away from the ongoing threat of Tsarist oppression. He
traveled to America, promising to send for his wife and children at the earliest
opportunity. Naomi died in 1895 less than a year after arriving in America.
"AsaYoelson would never be the same again. He grew up in that moment – probably as
much as he would ever grow up. Al Jolson, for all his tough, earthy exterior, would remain
an emotional child for the rest of his life – a self assured braggart who was terrified of
being alone, a sentimentalist with a heart of gold who made life miserable for those
around him, and a lothario who chased, conquered, and in turn ignored young women. In
short, a man-boy, full of seeming contradictions and haunted by the specter of his
mother's death."
- Herbert G. Goldman Jolson: The Legend Comes to Life
(New York, Oxford Univ. Press, 1988), p. 9.
Kenrick, Musicals 101
Hirsch & Asa become Harry & Al
 Asa and his brother Hirsh soon immersed themselves in
American culture, learning the ragtime songs
performed on the streets and in the saloons of
Washington. Moshe married CheysaYoels (a.k.a.
"Hessi"), an old neighbor from Seredzius who had
genuine affection for the children. But nothing could
keep the Yoelson boys from embracing a new way of
life.
 Hirsh changed his name to Harry, and Asa became Al.
Both boys ran away from home several times. At one
point, Al spent several weeks at St. Mary's Industrial
School for orphaned boys in Baltimore.
Yoelson Joelson  Jolson
The Yoelson brothers both
became obsessed with
breaking into show
business. Al and Harry
managed to get bookings
with a crude ethnic comedy
act called "The Hebrew and
the Cadet." They also
changed their last name to
"Joelson," and then the
even less ethnic "Jolson."
Harry Jolson
Blackface
In 1904, while playing an
engagement at Keeney's Theatre in
Brooklyn, Al started performing in
blackface, supposedly at the
suggestion of veteran blackface
comedian James Francis Dooley.
Working behind a burnt cork mask
gave Al a sense of freedom and
spontaneity he had never known
before. The act became a surefire
laugh-getter, and was soon booked
on vaudeville's Orpheum circuit.
According to Kenrick "We have no reason to believe Al
Jolson's use of blackface was motivated by anything other
than a desire to entertain…Jolson's use of blackface is best
understood in the context of his era. He was not making a
statement; he was hiding behind a mask – a mask that gave
him an extraordinary sense of confidence while on stage."
Jewish entertainers also put on blackface for another reason.
According to Ronald Sanders, both groups felt a deep woe, had
suffered at the hands of oppressors, and lived close to their
pain. Many of the new songs hailed the brighter day and the
aggressiveness necessary to live in the new land, but the singers
invested blackface with a plaintive note, which kept them in
touch with their past though with the pain once removed,
hidden behind a black face.
- Lewis A. Erenberg, Steppin' Out: New York Nightlife and the
Transformation of American Culture 1890-1930 (Chicago: University of
Chicago Press, 1991), p. 195.
In 1906, Al Jolson's solo career as a
"singing comedian" began. He wore
blackface with a dark suit, black shoes,
white socks and gloves, and his mouth
outlined in white drawing maximum
attention to his hands and mouth. A
triumphant engagement in San Francisco
made him a top star on the Western
circuits. Electronic sound systems had
not been invented yet, so performers
had to rely on all sorts of tricks to catch
an audience's attention. Jolson knew
them all, and even invented a few of his
own. He danced, stamped, cried real
tears, improvised risqué jokes and
outrageous physical gags – even
sashayed about with wildly effeminate
gestures. Once he had an audience,
Jolson wouldn't let go until they were
begging for more.
First Marriage: Henrietta Keller
California native Henrietta
Keller was an eighteen year old
dancer. Twenty year old Al
became infatuated, relentlessly
courting Henrietta and her
family. After nearly a year of
refusals, they were married in
September 1907. Henrietta
would soon learn that she had
tied the knot with one of the
most maddening, self-centered
men on earth.
Early success in minstrelsy
Jolson continued to win
raves in vaudeville, but he
could not resist when Lew
Dockstader offered him a
chance to star in America's
last great minstrel troupe.
He took a major cut in
salary to become
Dockstader's second
comedian in 1908,
knowing it would open the
way to greater
opportunity.
Early success in vaudeville
Audiences adored Jolson's antics.
Afters a successful NYC engagement,
he played a series of solo vaudeville
engagements on the Orpheum
circuit, and returned to Dockstader
to tour in 1909. It was at this time
that Jolson started whistling on
stage, using loud melodic whistle
trills to punctuate songs and gags. It
would remain a trademark
throughout his career. He was also
working closely with musician Harry
Akst, who became Jolson's everhandy accompanist, song selector
and personal crony.
NO to Ziegfeld
Jolson's ego would mark him
throughout his professional life.
When Florenz Ziegfeld extended
an invitation to audition for the
Follies, Jolson refused. Jolson
insisted that he did not audition
for anybody. He returned to
touring the UBO and Orpheum
circuits in 1910, and played a
vaudeville engagement at
Hammerstein's Victoria in New
York in February 1911. He was
already in rehearsals for his
Broadway debut.
La Belle Paree (1911)
This musical about a wealthy widow in Paris was just an excuse for a succession of variety
acts. With a curtain-raising one act comic opera tacked on, the over packed show opened
on March 20th, 1911, and ran over four hours. Jolson won only a moderate response from
the exhausted first night audience, but that changed in the days that followed. Soon, he
was stealing the show. Jolson kept introducing new gags and new verses to his songs,
and audiences kept coming back to see what he would do from week to week. By the
time the summer heat forced La Belle Paree to close in June, Jolson was the hottest new
star in show business.
The Shubert's Star attraction
The Shuberts made the most of their new star. They
tailored a series of stage musicals for Jolson and even built a
runway across the Winter Garden's main floor so Jolson
could sing right into the midst of his fans.
The Shubert's Star attraction
His shows toured the country
for years at a time, making him
a star from coast to coast.
Jolson's blend of comedy,
pathos and powerhouse singing
had a powerful effect on
audiences. The Shuberts began
billing him as "the world's
greatest entertainer."
"Gus" character
The Whirl of Society (1912) was another
revue-like musical. In it Jolson first
played the blackface character Gus. An
underdog who outsmarted his enemies
while exchanging wisecracks with the
audience, Gus proved to be Jolson's most
successful alter ego. He would play this
character in musical after musical, fitting
Gus into all sorts of unlikely situations.
Jolson also began interpolating whatever
new songs caught his fancy – and
audiences went wild. "Waitin' For the
Robert E. Lee" and "Row, Row, Row"
made it into The Whirl of Society, and
became standards in Jolson's repertoire.
"You made me love you"
During the run of The
Honeymoon Express (1913)
Jolson's co-star Gaby Deslys
dropped out and Jolson was
given top billing, which he
never gave up throughout
his career. During the
Broadway run, Jolson
interpolated "You Made Me
Love You," falling to one
knee during the final chorus.
He often told interviewers he
did this to relieve pressure
on an ingrown toenail...
Robinson Crusoe Jr. (1916)
Jolson played three roles –
Crusoe's man Friday, Gus, and
someone named Fatima. The
disjointed plot was of no
importance. Audiences came
to see and hear Jolson, and he
gave them what they wanted.
His most popular
interpolations included "Where
the Black Eyed Susan's Grow"
and "Where Did Robinson
Crusoe Go With Friday on
Saturday Night?" After
Broadway, the show toured for
over a year.
Robinson Crusoe Jr.
When the tour reached Washington D.C., Jolson invited his
family to watch him sing for President Wilson. But their
seats went unused. It was the Sabbath eve, and the rabbi
Moshe Yoelson was busy "singing for god." Moshe may
have been proud of his son, but he seemed to take pleasure
in being the one person who could remind him of his roots.
Al developed an abiding respect for his father, buying
Moshe and Hessi a handsome house and visiting
occasionally. Moshe accepted these gestures cordially but it
never expressed the approval Al craved.
Sinbad (1918)
While performing this star vehicle, he heard George
Gershwin play at a party and then interpolated his song
"Swanee" into the show along with "My Mammy" and
"Rock-a-bye Your Baby with a Dixie Melody."
In Bombo (1921) Gus was a deckhand for Christopher
Columbus. He added "Toot, Toot, Tootsie," "April Showers"
and "California Here I Come" to the score.
In Big Boy (1924) Gus was a jockey with live horses onstage.
His big hit song was "Keep Smiling at Trouble."
Jolson the showman
When audiences were particularly enthusiastic, Jolson
would dismiss the supporting cast and sing solo for an hour
or more. However, if Jolson felt an audience was
unresponsive, he would just as easily give a half-hearted
performance and skip refrains to get the curtain down early.
Loved and Hated
Al Jolson's personality was an outsized explosion of
contradictions. Despite his almost frightening selfassurance on stage, he was so nerve wracked that he
usually had vomit buckets placed in the wings – and he used
them, especially on opening nights. He performed at
countless benefits and gave well over a million dollars to
charity, but would conveniently forget to pay off loans from
longtime friends. He referred to himself in two ways -"Jolson" whenever discussing his professional work, and
"Jolie" when the subject was his personal life.
At the height of his fame, Jolson regularly auditioned the work of
new songwriters. Frequently, he would make a few adjustments
to the lyrics so he could receive part of the royalties. If anyone
sharing a stage with Jolson won major applause, he warned them
not to let it happen again. If it did, he would have the offending
performer fired. For all his talent and fame, Jolson could not face
the possibility of competition. Buckets were kept just offstage for
those nights when his insecurities got the better of him.
In 1918, Henrietta filed for divorce. For more than a decade, she
had put up with being ignored, and even beaten while Al openly
cheated on her with chorus girls and spent his days gambling
with his friends. Jolson made desperate last minute gestures of
reconciliation, but the divorce went through, with Henrietta
accepting a small settlement. For some time afterward, Jolson
tried to rekindle his ex-wife's interest, but she would have no part
of him.
Second Marriage: Ethel Delmar
While the tour of Bombo was on its
summer break in July of 1922, Jolson
wooed and married Ethel Delmar. A
chorus girl in George White's
Scandals, Ethel's looks and fun loving
personality supposedly captivated
Jolson at first sight. Soon after the
wedding, she found herself being
ignored and abandoned for weeks at
a time – a perfect echo of Jolson's
first marriage. Ethel drowned her
sorrows in bootleg booze.
Occasionally, Jolson tried to reach
out to her, but his attentions were, as
usual, focused on his audiences.
Al also had a volatile relationship
with his brother Harry, who
found it increasingly difficult to
get out from under Al's shadow.
As Al's star rose, Harry found
himself billed as "Al Jolson's
brother," and the inevitable
similarities in their appearance
and mannerisms only made the
comparisons harder to bear.
When Harry's vaudeville career
petered out, Al put Harry on staff
as his "manager. Harry outlived
Al by three years, making no
secret of how bitterly he
resented his brother's success.
Big Boy (1925)
A recurring case of bronchitis kept
forcing Jolson to cancel
performances, and the Shuberts
were forced to close their sold-out
show after eight weeks. Few would
have believed it, but Jolson would
never appear at the Winter Garden
again. When audiences did not
respond to "If You Knew Susie," he
offered it to Eddie Cantor. It
became one Cantor's greatest
successes, and years later Al told
Eddie, "If I knew it was that good,
you dog, I'd never have given it to
you!"
Divorce #2 - 1926
In the summer of 1926, Al took Ethel to Europe to
obtain a quick divorce. As before, he made occasional
attempts to reconcile with Ethel, to no avail. Her
drinking became progressively worse, and by the
1930s Ethel had to be committed.
Filmed in Los Angeles in the late
summer of 1927, The Jazz Singer was
customized to fit Jolson's talents. The
original intention was to only use
sound for several song sequences, but
Jolson changed that by improvising
dialogue. His spontaneous asides to
the audience in a cabaret scene
proved so exciting that it was decided
to add audible dialogue in a scene
with his mother. Al seats actress
Eugenie Besserer on his knee. After a
few minutes of charming banter,
Jolson sings Irving Berlin's "Blue
Skies," but is cut short when his father
appears and orders him to stop. Later
on, the title character is seen
achieving Broadway stardom in
scenes partially filmed in the Winter
Garden. The film's finale shows Jolson
in blackface on his knee singing to his
bawling mother.
A move to Hollywood
 When The Jazz Singer debuted in October 1927, it
signaled the end of the silent film era. Within months,
movie audiences wanted nothing but sound films, no
matter how mediocre. Talking movies were all the rage,
and Al Jolson was the form's first star.
 Since films paid far more than Broadway for far less
effort, Jolson did not hesitate to relocate to California
and devote himself full time to screen work.
Ruby Keeler
Jolson's third wife was a nineteen year old
chorus dancer at a Manhattan speakeasy.
Jolson was more than twice her age. After
Jolson gave Ruby a pre-wedding gift of
one million dollars, her Irish Catholic
family dropped all objections. Al and
Ruby were married in September 1928
and honeymooned in Europe.
Al assured reporters, "This is for keeps."
Ruby had been raised on the streets of
New York, and unlike his other wives,
Ruby also had a career of her own.
Ruby Keeler
When Florenz Ziegfeld invited Keeler to star
in the Broadway musical Show Girl (1929),
Jolson insisted that she accept. At the first
pre-Broadway performance in Boston, she
was dancing to the Gershwin showstopper
"Liza" when Al unexpectedly stood up in the
audience and started singing it. The
audience, thinking that Jolson was
encouraging his young wife, roared its
approval. Ziegfeld made the most of the
situation by convincing Al to repeat the stunt
during the show's first week in New York.
The resulting avalanche of publicity helped
the poorly received show sell tickets. But
weeks later, Jolson encouraged his wife to
move with him to Hollywood and Ziegfeld
was forced to close the show at a loss.
The Hollywood Years
Audience tastes were
changing, but Warner
Brothers kept Jolson doing
the same thing in film after
film. Jolson made Say It
With Songs (1929) into yet
another sentimental sobfest. By the time he starred
in the syrupy Mammy (1930)
and the clumsy screen
version of Big Boy (1930),
his reign as a top Hollywood
star was already over.
His "style" had become too big for
the screen and his career began to
falter. Although he and Keeler
adopted a son who was legally
renamed Al Jolson, Jr., the marriage
did not last. They were divorced in
1940.
By then he had returned to
Broadway in such shows as The
Wonder Bar (1931) and Hold Onto
Your Hats (1940). He played
supporting roles in film and made
frequent appearances on radio.
World War II helped to revive his
career. Although he toured with the
USO to the front. Despite frequent
illness, he continued to perform.
Erle Galbraith
While touring Georgia military camps in 1944,
Jolson met Erle Galbraith, a twenty-one year
old x-ray technician. Instantly smitten, Jolson
soon offered her a screen test. He got her
under contact at Columbia, and started
squiring her around Hollywood. When a
recurring case of malaria (contracted during
one of his frontline concert tours) left Jolson
near death, his relationship with Erle
intensified. They were married in March of
1945. It was soon clear that this marriage
would be different. Erle walked out on
Jolson's tirades, refusing to fight on his terms.
With no interest in a career of her own, she
devoted all her attention to Al, and he found
himself appreciating her as he never had his
other wives. While it is unlikely that life with
Al Jolson was truly easy, Erle would always
insist that her years with him were happy.
Rhapsody in Blue (1945)
During his prolonged recovery
from malaria, Jolson took any
opportunity to resume work. He
appeared as himself singing
"Swanee" in the George
Gershwin biographical film
Rhapsody in Blue (1945). Then
Columbia Pictures began work
on a film version of Jolson's life.
Al recorded the songs, but was
not allowed to play himself –
that honor went to the
relatively unknown Larry Parks.
Parks lip-synched to Jolson's
vocals and used many of his
performing mannerisms.
The Jolson Story (1946)
The Jolson Story (1946) became a
sensation, thanks in large part to
Jolson's electrifying renditions of two
dozen of his hits. The score included
one new number, the sentimental
"Anniversary Song" ("Oh, how we
danced on the night we were wed . .
."), which became an immediate
standard. The plot was a heavily
revised version of Jolson's life story.
Serving up schmaltz with style, it
added up to extraordinary
entertainment. In just one distant
shot, Jolson appears as himself
dancing to "Swanee" – even the
Columbia bigwigs agreed that no
one else could capture his physical
style.
Rediscovered
At sixty-one, Jolson was back on top. The Jolson
Story introduced him to a new generation of fans
and sent his record sales soaring. Because he was
entitled to a percentage of the film and recording
profits, Jolson raked in a fortune. On radio, his
presence now guaranteed high ratings. Several
guest appearances with Bing Crosby (who was a
longtime fan of Jolson) remain classic examples
of network radio at its best. In 1947, Jolson
returned to hosting the Kraft Music Hall, a series
he helped initiate back in 1933.
Al's new stardom restored his
zest for life. He and Erle adopted
two infants, naming them Asa
Jr. and Alicia. Jolson also started
to dye his hair and put away his
glasses when friends were on
hand. His recordings of "Is It True
What They Say About Dixie?"
and "Baby Face" made the hit
parade, and his version of the
Israeli national anthem raised
over $100,000 for the United
Jewish Appeal.
Jolson Sings Again (1949)
Columbia Pictures filmed a sequel
to The Jolson Story. This time,
Jolson's thinly veiled displeasure
with Larry Parks erupted into a
sound stage tirade, and Jolson was
barred from the set. Jolson Sings
Again (1949) took as many
liberties with Al's life as the first
film had. Jolson's singing voice
sounded sensational in sixteen
numbers – fewer than the first film
but still far more than the average
musical. Jolson toured the country
to promote the film and soak up
the kind of audience acclaim he
had always relished.
Renewed stardom
Offers poured in, and Jolson signed
up for a new film and a series
television specials. But he put
everything on hold to go entertain
soldiers fighting in Korea. When the
Defense Department said it had no
budget for entertainers, Jolson paid
all expenses himself. During seven
days in September 1950, he gave 42
concerts, carrying on despite a cold
that would have silenced anyone
else.
The end
On his return to California, Jolson looked
tired and admitted to reporters that the
trip had been difficult. On October 23,
1950, he was in San Francisco preparing
for another appearance on Bing Crosby's
radio show. While playing cards with
friends in his hotel room, he complained
of indigestion. When two doctors
arrived, Jolson was in bed He joked with
them and belittled his symptoms.
Suddenly, he felt for his own pulse, said,
"Oh, I'm going," and went limp. The
"World's Greatest Entertainer" was
dead.
Hillside Cemetery
Culver City, California
About a year after his
funeral, Jolson's widow
reburied his remains in
one of the most
spectacular tombs
Hollywood has ever
seen. It still stands in
Hillside Memorial Park,
with a statue of Jolson
on one knee amid
marble columns and an
illuminated waterfall. It
is a fitting monument
to a man who once
enthralled the world
with his larger-than-life
talents.
The legacy
Al Jolson's fame has dimmed
with time, but no review of the
popular culture of the 20th
century can afford to overlook
his presence. Who else could
claim a career that spanned
stardom in minstrelsy,
vaudeville, Broadway,
Hollywood and radio? He was
one of the greatest stars show
biz will ever know – and would
have been the first to insist that
history should remember him.