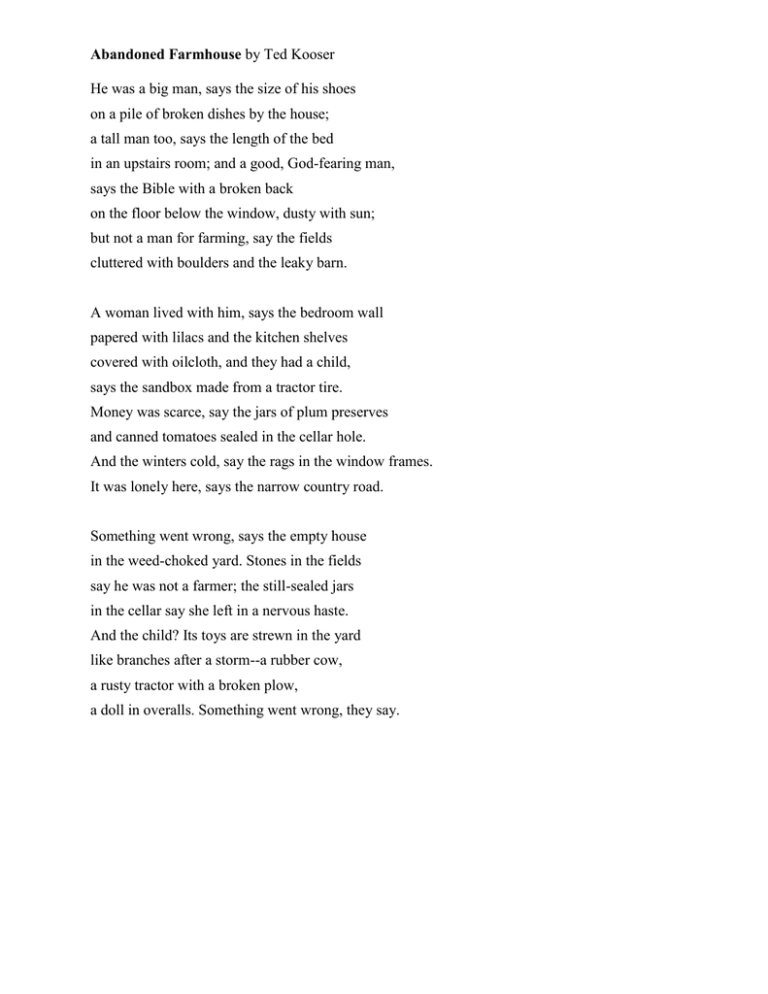 Abandoned Farmhouse by Ted Kooser
He was a big man, says the size of his shoes
on a pile of broken dishes by the house;
a tall man too, says the length of the bed
in an upstairs room; and a good, God-fearing man,
says the Bible with a broken back
on the floor below the window, dusty with sun;
but not a man for farming, say the fields
cluttered with boulders and the leaky barn.
A woman lived with him, says the bedroom wall
papered with lilacs and the kitchen shelves
covered with oilcloth, and they had a child,
says the sandbox made from a tractor tire.
Money was scarce, say the jars of plum preserves
and canned tomatoes sealed in the cellar hole.
And the winters cold, say the rags in the window frames.
It was lonely here, says the narrow country road.
Something went wrong, says the empty house
in the weed-choked yard. Stones in the fields
say he was not a farmer; the still-sealed jars
in the cellar say she left in a nervous haste.
And the child? Its toys are strewn in the yard
like branches after a storm--a rubber cow,
a rusty tractor with a broken plow,
a doll in overalls. Something went wrong, they say.
My First Memory (of Librarians)
by Nikki Giovanni
This is my first memory:
A big room with heavy wooden tables that sat on a creaky
wood floor
A line of green shades—bankers' lights—down the center
Heavy oak chairs that were too low or maybe I was simply
too short
For me to sit in and read
So my first book was always big
In the foyer up four steps a semi-circle desk presided
To the left side the card catalogue
On the right newspapers draped over what looked like
a quilt rack
Magazines face out from the wall
The welcoming smile of my librarian
The anticipation in my heart
All those books—another world—just waiting
At my fingertips.
My Papa's Waltz by Theodore Roethke
The whiskey on your breath
Could make a small boy dizzy;
But I hung on like death:
Such waltzing was not easy.
We romped until the pans
Slid from the kitchen shelf;
My mother's countenance
Could not unfrown itself.
The hand that held my wrist
Was battered on one knuckle;
At every step you missed
My right ear scraped a buckle.
You beat time on my head
With a palm caked hard by dirt,
Then waltzed me off to bed
Still clinging to your shirt.