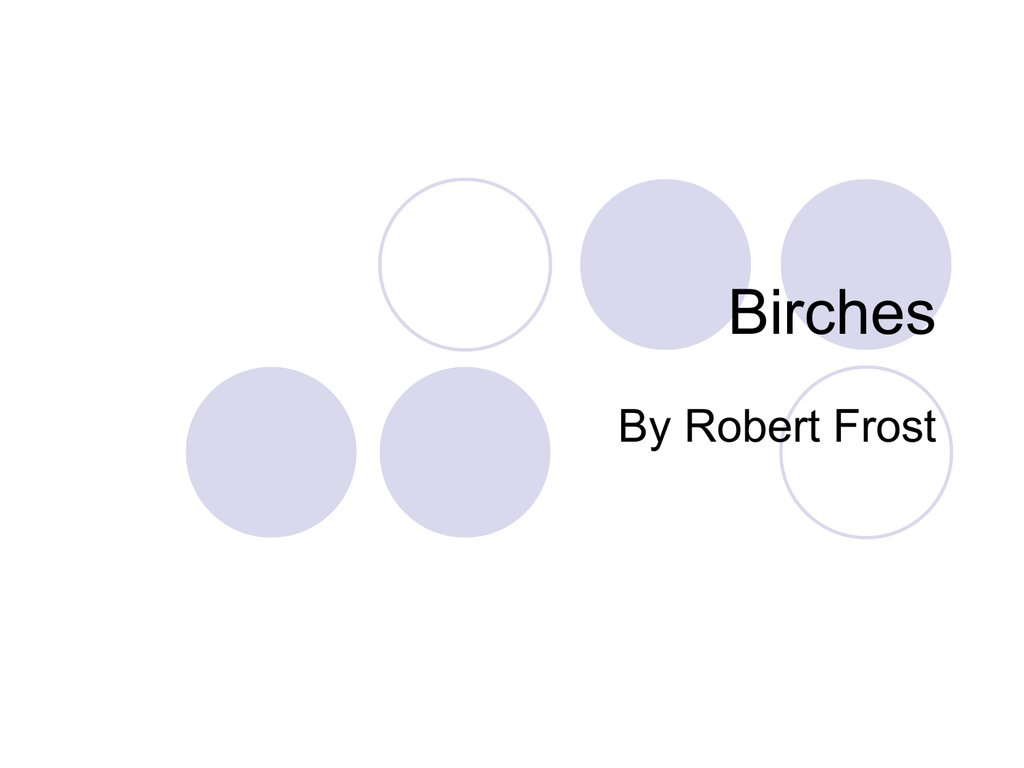 Birches
By Robert Frost
What the heck does it mean?
 Man walking
through the woods
and sees trees with
ice
 Imagines little kid
swinging on the
branches
 Makes him want to
escape and swing
on the trees
Themes
Live life on edge because life is short.
Things never stay the same
Life is full of risks
Its up to you if you want to live or not
Structure
Blank verse
Iambic pentameter
Doesn't follow any
regular style
Is awkward in style
Symbolism
Boy- is just imaginary and a younger
version of himself
Tree- is a symbol of life
Snow- hard times in life
Tone
Negative
Melencholy
Sad
Yet light
Diction
The poem first starts off negative
Ice storms
Winter
Broke
Down
Pains
Fallen
Dragged
Straighter
Sunny
Truth
Summer
Conquer
Love
Heaven
Words to know!!!
Brim- the edge or over flow
Subdued- is to conquer or to bring under
control
Crazes- drive insane
Enamel- a coating on metal
Weary- tired and exhausted
Bracken- a wide spread weedy fern
 Line 3: The speaker imagines a boy has bent some
birches out of shape.
 Lines 23-27: The imaginary boy lives in a "pastoral"
world, meaning that he is closely tied with animals and
spends most of his time happily playing in nature.
 Lines 28-32: The boy is also a metaphor for the rugged,
American individual. He has struck out into the land that
is his by birthright and conquered anything there was to
conquer. This individual often stands as a metonymy for
America's Manifest Destiny towards the continent (and
world).
 Lines 33-40: The boy learns moderation and sensitivity
towards his natural environment. His mastery of nature
does not create a large "footprint."
Ain't nobody got time for that!
Bio
Robert Frost
March 26, 1874 – January 29, 1963
Born in San Francisco
William Prescot Frost and Isabella Moodie
Raised in a city but loved rural life
Dad died when he was 11
Mom died of breast cancer
Life filled with tragedy
Started writing poetry
in high school
At first his poems
were about city life
and loss
Later they became
more in touch with
nature
Became teacher in
1911
Quiz
Where was Robert Frost born?
What year did he become a teacher?
What's the meter of the poem?
Name two of the themes.
What is the rhyme scheme?
What did the poem mean to the poet?
What is the meaning of the whole poem?
List some negative words.
What did the boy in the poem symbolize?
What did the tree symbolize?