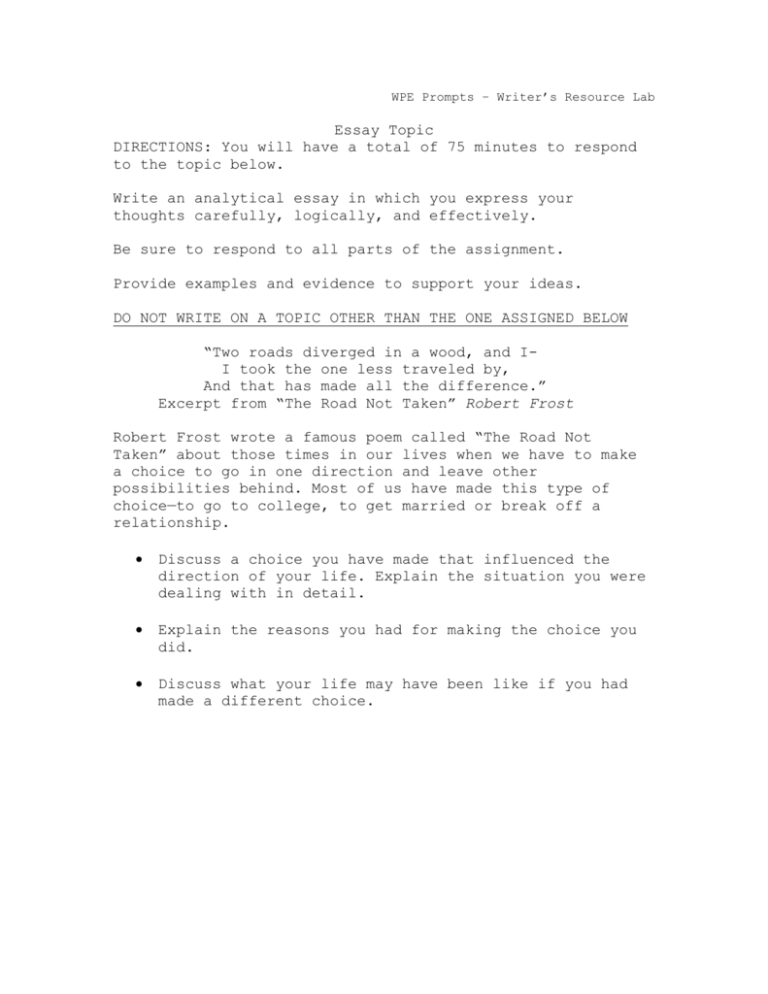 WPE Prompts – Writer's Resource Lab
Essay Topic
DIRECTIONS: You will have a total of 75 minutes to respond
to the topic below.
Write an analytical essay in which you express your
thoughts carefully, logically, and effectively.
Be sure to respond to all parts of the assignment.
Provide examples and evidence to support your ideas.
DO NOT WRITE ON A TOPIC OTHER THAN THE ONE ASSIGNED BELOW
"Two roads diverged in a wood, and II took the one less traveled by,
And that has made all the difference."
Excerpt from "The Road Not Taken" Robert Frost
Robert Frost wrote a famous poem called "The Road Not
Taken" about those times in our lives when we have to make
a choice to go in one direction and leave other
possibilities behind. Most of us have made this type of
choice—to go to college, to get married or break off a
relationship.

Discuss a choice you have made that influenced the
direction of your life. Explain the situation you were
dealing with in detail.

Explain the reasons you had for making the choice you
did.

Discuss what your life may have been like if you had
made a different choice.