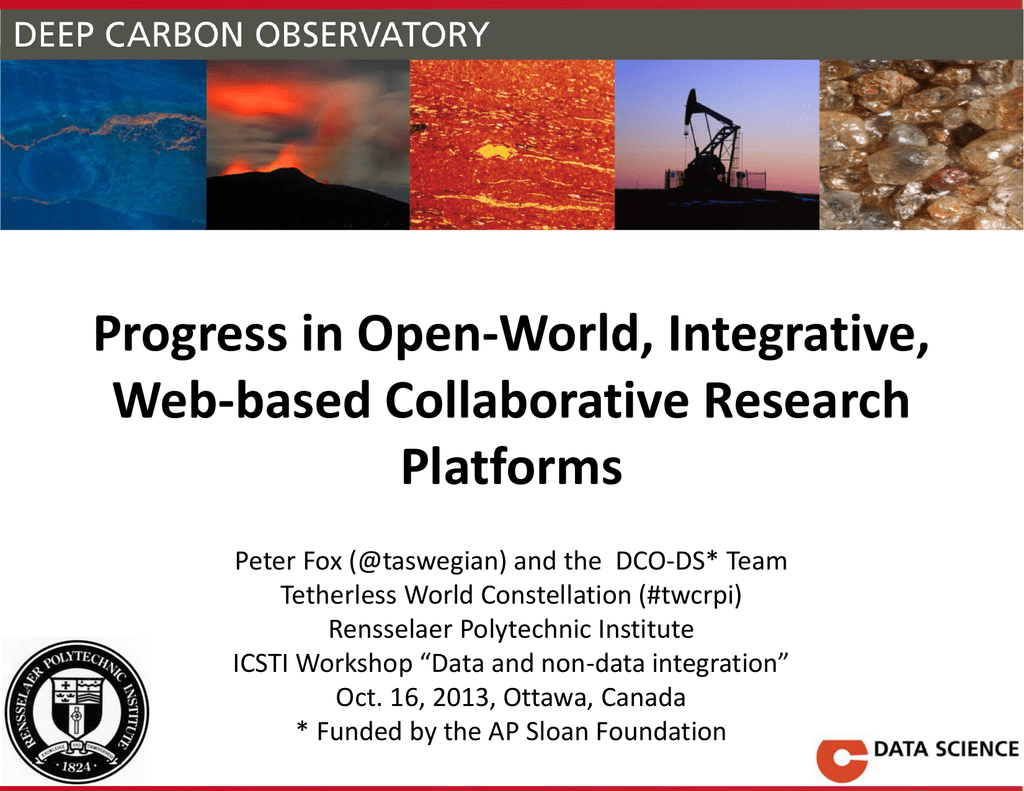 Progress in Open-World, Integrative,
Web-based Collaborative Research
Platforms
Peter Fox (@taswegian) and the DCO-DS* Team
Tetherless World Constellation (#twcrpi)
Rensselaer Polytechnic Institute
ICSTI Workshop "Data and non-data integration"
Oct. 16, 2013, Ottawa, Canada
* Funded by the AP Sloan Foundation
DCO is …
• "We are dedicated to achieving transformational
understanding of carbon's chemical and biological
roles in Earth."
Decadal goals = Discovery science
Global community of 'Carbon' scientists contributing to
Deep Earth Computer (data legacy) comprising:
•
•
•
•
•
Global Earth Mineral Laboratory
Global Census of Deep Fluids
Global Volcano Gas Emissions
Global Census of Deep Microbial Life
Global State of High Pressure and Temperature Carbon
and Related Materials
• Global Inventory of Diamonds with Inclusions
Data Science is …
• Doing science with someone else's data …
–
–
–
–
–
across datasets
with models
multi-dimensional, multi-scale, multi-mode
complex data-types
needing new analytic and visual approaches
• Especially in multiple "dimensions" (functional)
– E.g. Detection/ attribution methods/ algorithms
– Visual exploration
• Today – is collaborative, performed in a network,
and web-based …
DCO Science Network
Integration needs …
• "Enable DCO team leaders to create new groups
and associate a number of content types --documents, discussions, blog posts, tasks, links,
and bibliographic entries --- with the group, as well
as simple event management (a private event
calendar for the group) and embedding of external
services (e.g. and esp. Google Calendar)" … more
DCO Data Science Platform
DCO Object Registration
and Deposit
DCO Research
Community Network
Join
Network
Share
Knowledge
Metadata
•
•
•
•
•
•
•
Title
Author
Author Email
Licence
Subject
Keyword
Data Type
DCO Object Deposit
DCO Research Network
Register Metadata
Dataset
CDF
Upload Raw Data
DCO-ID Request
Allocate a universal accessible DCO-ID
DCO-ID Request
Schematic for Deep Carbon Virtual Observatory and Interoperability
Integrated
Applications
Discovery
visualizations
Semantic
interoperability
Analytics
and mining
Global Census, Virtual
Mineral Laboratory, ...
Application-level mediation: vocabulary,
mapping to science and data terms
Software,
Tools & Apps
Deep Energy/
Life
Applications
Semantic
interoperability
Physics/
Chemistry
Models
Semantic query,
hypothsis and
inference
….
Res/Flux
Applications
Q uery,
access and
use of data
Semantic mediation: physics, chemistry, mineral, emission data - ChemML,
Data
Repositories
GVP
MINDAT
EOS
EarthChem
M etadata,
schema,
data
... ... ...
Emission/
Compositions
DCO-ID
• Two part: all objects are issued Handle's, and all
published objects are also issued DOIs
– DCO issues Handles, registration number is 11121
– We obtain DOIs from DataCite
• You will see: http://hdl.handle.net/11121/00-01234567-8901-1234-C and
http://dx.deepcarbon.net/11121/00-0123-4567-89011234-C
• Adding bibliography is easy, just enter the DOI, or
paste a bibtex record, and we do the rest
VIVO.CORNELL.EDU
VIVO - represents academic research communities
• Every person, organization, or other data entity in VIVO
has a unique identifier
• VIVO enables the discovery of research and scholarship
across disciplines at one institution or across many
• Records are both human-readable and machine-readable
DCO Group Home Page (proto)
Thus…
• Yes, data is important, integrating data is also
important
• As important is non-data integration – and not just
"metadata"
–
–
–
–
Information
Knowledge and
Their implications…
Useful!
• Collecting …
• Integrating - semantics
Thank you
• [email protected]
• http://tw.rpi.edu
• @taswegian
Schematic for Deep Carbon Observatory Data Flows
Data Management and Data Science Guidance DCO-wide and Compatible with National and International Best Practices
Many means
of generation
Experiments
Physics/
Chemistry
Models
Sensor
streams
Standards based,
Provenance captured
Global Census, Virtual
Mineral Laboratory, ...
….
Sequencing
Efficient generation,
identifiers issued
DCO data infrastructure; identifiers, Catalogs
Others
EOS
Q uery,
access and
use of existing data
Existing Community Data
infrastructure; identifiers, Catalogs
Data
Repositories
GIDI
Sample
collection
EarthChem
MINDAT
Emission/
Compositions
M etadata,
schema,
data
... ... ...