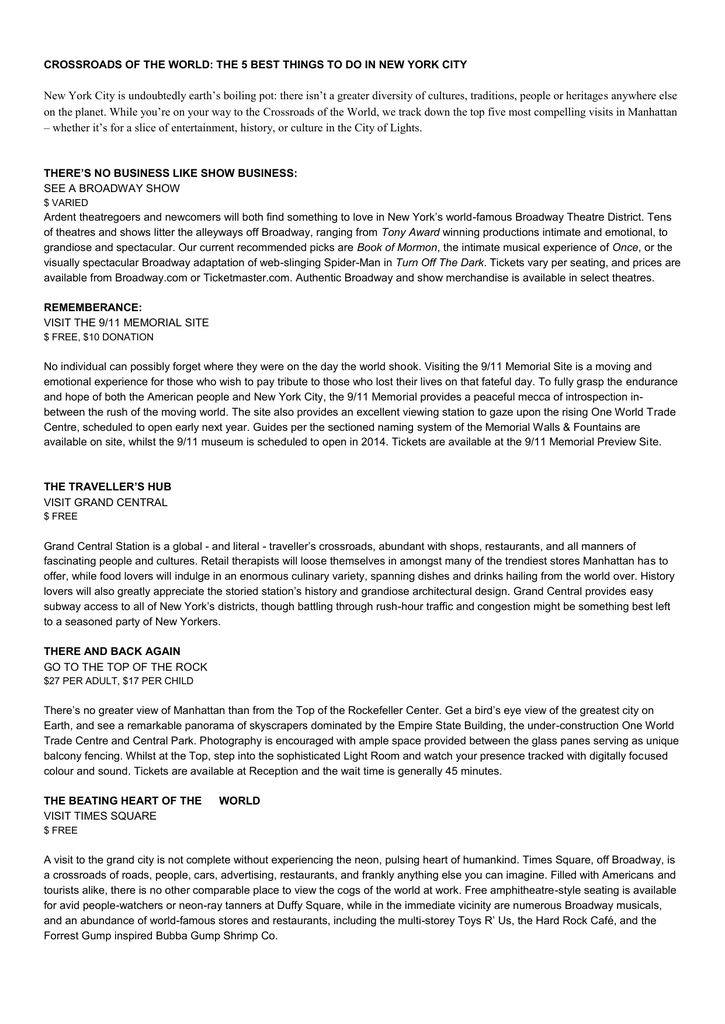 CROSSROADS OF THE WORLD: THE 5 BEST THINGS TO DO IN NEW YORK CITY
New York City is undoubtedly earth's boiling pot: there isn't a greater diversity of cultures, traditions, people or heritages anywhere else
on the planet. While you're on your way to the Crossroads of the World, we track down the top five most compelling visits in Manhattan
– whether it's for a slice of entertainment, history, or culture in the City of Lights.
THERE'S NO BUSINESS LIKE SHOW BUSINESS:
SEE A BROADWAY SHOW
$ VARIED
Ardent theatregoers and newcomers will both find something to love in New York's world-famous Broadway Theatre District. Tens
of theatres and shows litter the alleyways off Broadway, ranging from Tony Award winning productions intimate and emotional, to
grandiose and spectacular. Our current recommended picks are Book of Mormon, the intimate musical experience of Once, or the
visually spectacular Broadway adaptation of web-slinging Spider-Man in Turn Off The Dark. Tickets vary per seating, and prices are
available from Broadway.com or Ticketmaster.com. Authentic Broadway and show merchandise is available in select theatres.
REMEMBERANCE:
VISIT THE 9/11 MEMORIAL SITE
$ FREE, $10 DONATION
No individual can possibly forget where they were on the day the world shook. Visiting the 9/11 Memorial Site is a moving and
emotional experience for those who wish to pay tribute to those who lost their lives on that fateful day. To fully grasp the endurance
and hope of both the American people and New York City, the 9/11 Memorial provides a peaceful mecca of introspection inbetween the rush of the moving world. The site also provides an excellent viewing station to gaze upon the rising One World Trade
Centre, scheduled to open early next year. Guides per the sectioned naming system of the Memorial Walls & Fountains are
available on site, whilst the 9/11 museum is scheduled to open in 2014. Tickets are available at the 9/11 Memorial Preview Site.
THE TRAVELLER'S HUB
VISIT GRAND CENTRAL
$ FREE
Grand Central Station is a global - and literal - traveller's crossroads, abundant with shops, restaurants, and all manners of
fascinating people and cultures. Retail therapists will loose themselves in amongst many of the trendiest stores Manhattan has to
offer, while food lovers will indulge in an enormous culinary variety, spanning dishes and drinks hailing from the world over. History
lovers will also greatly appreciate the storied station's history and grandiose architectural design. Grand Central provides easy
subway access to all of New York's districts, though battling through rush-hour traffic and congestion might be something best left
to a seasoned party of New Yorkers.
THERE AND BACK AGAIN
GO TO THE TOP OF THE ROCK
$27 PER ADULT, $17 PER CHILD
There's no greater view of Manhattan than from the Top of the Rockefeller Center. Get a bird's eye view of the greatest city on
Earth, and see a remarkable panorama of skyscrapers dominated by the Empire State Building, the under-construction One World
Trade Centre and Central Park. Photography is encouraged with ample space provided between the glass panes serving as unique
balcony fencing. Whilst at the Top, step into the sophisticated Light Room and watch your presence tracked with digitally focused
colour and sound. Tickets are available at Reception and the wait time is generally 45 minutes.
THE BEATING HEART OF THE
VISIT TIMES SQUARE
WORLD
$ FREE
A visit to the grand city is not complete without experiencing the neon, pulsing heart of humankind. Times Square, off Broadway, is
a crossroads of roads, people, cars, advertising, restaurants, and frankly anything else you can imagine. Filled with Americans and
tourists alike, there is no other comparable place to view the cogs of the world at work. Free amphitheatre-style seating is available
for avid people-watchers or neon-ray tanners at Duffy Square, while in the immediate vicinity are numerous Broadway musicals,
and an abundance of world-famous stores and restaurants, including the multi-storey Toys R' Us, the Hard Rock Café, and the
Forrest Gump inspired Bubba Gump Shrimp Co.