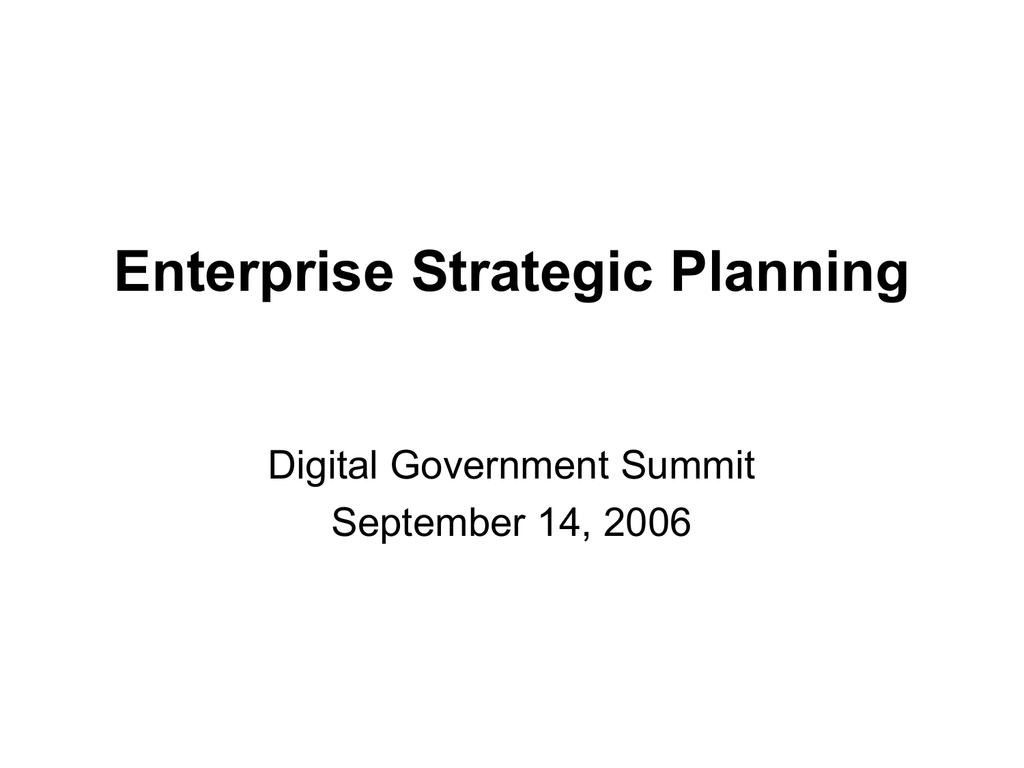 Enterprise Strategic Planning
Digital Government Summit
September 14, 2006
Enterprise Strategic Planning
•
Aligning technology with
business needs on an enterprise
level is one of the foremost
challenges in government today.
•
Tying it all together requires
stakeholder collaboration and a
broad analysis of objectives,
costs, resources, and timelines.
•
Projects must be looked at in
light of their true drivers, and
business leaders must be
engaged throughout the entire
process.
•
In this session, we will discuss
successful strategies in planning,
prioritization, collaboration, and
motivation.
The ABCs of Strategic Planning
•
The first step is to develop a
realistic 'Vision' for the
organization. This should describe
the desired organization as you
envision it to exist in three or more
years time (aka: the planning
horizon).
•
The nature of the organization is
often expressed in its 'Mission'
which indicates the primary
purpose of the organization, or
basically identifies why the
organization exists.
The ABCs (cont.)
•
The next element is to address the
'Values' which govern the routine
operation of the organization and
its conduct or relationships with its
key stakeholders and constituents.
•
Next, an organization's leaders
should explicitly state their
'Objectives' in terms of the
specific (and measurable) results
that they need or want to achieve
within a given time period.
The ABCs (cont.)
•
Next are 'Strategies' (aka:
roadmaps) – these consist of highlevel plans, guidelines, and overall
approach by which the mission,
objectives etc. may be achieved.
•
Then come the 'Goals' - these are
specific interim or ultimate timebased measurements (aka
performance metrics) to be
achieved by implementing the
defined strategies in pursuit of the
organization's objectives.
The ABCs (cont.)
•
These elements are then organized
into specific business initiatives or
'Programs' which set forth the
overall business requirements and
objectives as well as providing highlevel plans for implementing the key
strategies.
•
The programs are then distilled
down to 'Projects' which are the
implementing mechanism for
accomplishing the specific business
requirements and objectives
identified at the program level.
Multiple projects are typically
required under each program.
Benefits of Strategic Planning
• Promotion of Strategic Thinking, Acting, and Learning
– Involves systematic information gathering, clarification of direction, and
organizational prioritization.
• Improved Decision Making & Increased Results
– Focuses attention on the crucial challenges the organization faces and the
decisions/actions required to resolve them.
• Enhanced Organizational Effectiveness
– Clarify and address major issues, respond to internal and external demands, and
deal with changing circumstances.
• Broader Societal Systems & Solutions
– Major challenges in health, education, and welfare need to be addressed at the
enterprise level, not the organizational level.
• Direct Benefit to Decision Makers
– Strategic Planning can help Key Decision Makers fulfill their Individual Roles and
Responsibilities.
Key Success Factors
•
•
•
•
Communication
Cooperation
Coordination
Collaboration
Tools & Techniques
Conducting a Strategic Analysis
SWOT Analysis
Business Analysis
•
•
•
•
•
•
Interviews
Surveys
Shared Databases
Focus Groups
Benchmarking
Related Research
Business Process Management
•
Engage 'key decision makers': agency
directors; business process owners; chief
financial officers; and other major
stakeholders
•
Assess the 'current state' of affairs:
business and financial situation, political
environment, constituent needs, etc.
•
Define 'desired state' of affairs: major
goals, objectives, and expectations that
address the challenges identified above.
•
Perform 'gap analysis': Assess internal
capabilities; external business drivers; and
then identify the activities or actions
necessary to move to desired state.
•
Identify the 'road map': document and
prioritize the key business initiatives,
programs, and projects required to meet
business objectives.
Business Drivers
State Government Model
Key Stakeholders
• Governor (Executive Branch)
• State Legislature (Law Makers)
• Agency Directors / Secretaries
• Federal Programs & Grants
• Constituents / Taxpayers
• State Business Community
Key Decision Factors
•
Is this a mandated program?
•
Do we have the technical
capability to implement?
•
Is grant funding available?
•
Opportunity for cost savings?
•
What is the impact on existing
applications or assets?
•
Opportunity for cost avoidance?
•
Opportunity for revenue
generation?
What is the availability of funding
and resources?
•
•
What is the fiscal impact?
•
Is this a strategic initiative?
•
•
Is this an end of lifecycle issue?
What are the maintenance and
support requirements?
•
What is the urgency of need?
•
•
What is the strategic value added?
What is the total cost of
ownership?
•
What is the impact on other
programs/projects?
•
What is the return on investment?
•
What is the impact of not pursuing
this program/project?
Interconnected Roles of Government
• Health Care
• Higher Education
• Regulatory and
Administrative
• Social Services
• Public Safety
• Environmental and Economic
Development
Organizational Considerations
State Government Model
Distributed Model (Historic)
HFS
DFPR
DOT
DPH
DCEO
CMS
EPA
AGR
DOR
DES
DNR
DHS
Impetus for Change
• New administration – with
significant private sector
experience
• State budget crisis – need to
dramatically reduce spending
• Aging and retiring workforce
• Difficulty in attracting and
retaining new technical staff
• Obsolete equipment and a
general lack of IT infrastructure
standardization
• Multiple contracts for the same
or similar business solutions
Shared Services Model (Current)
Integrated Process
State Government Model
Strategic Planning
• Conducted at the executive
level: Agency Directors,
Secretaries, Bureau Chiefs,
etc.
• Must be integrated into the
Enterprise Strategic Plan
(managed by CMS)
• Establishes the strategic
business initiatives (aka:
'Programs'
• Establishes the basis for
budget submittals and
headcount requests
• Focused on business
requirements and objectives
Budgetary Planning Process
•
Prioritize and rank order projects:
senior management must determine
which business initiatives and
projects are most important to the
organization.
•
Develop budgetary estimates of the
dollars, resources, and time required
to achieve each proposed project.
•
Collaborate with Shared Services
organization to determine the
strategic alignment and feasibility of
planned implementation.
•
Develop budgetary dollar, time and
headcount estimates to prepare
annual budget submittal.
•
Initiate proposed projects by
submitting project charters through
the Governance process
Project Portfolio
•
Identify IT Programs & Projects (in
advance)
•
Business requirements drive
ranking and prioritization
•
Forecast funding and resource
requirements
•
Identify interdependencies and
constraints
•
Facilitate pre-planning for long
lead-time items (e.g., Master
Contracts)
•
Facilitate Governance process
(alignment and standardization)
•
Supports Resource and funding
allocation planning
IT Governance
• Project Charter
• Functional
Requirements
• Non-Functional
Requirements
• Financial Analysis
• Detailed Design
Project Qualification & Activation
•
•
•
•
Architecture Rationalization Board
Management Review Board
Investment Review Board
Enterprise Program Management Office
Summary
•
Strategic Planning must start at
the Executive Level and senior
management must remain
engaged throughout the entire
process
•
Strategic Planning is an iterative
and collaborative process – all
stakeholders must participate and
contribute in order for the process
to work effectively
•
Strategic planning, the budget
process, the program & project
portfolio, governance, and project
management are all part of one
integrated process
Questions?