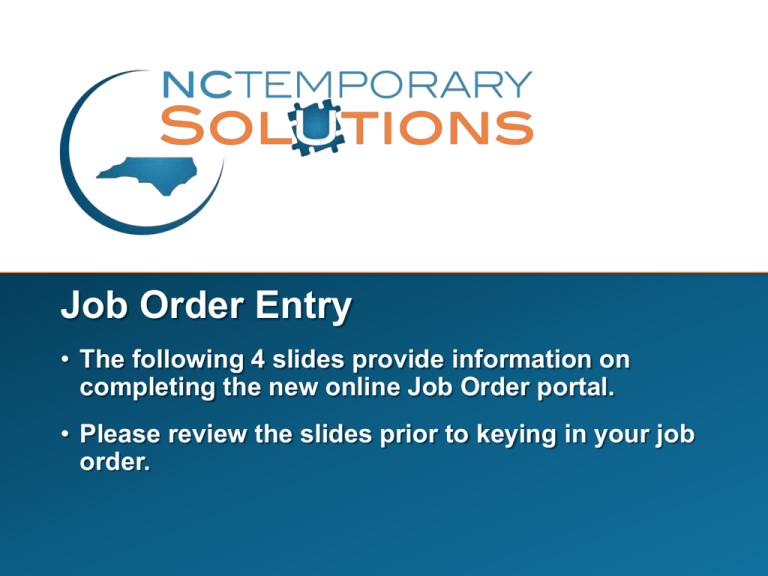 Job Order Entry
• The following 4 slides provide information on
completing the new online Job Order portal.
• Please review the slides prior to keying in your job
order.
Required fields denoted by RED asterick*
• Date of Job Order auto populates
• Your Email Address
Email of person keying job order
• Choose Agency from drop down
• Select Division/Account
• Program is a more defined area for you to key in
• HR Contact and the following requested information
This contact will be notified of 31 day break and of personnel #
• Supervisor Contact with the requested contact
information
This contact will be listed as the supervisor in BEACON and will
be responsible for approving the time.
2
•
Address – location where employee should
report to work
•
Address 2 – for including building numbers,
room numbers, etc.
•
If agency is establishing the NCID, please insure
that the employee is also provided BEACON
access and that it is linked.
Employees should only need one NCID.
•
Include projected Start Date and End Date.
Job orders should not be more than 11 months!!!
•
Work Schedule is the Start Time and End Time
of a normal work day.
•
Average Work Hours Per Week is a drop down
for you to choose.
Please note that if average work hours are 30 or more,
then the employee must be offered the ACA health
benefits. It will populate the status of part-time or fulltime depending on the hours selected.
•
Include Job Title and Pay Grade or Career Band
Level if a career banded classification.
3
• Hourly Rate should be the maximum that you can afford
to pay.
NOTE: Temporary Solutions will complete a salary qualification on
the selected candidate. We will not pay more than the amount
listed, but if the candidate qualifies for less than was submitted,
we will only the amount for which they qualify.
• The Billing Rate will automatically populate.
• Recommendation – Please complete if you have a
selected contact. If nothing is listed here, a qualified
applicant will be identified and provided.
• If applicable, include Shift Premium for the position.
• Budget Information (new to the Job Order):
• Company Code
• Business Area
• Fund
• Cost Center
This information will print on the invoice. These are
required fields. Key in all "zeros" if you do not have this
information.
4
• Internal Order is also a budget field and can be
pulled from the vacant position used for the
position paying for temporary lapse salary. If
not applicable, you will need to complete the
field with 12 zeros.
• PO # —if applicable—will also print on invoice
The forms allow you the include the following
attachments:
• Competency Assessment of banded
classifications
• Application of selected candidate
• Job Description
This does not have to be a complete job
description; for example, it can be a brief
description of the duties in a Word document.
• Budget Authorization
There are several accounts that require a signed
approval to be included with all job orders.
5
•
Final Step - Submit
You will get an automated reply with the job
order number and the placement counselor
name assigned to the account. A copy of this
job order will be included in the email.