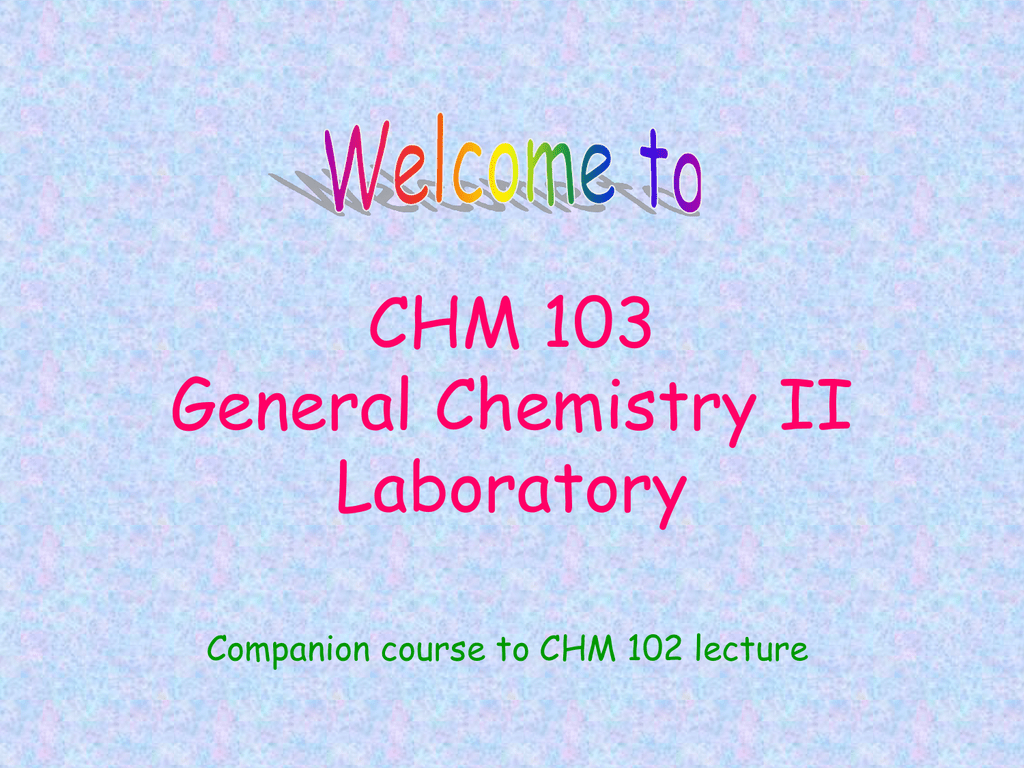 CHM 103
General Chemistry II
Laboratory
Companion course to CHM 102 lecture
The laboratory addresses:
• Measurement including statistics
• Non-visual methods of tracking reactions
– Potentiometric titration
– Conductiometric titration
• Instrumental methods and computer
technology
– Chime
– Graphing calculator and/or Excel
– IR and visible spectroscopy
• Build on topics from CHM 101 and new
areas explored in CHM 102
Laboratory on Monday
or Wednesday
follow-up out of class
Discussion on Friday
data analysis
practice questions/problems
3 performance labs
at 50 points each
for
2 exams at
100 points
each
for
200
+ 5 mini-assignments
at 10 points
each
200
Culminating Chemical
Analysis Task
at 100 points
500 points total
Culminating Chemical
Analysis Task (CCAT)
•
•
•
•
Last lab period
Done individually
Chemical analysis performance task
Uses skills and procedures covered
during semester
• Instructions provided
In class … On time… Be ready to
THINK !!!
At least 6 hours per week on out of class work
Complete class assignments and problems
on handouts
Form a study group and meet regularly
Get help early from your instructor or tutor
Laboratory manual available FREE online as pdf –
Also links to interactive support materials
The course webpage
http://academic.pgcc.edu/~ssinex/chm103.html
For great resources
http://academic.pgcc.edu/psc
In small groups...
• Each group must invent a new unit of
measurement
• Use the new unit to determine the area of
the classroom
• Compare your group's unit to another
• What is the conversion factor between the
two different units?
• How would other students in another place
be able to use your unit?