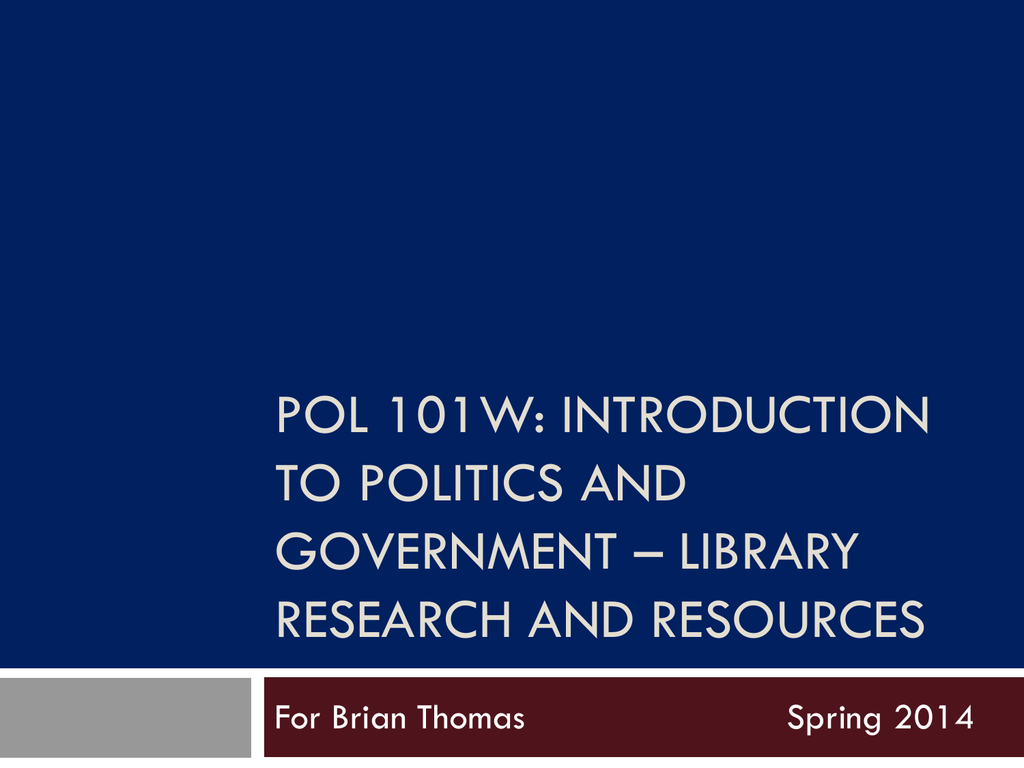 POL 101W: INTRODUCTION
TO POLITICS AND
GOVERNMENT – LIBRARY
RESEARCH AND RESOURCES
For Brian Thomas
Spring 2014
Agenda





Develop a research strategy
Find appropriate resources
Use advanced search techniques
Evaluate sources
Help!!
Develop a Research Strategy



Write down your topic
Break your topic into its components
Brainstorm synonyms for the words you're using
 These
will become your keywords that you use to search
databases
Sample Topic

How does globalization affect the rights of women
in developing countries?
Exploring Library Resources
5

Library Search? Fast Search? Catalogue?
 Which

one should you use?
Explore the Political Science Library Research Guide
Popular v. scholarly Journals
6

How do you know whether a resource is scholarly
(academic) or popular?
Popular Journals
7






Goals are to entertain the general public … and to sell!
Photographs and ads
Attention-grabbing headlines
Relatively short articles and opinion pieces
No bibliographies
Authors may be anonymous

Examples: magazines, newspaper articles, etc.
Scholarly Journals
8





Goals are to share ideas and research findings with other
experts in the field
Peer-reviewed
Author credentials listed
Usually lengthy, in-depth
Abstracts, footnotes and/or bibliographies

Examples: journal articles, theses/dissertations, etc.
Find Journal Articles



Recommended databases: PAIS International,
Political Science Complete, Columbia International
Affairs Online, International Political Science
Abstracts (e-journal)
Limit your search to peer-reviewed or academic
journals
Do not limit to full-text – It will omit relevant articles
that are available in full-text from other SFU
databases
Political Science Complete
Advanced Searching

Use quotation marks to search a phrase


Use truncation


"emerging economies"
global* = global, globalization, globalisation, globalizing
Use Boolean operators: OR, AND

Women OR Gender OR Feminism
o

Use to broaden your search and retrieve more search results
Women AND Globalization
o
Use to narrow your search and retrieve fewer search results
Sources from the Open Web
12
Advantages? Disadvantages?
 Web publishing

 Commercial
websites
 Advocacy websites
 News and opinion pieces
 Personal websites and blogs
 Scholarly research articles
Evaluating sources
13
1.
2.
3.
4.
5.
Authority: Who is the author? What are the author's
credentials?
Content: Is the information factual? Is it suitable for
your topic?
Scope: Who is the intended audience?
Currency: How recently was the resource published or
last updated?
Objectivity: Is the information consistent with other
scholarly sources? Is there evidence of bias? Are the
author's sources clearly cited? Can they be verified?
Cite your sources
14




Choose a citation style (e.g. APA)
Cite your sources in two places: in the body of your
paper (in-text citations) and at the end of your paper
(References)
Cite when you directly quote from a source and when
you paraphrase
The purpose of citing your sources is:
o
o
to identify other people's ideas and arguments used within
your essay
to inform the reader of your paper where to look to find the
same sources
Manage Your Sources

RefWorks
 A web-based bibliography and citation database
manager
 Available to all current SFU faculty, staff, students and
alumni
 Stores citation data & formats output
 Facilitates cooperative bibliography building
Help!



Ask anyone at the Ask
Us Desk in all three
campus library branches
Use our Ask a Librarian
services
http://www.lib.sfu.ca/he
lp/ask-us/
Contact me:
Jenna Walsh
[email protected]




Class? Due Date?
Where have you
already searched?
How have you already
searched?
Have you found
anything close to what
you need?