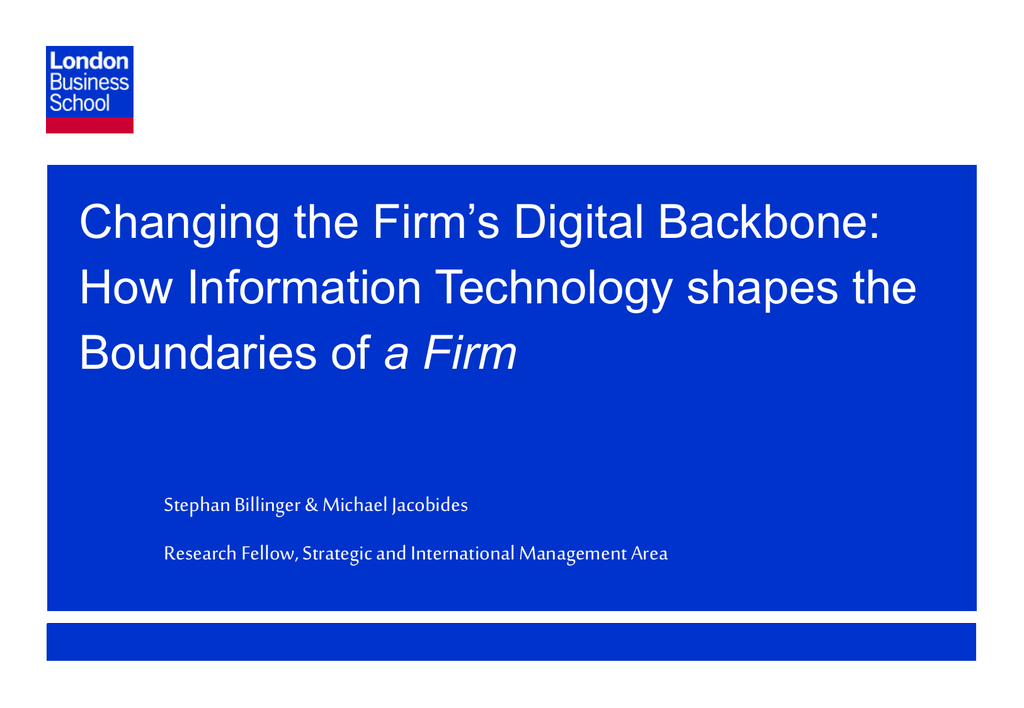 Changing the Firm's Digital Backbone:
How Information Technology shapes the
Boundaries of a Firm
Stephan Billinger & Michael Jacobides
Research Fellow, Strategic and International Management Area
The presentation





Introducing the phenomenon
Prior theory
Research design
The case study
Summary contribution
2
Creating a vertical architecture:
The case of Fashion Inc.
Garment
Service Unit
Sourcing &
Order
Processing
Sales
Apparel
collection
Product
Development
Packaged
& tagged
garment
Make
&
Trim
Garment
Sourcing
&
Cut
Packaging
&
Processing
Apparel
Design
Cut
Fabric
Refined
Fabric
CMT Unit
Cut Fabric
Dyeing
Dyed Fabric
Fiber
Arrows:
Firm selling
Refinement
&
Processing
Refined
Farbic
Sourcing
&
Knitting
Raw Fabric
Arrows:
Firm buying
Dyed
Fabric
Fiber
Raw
Fabric
Fabric Unit
3
Why did Fashion Inc. not outsource but
open-up its boundaries instead?
Comments from managers
 "Why should we get rid of the 'staple part' of our value chain?"
 "Innovation is not changing a style or a color – it's in the fabric!"
Benefits
 Operational Efficiency and Effectiveness
 Strategic Capabilities and Propensity to Innovate
 Use of the Market Benchmark supports Corporate Resource Allocation
4
The role of IT at Fashion Inc.'s redesign
 "The old IT infrastructure cannot do it…"
 "We need a new IT system!"
 How does Information and Communication Technology (IT)
influence a firm's boundary choices?
5
IT and firm boundaries / IT and modularity in firms
 Research that follows the TCE tradition suggests
– IT reduces transaction costs (Ciborra, 1993)
– IT reduces internal, external coordination costs (Malone et al, 1987)
– IT leads to external coordination (Clemons et al, 1993; Hitt, 1999)
 IT in firms
– "Electronic markets", "electronic hierarchies" (Malone et al, 1987)
– IT facilitates communication in MNEs (Andersen & Foss, 2005)
 Looking at firms: Technology, organizations and (internal)
boundaries
– Modular organizations (Sanchez & Mahoney 1996; Baldwin & Clark
2000; Schilling 2000; Schilling & Steensma, 2001)
– Modularization: Disaggregated production chain (Schilling, 2002)
6
The theory gap and the research design
 Research has not looked at:
– How does Information and Communication Technology (IT)
influence a firm's boundary choices?
 The setting was chosen on conceptual grounds, rather than
because of its representativeness (Firestone, 1993)
 Inductive case study to identify micro-level mechanisms
 Verification of case-study results using an IT database
7
Comparing the old and the new IT system
The problem in daily
business
The old IT system
The new IT system
"How do we get prices
out of the IT system?"
System allows only
buying, selling can only
be pursued after certain
steps
System supports buying
and selling along the
entire value chain
"How can we react to
several customers
along the value
chain?"
Scenario planning is not
possible
Scenario planning with IT
simulation tools
…
…
…
8
New IT: An Enterprise Resource Planning (ERP)
system that plays an architectural role
Master Production Schedule
Network Forecasting
Production Requirements
Planning
Network Demand
Planning
Manufacturing
Planning &
Control
Purchasing
Controlling
Network Configuration
Overall Tasks
Inventory Management
Core Tasks
Order Management
ERP
systems
support
these
functionalities
only
recently
Network Tasks
Master Data Management
Partly adopted from Schuh & Roesgen, 2006
9
Vertical packages determine vertical scope
Fiber
Warehouse
Raw
Fabric
Warehouse
Dyed
Fabric
Warehouse
Fabric
Warehouse
Processes
procured
internally
Vertical Package 3
Sourcing
Fiber
Processes
procured
by external
partners
Vertical Package 1
Vertical Package 2
Knitting
Fabric
Refinement
Dyeing
Fabric
Order
Processing
Vertical Package 4
10
Summary contributions
 Different types of IT play different roles in organizational
design
– Architectural IT vs. productive IT vs. mediating IT
 Vertical packages determine vertical scope
– Vertical packages are a particular configuration of processes that
fulfil a distinct business need
 Architectural IT (e.g. an ERP system)
– is required to rapidly configure and reconfigure vertical packages
– enables modularity within an organization
11
Implications
 Firm boundary decisions
– A firm's overall boundaries are the sum of its individual transactional
choices – combining these choices can generate benefits
– Vertical scope is determined by dynamically changing configurations of
vertical packages
 Organizational design
– Permeable value chains are based on rapidly reconfigurable modularity
– Modular structures are central for creating markets within and across
organizations
 Information Systems
– IT can help to simulate vertical integration while addressing intermediate
markets
– To understand firm boundaries, we need to study architectural
technologies (e.g. ERP) rather than mediating technologies (e.g. EDI)
12
Thank you!