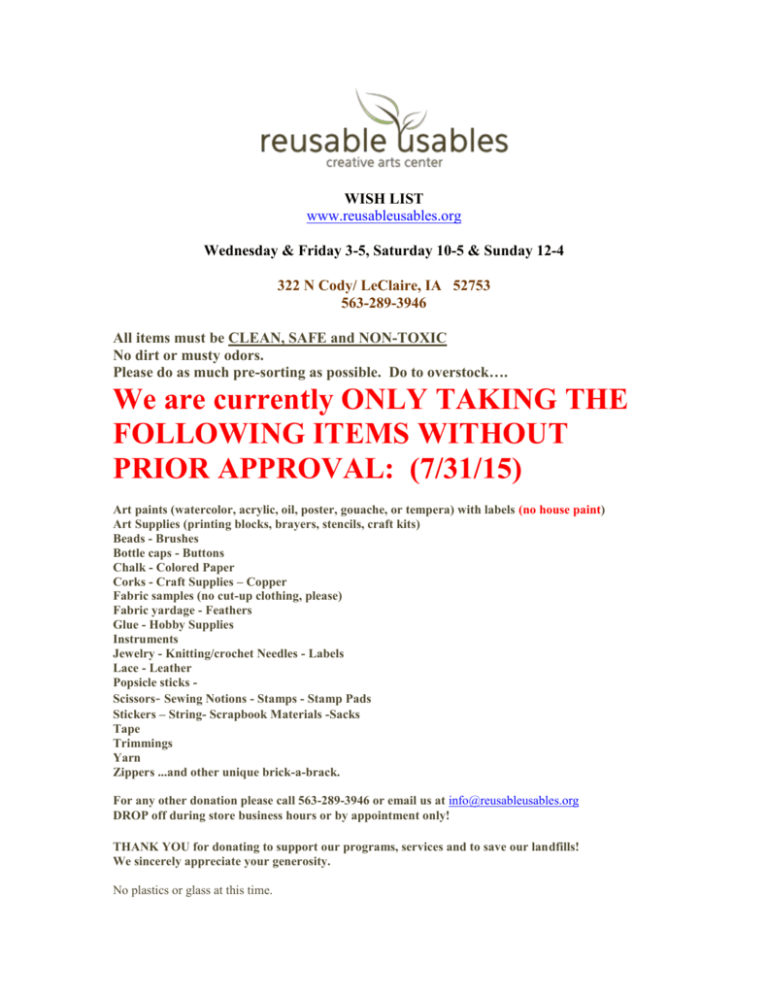 WISH LIST
www.reusableusables.org
Wednesday & Friday 3-5, Saturday 10-5 & Sunday 12-4
322 N Cody/ LeClaire, IA 52753
563-289-3946
All items must be CLEAN, SAFE and NON-TOXIC
No dirt or musty odors.
Please do as much pre-sorting as possible. Do to overstock….
We are currently ONLY TAKING THE
FOLLOWING ITEMS WITHOUT
PRIOR APPROVAL: (7/31/15)
Art paints (watercolor, acrylic, oil, poster, gouache, or tempera) with labels (no house paint)
Art Supplies (printing blocks, brayers, stencils, craft kits)
Beads - Brushes
Bottle caps - Buttons
Chalk - Colored Paper
Corks - Craft Supplies – Copper
Fabric samples (no cut-up clothing, please)
Fabric yardage - Feathers
Glue - Hobby Supplies
Instruments
Jewelry - Knitting/crochet Needles - Labels
Lace - Leather
Popsicle sticks Scissors- Sewing Notions - Stamps - Stamp Pads
Stickers – String- Scrapbook Materials -Sacks
Tape
Trimmings
Yarn
Zippers ...and other unique brick-a-brack.
For any other donation please call 563-289-3946 or email us at info@reusableusables.org
DROP off during store business hours or by appointment only!
THANK YOU for donating to support our programs, services and to save our landfills!
We sincerely appreciate your generosity.
No plastics or glass at this time.