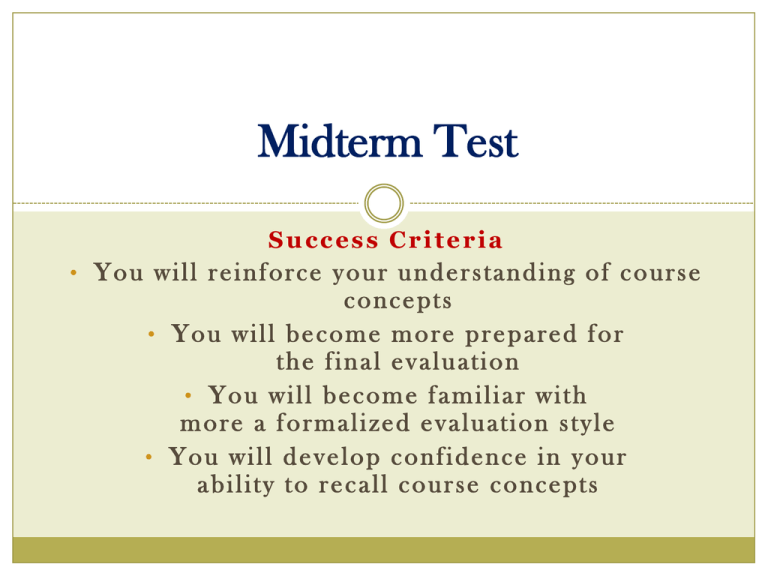 Midterm Test
Success Criteria
• You will reinforce your understanding of course
concepts
• You will become more prepared for
the final evaluation
• You will become familiar with
more a formalized evaluation style
• You will develop confidence in your
a b i l i t y t o r e c a l l c o u r se c o n c e p t s
What will it cover?
 The test will cover the:
 Hinduism unit
 Buddhism unit
 Judaism unit

Note: the test will not cover the introductory unit, which
will be revisited before the final evaluation
Test process
 Desks in rows
 Assigned seating
 Only pencils and a highlighter or coloured pencil and an
eraser are permitted at your desk.
 All other items must be either hung up at the back or along
the front wall of the classroom.
 Timed writing (end time is recorded)
 No questions may be asked during the test
Test format
 Part A – fill in a chart with a word box (out of 15)
 Part B – T and F with 2 corrections (out of 10)
 Part C – Multiple Choice (out of 10)
 Part D – Concepts and connections – choose one concept from
each religion and fill in chart (KU – what is it?, TI – why is it
significant? Where does it fit into the context of the religion?
(connect to 3 topics in same religion), A/MC – how does it
connect to other religions? (connect to 3 terms from another
religion) (chart form, with rubric)
 Part E – Short Answers (KU – identify concepts, and TI –
provide explanations, detail)
Part D – Choose at least one from each religion
K/U
WHAT is it?
Define/identify
concept.
Provide 2 pieces of
information for
each concept.
T/I
WHY is it significant in its
religion? WHY is it practiced
(if applicable)? WHERE
does it fit into the context of
the religion? Relate it to 3
other concepts from the same
religion.
A/MC
HOW does it compare to
concepts in Roman
Catholicism or other
religions? Provide three
comparisons.