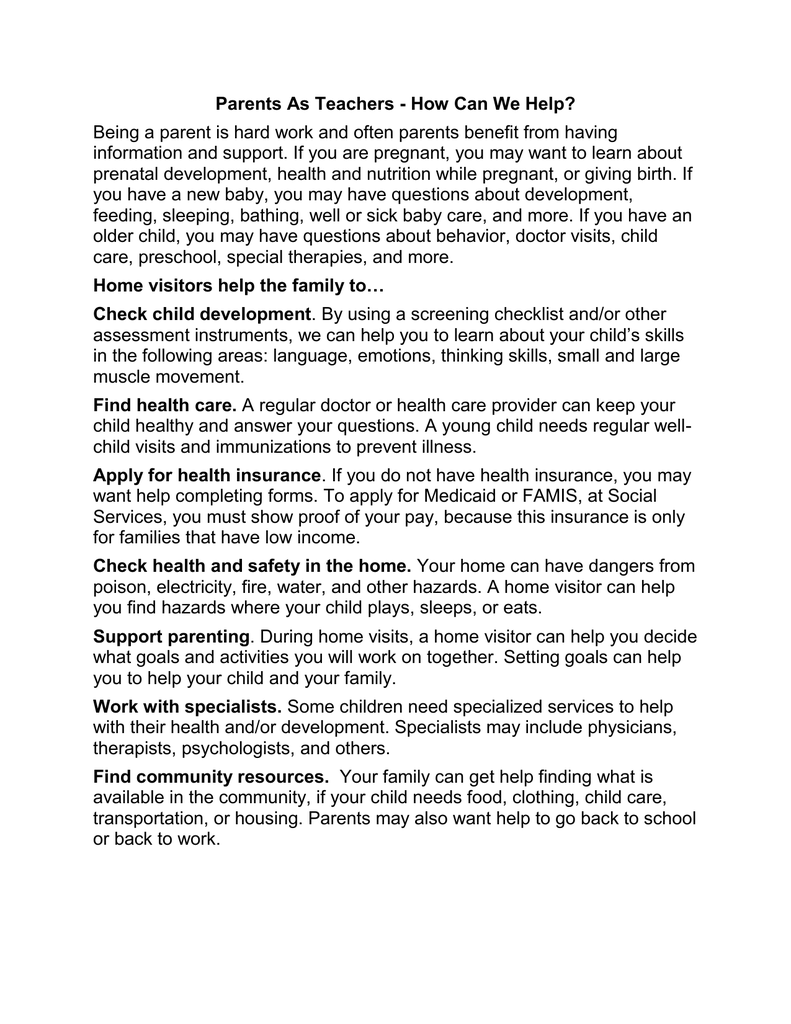 Parents As Teachers - How Can We Help?
Being a parent is hard work and often parents benefit from having
information and support. If you are pregnant, you may want to learn about
prenatal development, health and nutrition while pregnant, or giving birth. If
you have a new baby, you may have questions about development,
feeding, sleeping, bathing, well or sick baby care, and more. If you have an
older child, you may have questions about behavior, doctor visits, child
care, preschool, special therapies, and more.
Home visitors help the family to…
Check child development. By using a screening checklist and/or other
assessment instruments, we can help you to learn about your child's skills
in the following areas: language, emotions, thinking skills, small and large
muscle movement.
Find health care. A regular doctor or health care provider can keep your
child healthy and answer your questions. A young child needs regular wellchild visits and immunizations to prevent illness.
Apply for health insurance. If you do not have health insurance, you may
want help completing forms. To apply for Medicaid or FAMIS, at Social
Services, you must show proof of your pay, because this insurance is only
for families that have low income.
Check health and safety in the home. Your home can have dangers from
poison, electricity, fire, water, and other hazards. A home visitor can help
you find hazards where your child plays, sleeps, or eats.
Support parenting. During home visits, a home visitor can help you decide
what goals and activities you will work on together. Setting goals can help
you to help your child and your family.
Work with specialists. Some children need specialized services to help
with their health and/or development. Specialists may include physicians,
therapists, psychologists, and others.
Find community resources. Your family can get help finding what is
available in the community, if your child needs food, clothing, child care,
transportation, or housing. Parents may also want help to go back to school
or back to work.
Parents As Partners
Parents As Teachers is a volunteer program and families typically
participate in at least two home visits each month. During those home visits
parents participate in a variety of ways. In addition to home visits, parents
and other family members can choose to participate in more activities,
events, and in different ways at different times.
Here are some ways that you and other family members may want to be
involved in your child's services, programs, or CDR agency activities.
Observe – Watching and asking questions will help you learn more about
your child, how to help your child, and how to work with providers.
Observation can take place on home visits, in the center, and during visits
in the community. CDR has observation booths where parents, students,
and other people can watch program services.
Communicate – Sharing information is essential to providing high-quality
services. Talk openly and often to the people serving your child and family.
Visit, call, write a note, or send an Email.
Participate – Family members can join in on home visits, parent group,
play group, fatherhood events, and other activities that help children or help
the program.
Attend Parent Group – For morning parent groups, children are often in
play group. For evening parent groups or events (e.g., a picnic), children
usually remain with parents. Parent groups are typically open to family
members and other people who are important in the child's life.
A group facilitator may invite a speaker, encourage discussion, or plan fun
activities. Parents suggest topics to learn about or discuss such as child
development, parenting, nutrition, and family life.
Volunteer – Family members and other people help by volunteering their
time at events to support CDR. For example, parents can collect or make
materials, help with a display booth at a community event, or attend the
Auction or the 5K Run.
Be an Advisor – Parents have an important role in helping the program
and agency to continue to improve its services. Parents fill out surveys and
participate in advisory groups. Some parents make a commitment to serve
on CDR's Board or PAT's Advisory Group.