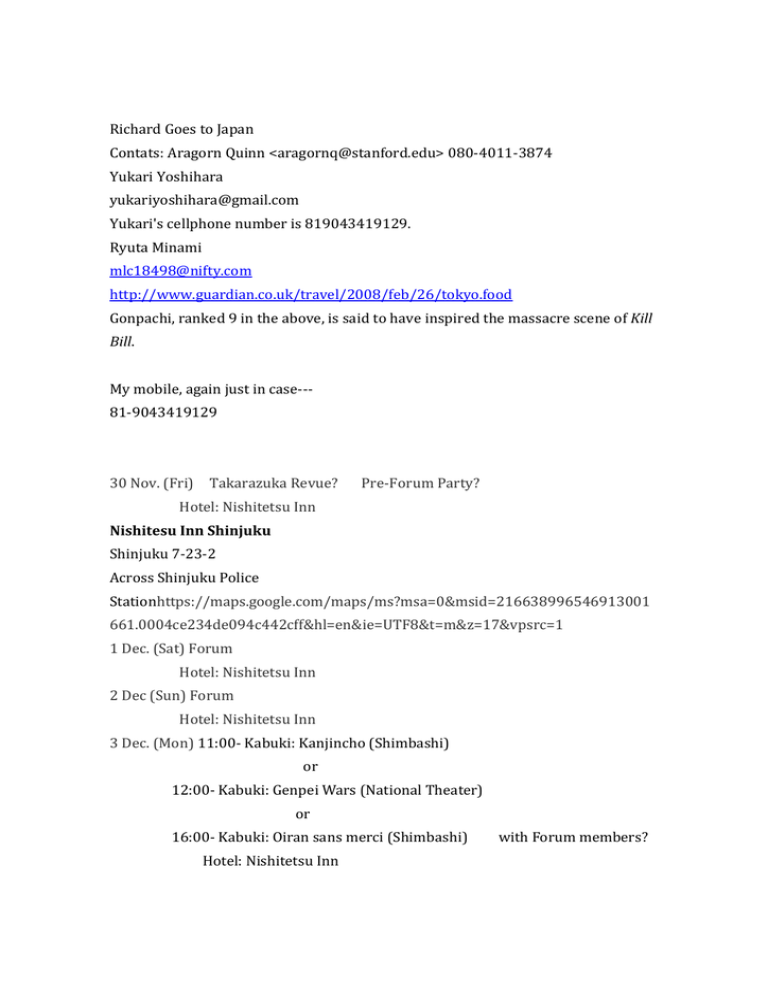 Richard Goes to Japan
Contats: Aragorn Quinn <aragornq@stanford.edu> 080-4011-3874
Yukari Yoshihara
yukariyoshihara@gmail.com
Yukari's cellphone number is 819043419129.
Ryuta Minami
mlc18498@nifty.com
http://www.guardian.co.uk/travel/2008/feb/26/tokyo.food
Gonpachi, ranked 9 in the above, is said to have inspired the massacre scene of Kill
Bill.
My mobile, again just in case--81-9043419129
30 Nov. (Fri) Takarazuka Revue?
Pre-Forum Party?
Hotel: Nishitetsu Inn
Nishitesu Inn Shinjuku
Shinjuku 7-23-2
Across Shinjuku Police
Stationhttps://maps.google.com/maps/ms?msa=0&msid=216638996546913001
661.0004ce234de094c442cff&hl=en&ie=UTF8&t=m&z=17&vpsrc=1
1 Dec. (Sat) Forum
Hotel: Nishitetsu Inn
2 Dec (Sun) Forum
Hotel: Nishitetsu Inn
3 Dec. (Mon) 11:00- Kabuki: Kanjincho (Shimbashi)
or
12:00- Kabuki: Genpei Wars (National Theater)
or
16:00- Kabuki: Oiran sans merci (Shimbashi)
Hotel: Nishitetsu Inn
with Forum members?
4 Dec. (Tue) 17:00- Puppet Theater (love suicide) at National Theater
Hotel: Nishitetsu Inn
5 Dec. (Wed)
15:25
Narita
DELTA 296
8 (Sat), 11:00-, 16:00Takarazuka Revue
Ticket price range: 11,000JPY, 8,500JPY, 5,500JPY, 3,500 JPY
26 (Mon), Nov. 13:00
27(Tue), Nov. 11:00-,
15:00-
29 (Thu), Nov. 11:00-, 15:0030 (Fri), Nov. 13:003 (Mon), Dec. 13:004(Tue), Dec. 13:006 (Thu), Dec. 11:00-, 15:008 (Sat), 11:00-
Bunraku Puppet Theater,
47 samurai's revenge: Chushingura
Ticket price: 5,800/ 2,300
24 (Sat) Nov. 10:30- (first part) , 16:30- (2nd part)
25 (Sun) Nov. 10:30- (first part) , 16:30- (2nd part)
Wonderland: A New Alice (in Japanese)
Tickets: 12,600, 8,400, 4,200
25 (Sun), 13:0027 (Tue), 14:0028 (Wed) 14:00-, 18:3029 (Thu), 14:0030 (Fri), 18:301 (Sat) Dec. 13:00-, 17:302 (Sun). 13:003 (Mon) 14:00-, 18:304 (Tue) 14:006 (Thu) 14:00-, 18:307 (Fri) 13:00Complete Shakespeare abridged by three performers (in Japanese)
27 (Tue) Nov. 19:0028 (Wed), 19:00-
Bus Tours
Hato Bus tours
Tokyo tour in English
http://www.hatobus.com/en/course/halfday.html
http://www.hatobus.com/en/course/fullday.html
Japanese
A day's return bus trip to Kamakura (everyday)(8,900JPY)
http://search.hatobus.co.jp/main/detail.php?id=15324&kbn=S&kind=s
A day's return bus trip to Lake Yamanaka (9,900 JPY)
Night tour: Oiran geisha dancing show (with tempura dinner)(Saturdays and
Sundays) (Tokyo Station16:00- 20:20 Tokyo Station) (8,400 JPY)
Transexual (men in girls' extravaganza dresses) revue tour
28 (Wed), 30 (Fri) Nov.
5 (Wed) Dec.
Tokyo Station19:00 – 22:40 Near Shinjuku Station
7,900 JPY (inclu. Dinner)
cf. Roppongi Kingyo, another transvestite camp theatre
http://r.gnavi.co.jp/g181600/lang/en/
a list of things I plan to do.
Get a Japanese men's bathrobe.
Visit the toy store on the edge of the Ginza district:
Hakuhinkan Toy Park (博品館), Ginza 8-8-11 (south end of Ginza-dori by
the elevated highway), ☎ +81 03-3571-8008,
Visit the Yasukuni Shrine, the ultra right's monument (complete with
a display explaining why Japan deserved its share of Pacific
territories, and condemning the hypocrisy of the Allies). It's worth
a visit--in the center of Tokyo.
Go to Odaiba, on the east edge of Tokyo: there are several large
themed malls that seemed to me very Japanese recreational spaces.
Also on the island: the Science and Tech museum which is fun, and
features several daily demonstrations of running by Asimo, supposedly
the most advanced robot in the world (and it's interesting to see what
"most advanced" means).
Visit Nippori, in the northern part of the city (a stop on the
Yamanote line), is a great area for strolling around a relatively old
neighborhood; there's a huge cemetery next to the station, and to one
direction is the textile district, in the other an old residential
area.
Visit Shinjuku is where Roland Barthes cruised for pick-ups; Shibuya
is the young shopping district, Harajuku is the tween girl shopping
area, Akihabara the nerd district (all on the Yamanote circle line).
There are good purikura places at Harajuku (often marked by posters of
teen idols, and often a level below the street), and there is an
excellent 100 yen shop on the main shopping drag of Harajuku (opposite
the cute train station) called (unfortunately) Takeshita St.
Visit Ueno; there is a little museum on the north end of Ueno park
dedicated to pre-WWII urban life (I think called the HItamachi
museum). walk east from Ueno into the restaurant supply wholesale
district, which is oldish and a beautiful walk (not the glitzy Tokyo
of Ginza).
Shin-Okubo (9:00 on the Yamanote clock face) is a good area for Korean
restaurants.
Visit these train stations; Ueno's is old and quaint, Shinagawa's very
new and corporate, Nippori's has a great pastry shop or two.