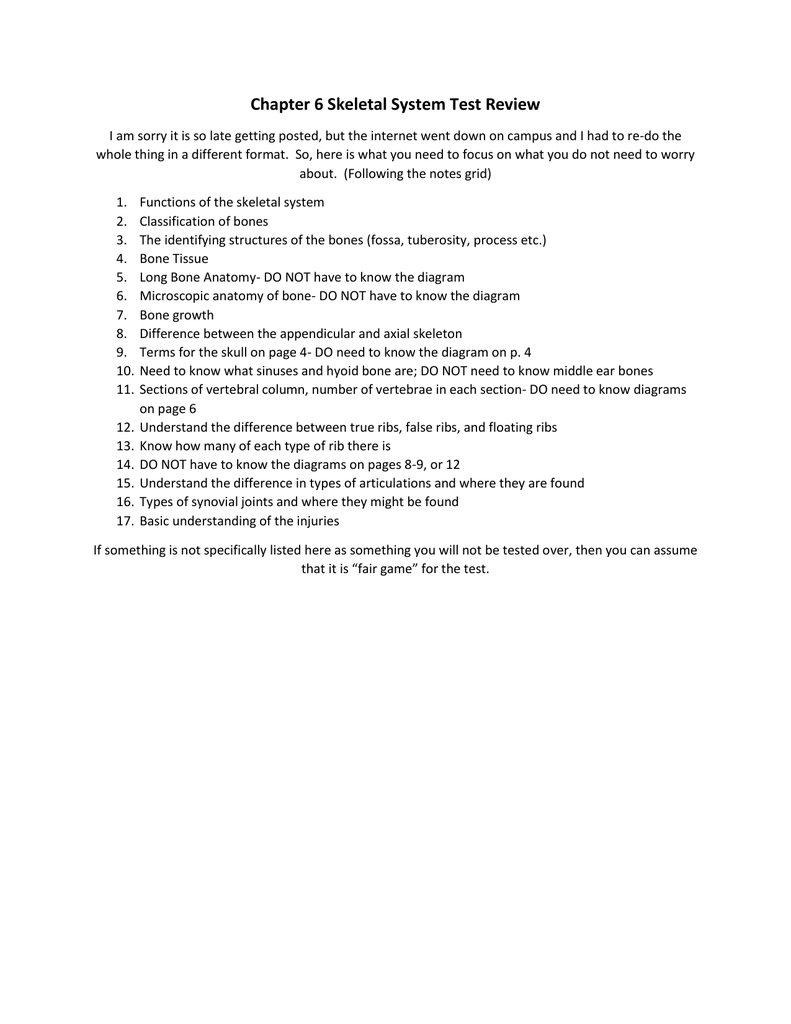 Chapter 6 Skeletal System Test Review
I am sorry it is so late getting posted, but the internet went down on campus and I had to re-do the
whole thing in a different format. So, here is what you need to focus on what you do not need to worry
about. (Following the notes grid)
1.
2.
3.
4.
5.
6.
7.
8.
9.
10.
11.
12.
13.
14.
15.
16.
17.
Functions of the skeletal system
Classification of bones
The identifying structures of the bones (fossa, tuberosity, process etc.)
Bone Tissue
Long Bone Anatomy- DO NOT have to know the diagram
Microscopic anatomy of bone- DO NOT have to know the diagram
Bone growth
Difference between the appendicular and axial skeleton
Terms for the skull on page 4- DO need to know the diagram on p. 4
Need to know what sinuses and hyoid bone are; DO NOT need to know middle ear bones
Sections of vertebral column, number of vertebrae in each section- DO need to know diagrams
on page 6
Understand the difference between true ribs, false ribs, and floating ribs
Know how many of each type of rib there is
DO NOT have to know the diagrams on pages 8-9, or 12
Understand the difference in types of articulations and where they are found
Types of synovial joints and where they might be found
Basic understanding of the injuries
If something is not specifically listed here as something you will not be tested over, then you can assume
that it is "fair game" for the test.