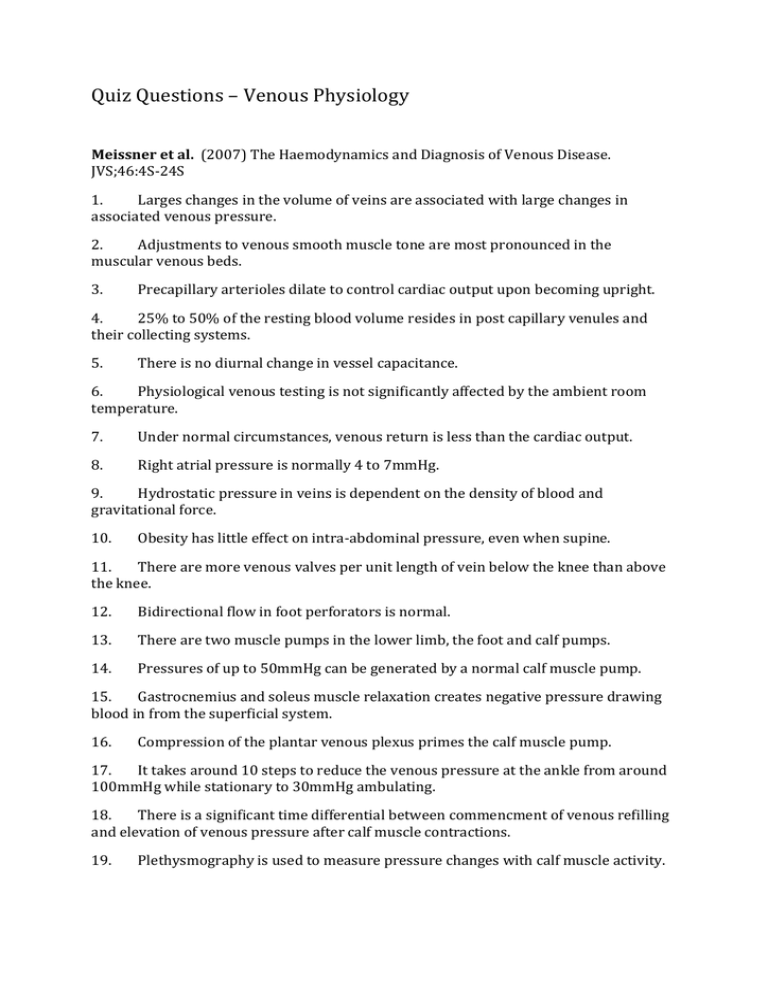 Quiz Questions – Venous Physiology
Meissner et al. (2007) The Haemodynamics and Diagnosis of Venous Disease.
JVS;46:4S-24S
1.
Larges changes in the volume of veins are associated with large changes in
associated venous pressure.
2.
Adjustments to venous smooth muscle tone are most pronounced in the
muscular venous beds.
3.
Precapillary arterioles dilate to control cardiac output upon becoming upright.
4.
25% to 50% of the resting blood volume resides in post capillary venules and
their collecting systems.
5.
There is no diurnal change in vessel capacitance.
6.
Physiological venous testing is not significantly affected by the ambient room
temperature.
7.
Under normal circumstances, venous return is less than the cardiac output.
8.
Right atrial pressure is normally 4 to 7mmHg.
9.
Hydrostatic pressure in veins is dependent on the density of blood and
gravitational force.
10.
Obesity has little effect on intra-abdominal pressure, even when supine.
11.
There are more venous valves per unit length of vein below the knee than above
the knee.
12.
Bidirectional flow in foot perforators is normal.
13.
There are two muscle pumps in the lower limb, the foot and calf pumps.
14.
Pressures of up to 50mmHg can be generated by a normal calf muscle pump.
15.
Gastrocnemius and soleus muscle relaxation creates negative pressure drawing
blood in from the superficial system.
16.
Compression of the plantar venous plexus primes the calf muscle pump.
17.
It takes around 10 steps to reduce the venous pressure at the ankle from around
100mmHg while stationary to 30mmHg ambulating.
18.
There is a significant time differential between commencment of venous refilling
and elevation of venous pressure after calf muscle contractions.
19.
Plethysmography is used to measure pressure changes with calf muscle activity.
Phlebology 5th Ed Ch 3
20.
The capacity of the vein wall to distend varies with progesterone levels and age.
21.
Venous pressure is similar in the deep and superficial veins in a healthy,
immobile person.
22.
Venous pressure falls slightly more when running compared to walking.
23.
Normal venous valves cannot withstand venous pressures greater than
100mmHg.
24.
Cold, stress and hyperventilation will all increase venous tone.
25.
The postural venoarteriolar reflex helps prevent orthostatic oedema.
26.
The venoarteriolar reflex increase precapillary resistance resulting in a rise in
hydrostatic capillary pressure.
27.
The heart produces a modest suction effect in in the right atrium.
28.
Muscle pumps exist in the upper limb.
Google:
29.
Castelli's Law states Area x Volume = Constant
Rathbun et al. Pictures in Vascular Medicine 2008.
30.
Calcium channel blockers increase sympathetic tone.
31.
The venoarterial reflex may be attenuated by hot weather.
32.
Treatment of legs affected by an impaired venoarterial reflex includes the use of
surgical compression stockings.
Laurie et al 2003. Mechanisms of Venous Valve Closure. JVS 38:955-61
33.
The valve cusps undergo four phase constituting the valve cycle.
34.
Vortical flow in the valve sinus prevents stasis.
Huber et al. Popliteal Vein Compression Under General Anaesthesia. (2009) EJVES 37,
464-469.
35.
BMI
Knee hyperextension while supine under general anaesthesia is not related to
Uhl and Gillot. Anatomy of the Foot Venous Pump. 2012. Phlebology 27; 219-230
36.
The medial and lateral plantar veins eject blood into the two posterior tibial
veins.
37.
Approximately 25ml of blood is mobilized upwards with each step.
Bergan et al. The Vein Book Ch 5 2007. Elsevier Academic Press.
38.
With plethysmography of the lower limb, the ejection fraction (EF) is ejection
volume (EV) divided by venous volume (VV).