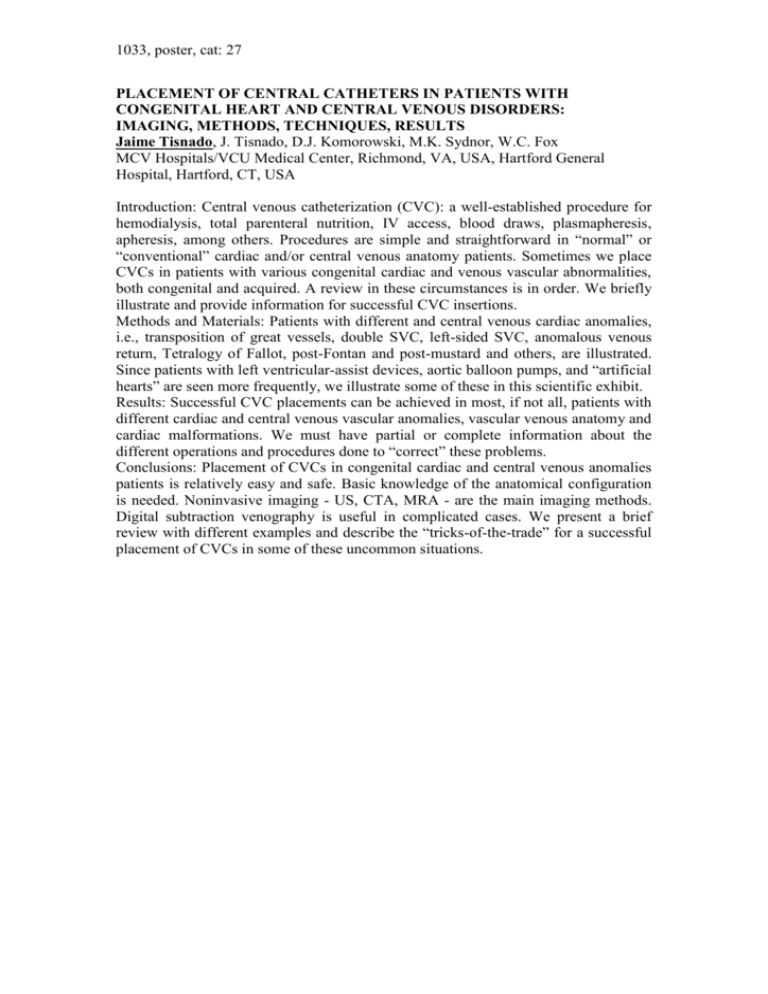 1033, poster, cat: 27
PLACEMENT OF CENTRAL CATHETERS IN PATIENTS WITH
CONGENITAL HEART AND CENTRAL VENOUS DISORDERS:
IMAGING, METHODS, TECHNIQUES, RESULTS
Jaime Tisnado, J. Tisnado, D.J. Komorowski, M.K. Sydnor, W.C. Fox
MCV Hospitals/VCU Medical Center, Richmond, VA, USA, Hartford General
Hospital, Hartford, CT, USA
Introduction: Central venous catheterization (CVC): a well-established procedure for
hemodialysis, total parenteral nutrition, IV access, blood draws, plasmapheresis,
apheresis, among others. Procedures are simple and straightforward in "normal" or
"conventional" cardiac and/or central venous anatomy patients. Sometimes we place
CVCs in patients with various congenital cardiac and venous vascular abnormalities,
both congenital and acquired. A review in these circumstances is in order. We briefly
illustrate and provide information for successful CVC insertions.
Methods and Materials: Patients with different and central venous cardiac anomalies,
i.e., transposition of great vessels, double SVC, left-sided SVC, anomalous venous
return, Tetralogy of Fallot, post-Fontan and post-mustard and others, are illustrated.
Since patients with left ventricular-assist devices, aortic balloon pumps, and "artificial
hearts" are seen more frequently, we illustrate some of these in this scientific exhibit.
Results: Successful CVC placements can be achieved in most, if not all, patients with
different cardiac and central venous vascular anomalies, vascular venous anatomy and
cardiac malformations. We must have partial or complete information about the
different operations and procedures done to "correct" these problems.
Conclusions: Placement of CVCs in congenital cardiac and central venous anomalies
patients is relatively easy and safe. Basic knowledge of the anatomical configuration
is needed. Noninvasive imaging - US, CTA, MRA - are the main imaging methods.
Digital subtraction venography is useful in complicated cases. We present a brief
review with different examples and describe the "tricks-of-the-trade" for a successful
placement of CVCs in some of these uncommon situations.