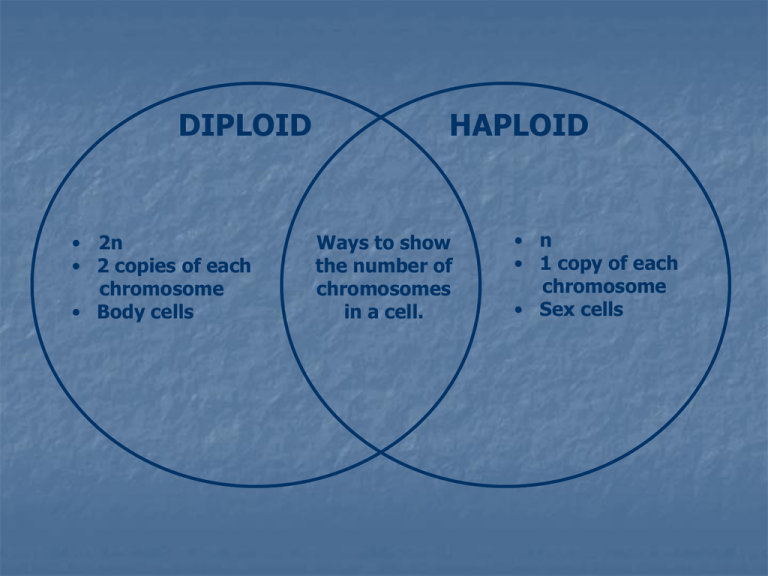 DIPLOID
• 2n
• 2 copies of each
chromosome
• Body cells
HAPLOID
Ways to show
the number of
chromosomes
in a cell.
• n
• 1 copy of each
chromosome
• Sex cells
Definition:
Done by:
Cell division where
cells divide twice.
Sex cells in multicellular organisms
(diploid)
Meiosis
Results in:
4 cells with ½ DNA
(haploid cells)
n
+
n
=
2n
Zygote
(baby)
Variation:
Crossing over – genes switch
between homologs.
Independent assortment –
homologous chromosomes line
up differently every time.
Mutations
Sexual reproduction
What Happens
During Meiosis?
MEIOSIS I


A diploid (2N) cell divides to produce 2
daughter cells.
Creates genetic variation.
Prophase I


Homologous
chromosomes pair
up to form tetrads
(groups of four
chromatids).
Crossing over
occurs when
homologous
chromosomes
overlap.
Metaphase I

Tetrads line up at
the center of the
cell.
Anaphase I

One homologous
chromosome is
pulled to each
side of the cell.
Telophase I
Two daughter
nuclei are formed.
 Followed by
cytokinesis and
then immediately
meiosis II.
 NO replication!

MEIOSIS II



Two cells each divide to form four haploid
(N) gametes.
In females, one viable egg + three "polar
bodies"
In males, four viable sperm
Prophase II

Chromosomes
condense in each
cell.
Metaphase II

In each cell,
chromosomes line
up in the middle.
Anaphase II

In each cell, sister
chromatids are
pulled apart.
Telophase II


4 new nuclei form, 2
in each cell.
Followed by
cytokinesis, resulting
in 4 haploid (N)
gametes.