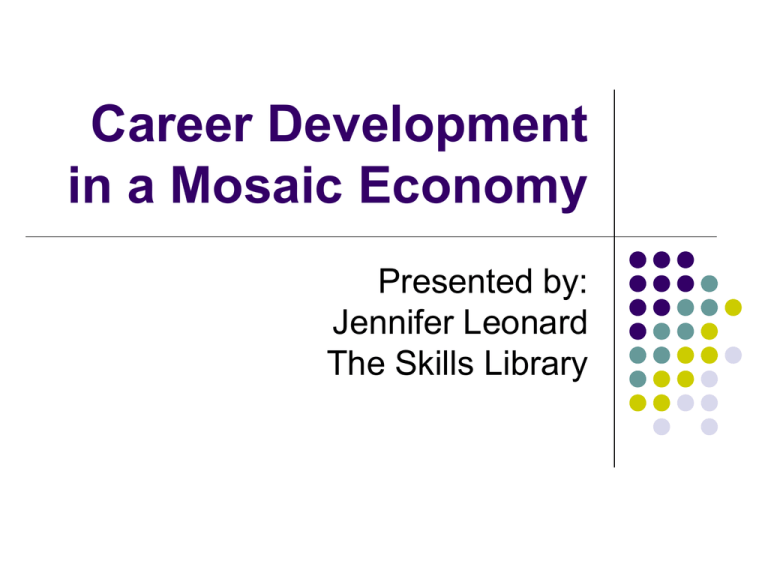 Career Development
in a Mosaic Economy
Presented by:
Jennifer Leonard
The Skills Library
Agenda
• Warm-up exercise: Career Outlook Interview (informational interview)
(Use the worksheet to interview someone at your table about their job, or
the job of a friend or family member)
• Concept of a "Mosaic Economy"
• How does this concept apply to your classroom & your students?
• Topics to explore (somewhat academic)
• Key questions to explore (very practical)
Where are the jobs?
A dynamic market…. Jobs are not a fixed, limited resource – but are
constantly being created in a dynamic labor market. The job market is
always evolving, and is an interesting topic to study via statistics, history,
economics, science/technology and more.
A mosaic of jobs… There is no single, quick answer to the question
"where are the jobs?" Instead, the new economy offers a
mosaic of diverse career opportunities.
… and a variety of career paths. Many (or most) successful careers are shaped
gradually over time. While some careers require specific education, training
and certification, others require only that you take "first steps" that will lead
to interesting career growth. There are a wide variety of jobs available in the
current economy with a variety of education and skill requirements –
including many technical and middle-skilled jobs that require education and
training for less than four years of college and many grow-with-the-company
jobs that are attainable from a variety of education backgrounds.
A "mosaic" of jobs
Farmers'
Market
Coordinator
Interior
Designer
Physical
Therapist
Assistant
Medical
Supply
Salesperson
Medical
Equipment
Repairer
Retail
Salesperson
Hardware
Store
Solar
Product
Salesperson
Medical
Research
Community
Garden
Organizer
Home
Remodeling
Contractor
Straight-line paths or not-so-straight
Purchasing
Manager for
Health Care
Center
Communications Director
For Tourism Board
Nutritionist
for Grocery
Store Chain
Agricultural
Extension
Specialist
Coordinator
for Farmers
Markets
Solar Panel
Installer
Landscaper
Nurse
Dietician
A Sense of History....
Economic History
Employment by Industry Sector, U.S., 1810-2007
International Comparisons
Employment by Industry Sector, U.S., 1810-2007
Current Statistics
Current Statistics
Mosaic Economy Themes
Technology
and science –
impacting virtually every
field
Attention to
home and personal
living and working
environments
Manufacturing
A smaller but resilient
manufacturing sector;
still an anchor of the
economy and a leading
source of exports.
Concerns for
environmental and
economic
sustainability are part
of business and
personal career values
Revitalization of
"traditional" sectors of
the economy -- farms,
printers, bookstores,
publishing, textile mills,
sewing, fabric stores
Attention to
community
connectedness
Attention to
health and wellness
Interdependent
sectors:
manufacturing-sector +
service-sector
Business-to-business
services – engineering,
R&D, marketing,
accounting, software,
repair/maintenance,
etc.
Economic Statistics: Wages and
Education
Wages
$
% of workers with more
than high school
Educational Levels and Occupations.
Selected Examples Based on Actual Educational Level of Individuals in the Career Field
Actual Education Level
High Growth Occupations
Moderate or Low Growth Occupations
High School or Less
Including Apprenticeship
(over 50% of individuals
have high school or less)
Bicycle Repairers
Childcare Workers
Glaziers
Home Health Aides
Industrial Machinery Mechanics
Motorcycle Mechanics
Personal Care Aides
Stonemasons
Bus Drivers
Carpenters
Forest and Conservation Workers
Home Appliance Repairers
Light Truck and Delivery Drivers
Machinists
Maintenance Workers, Machinery
1-3 Years Postsecondary
(Over 50% of individuals
have 1 to 3 years of
postsecondary education)
Dental Hygienists
Emergency Medical Technicians and Paramedics
Environmental Engineering Technicians
Medical Equipment Repairers
Occupational Therapy Assistants
Physical Therapist Assistants
Radio, Cellular, and Tower Equipment Installers and
Repairers
Respiratory Therapists
Veterinary Technologists and Technicians
Bailiffs
Police and Sheriff Patrol Officers
Respiratory Therapist Technicians
Surveying and Mapping Technicians
4 or More Years College
(Over 50% of individuals
have four years or more of
college)
Actuaries
Athletic Trainers
Computer Systems Analysts
Database Administrators
Environmental Engineers
Financial Analysts
Health Educators
Healthcare Social Workers
Market Research Analysts and Marketing Specialists
Network and Computer Systems Administrators
Occupational Therapists
Physical Therapists
Accountants and Auditors
Aerospace Engineers
Art Directors
Biological Technicians
Budget Analysts
Commercial and Industrial Designers
Computer and Information Systems Managers
Computer Programmers
Detectives and Criminal Investigators
Dietitians and Nutritionists
Landscape Architects
Public Relations and Fundraising Managers
Educational Levels and Occupations.
Selected Examples Based on Actual Educational Level of Individuals in the Career Field
Actual Education Level
High Growth Occupations
Moderate or Low Growth Occupations
Graduate or Professional
Degree









Audiologists
Chiropractors
Epidemiologists
Marriage and Family Therapists
Pharmacists
Physicians and Surgeons
Rehabilitation Counselors
Speech-Language Pathologists
Veterinarians






Cost Estimators
Residential Advisors
Choreographers
Travel Guides
Health Technologists and Technicians, All Other





(Over 50% of individuals
have a graduate or
professional degree)
Varied Educational Levels
At least 25% of workers are
in the "high school or
less" category; at least
25% are in the "1-3
years postsecondary"
category; and at least
25% are in the "4
years of college or
more" category.
Source: BLS National Employment Matrix
















Career/Technical Education Teachers, Secondary
School
Clergy
Lawyers
Librarians
Mathematical Technicians
Mathematicians
Urban and Regional Planners
Tour Guides and Escorts
Construction Managers
Retail Salespersons
Geological and Petroleum Technicians
First-Line Supervisors of Office and Administrative
Support Workers
Dancers
Transportation, Storage, and Distribution Managers
Industrial Production Managers
Wholesale and Retail Buyers
Library Technicians
First-Line Supervisors of Retail Sales Workers
Lodging Managers
Agricultural and Food Science Technicians
Chemical Technicians
Property, Real Estate, and Community Association
Managers
Current Statistics
Occupational Group: Installation, Maintenance and Repair Occupations
Employment in 2010:
5,428, 600
Projected Employment in 2020:
6,228,700
Growth Rate
14.7% growth (Moderate)
Sample Occupations (with projected growth rate):
Bicycle Repairers (37.6%)
Heating, Air Conditioning, and Refrigeration Mechanics and Installers (33.7%)
Security and Fire Alarm Systems Installers (33%)
Medical Equipment Repairers (31.5%)
Radio, Cellular, and Tower Equipment Installers and Repairs (29.4%)
Motorcycle Mechanics (23.6%)
Industrial Machinery Mechanics (21.6%)
Motorboat Mechanics and Service Technicians (20.6%)
Automotive Body and Related Repairers (18.4%)
Locksmiths and Safe Repairers (17.7%)
Automotive Service Technicians and Mechanics (17.2%)
Telecommunications Equipment Installers and Repairers (14.6%)
Bus and Truck Mechanics and Diesel Engine Specialists (14.5%)
Telecommunications Line Installers and Repairers (13.6%)
Farm Equipment Mechanics and Service Technicians (13.4%)
Computer, Automated Teller, and Office Machine Repairers (6.5%)
Watch Repairers (5.9%)
Why look at job market
information?
Education and Career
Planning:
Get an overview of the economy
before researching specific
industries, occupations and
education and training options.
Academic Curriculum:
History: How have job markets, businesses
and communities changed throughout history?
Geography: How do climate,
terrain, waterways, natural
resources affect job markets?
Economics: How do shifts in
supply and demand affect
wages and job openings?
Math / Statistics /
Graphing: How can I use
Community & Career Applications and
Contextual Learning:
Journalism/Media: What are some trends in the job
market? What is the latest career advice?
Psychology & Education / Child/Adolescent
Development: What should children and adolescents
know about how people find work and develop careers?
Community Development: How can community
leaders understand local job market patterns, needs and
opportunities?