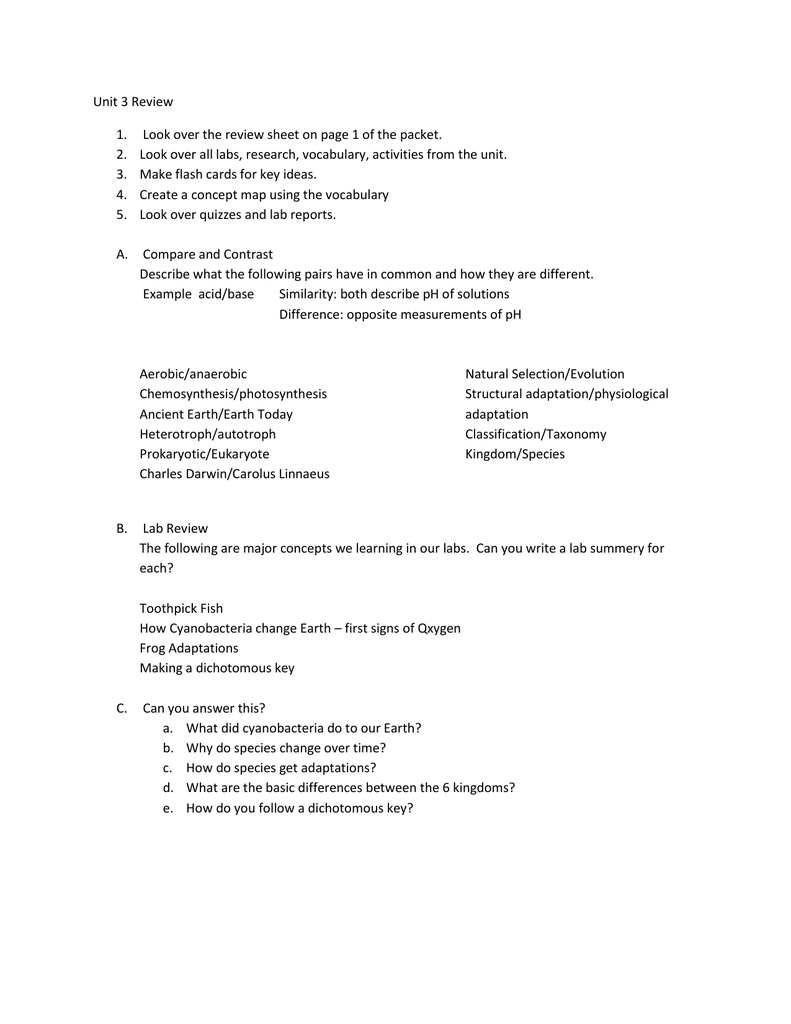 Unit 3 Review
1.
2.
3.
4.
5.
Look over the review sheet on page 1 of the packet.
Look over all labs, research, vocabulary, activities from the unit.
Make flash cards for key ideas.
Create a concept map using the vocabulary
Look over quizzes and lab reports.
A.
Compare and Contrast
Describe what the following pairs have in common and how they are different.
Example acid/base
Similarity: both describe pH of solutions
Difference: opposite measurements of pH
Aerobic/anaerobic
Chemosynthesis/photosynthesis
Ancient Earth/Earth Today
Heterotroph/autotroph
Prokaryotic/Eukaryote
Charles Darwin/Carolus Linnaeus
B.
Natural Selection/Evolution
Structural adaptation/physiological
adaptation
Classification/Taxonomy
Kingdom/Species
Lab Review
The following are major concepts we learning in our labs. Can you write a lab summery for
each?
Toothpick Fish
How Cyanobacteria change Earth – first signs of Qxygen
Frog Adaptations
Making a dichotomous key
C.
Can you answer this?
a. What did cyanobacteria do to our Earth?
b. Why do species change over time?
c. How do species get adaptations?
d. What are the basic differences between the 6 kingdoms?
e. How do you follow a dichotomous key?