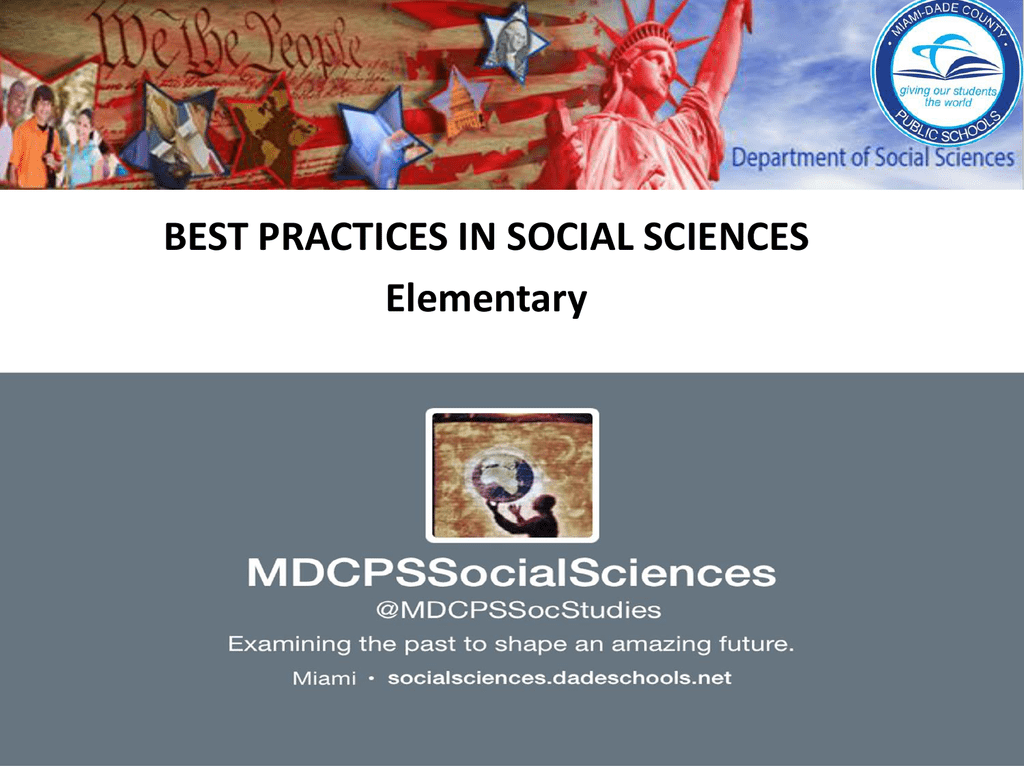 BEST PRACTICES IN SOCIAL SCIENCES
Elementary
AGENDA
Topics…..
• Social Science requirements and standards.
• Role Social Sciences plays in improving student literacy
and writing skills.
• Resource: M-DCPS Department of Social Sciences
Website, Pacing Guides, Year at a Glance, and Civics in a
Snap Lessons.
• BEST PRACTICE for the Intensive Acceleration Courses in
3rd and 4th grade.
• ConnectED.mcgraw-hill.com website and many of it's
available resources.
Quick overview of requirements
According to MDCPS' Student Progression Plan:
• Grades K-1=
60 minutes of instruction per week
• Grades 2-5 =
120 minutes of Social Sciences
Instruction per week
Elementary Grade Level Themes:
• K- Living, Learning, and Working Together
• 1- Our Community and Beyond
• 2- Who are we as Americans?
• 3- United States' Regions and Its Neighbors
• 4- Florida History
• 5- U.S. History (Colonization through Reconstruction)
Quick overview of requirements
MS Requirements for Promotion:
• 6th grade World History - Ancient Civilizations
• 7th grade Civics (EOC 30% of student course
grade and 100 points of school accountability
grade)
• 8th grade U.S. History (Colonization through
Reconstruction)
What are the Literacy
Florida Standards?
1. Balancing
Informational and
Literary Text
2. Building Knowledge in
the Disciplines
in the
1 & 2:
Non-fiction Texts
Authentic Texts
3:
Higher Level of Text Complexity
Paired Passages
4&5:
Focus on command of evidence
from text: rubrics and prompts
6:
Academic Vocabulary
3. Staircase of Complexity
4. Text-based Answers
5. Writing from Sources
6. Academic Vocabulary
Defining the Literacy
Balancing
Informational
& Literary Text
Knowledge in the
Disciplines
Students read a true balance of informational and literary texts. (SS
example: students read a historian's account of Florida's role in the Civil
War).
Shift 3
Staircase of
Complexity
Students read the central, grade appropriate text around which
instruction is centered. Teachers are patient, create more time and space
and support in the curriculum for close reading. (SS example: Instruction
MAY require students to read same text multiple X's)
Shift 4
Text-based Answers
Students engage in rich and rigorous evidence based conversations about
text. (SS example: Questions are about the TEXT)
Shift 5
Writing from Sources
Writing emphasizes use of evidence from sources to inform or make an
argument. (SS example: In written response to an essential ?, students
must use evidence from text)
Shift 6
Academic Vocabulary
Students constantly build the transferable vocabulary they need to access
grade level complex texts. This can be done effectively by spiraling like
content in increasingly complex texts. (SS example: Civil War relevant
vocabulary from text is learned through the text analysis experience).
Shift 1
Shift 2
Students build knowledge about the world (domains/ content areas)
through TEXT rather than the teacher or activities (SS example: The Civil
War text/account is the base of instruction)
Social Sciences Website
Your ONE-STOP SHOP for everything
Social Studies!
PACING GUIDES FOR SOCIAL STUDIES
Pacing
Guides/Lessons
PACING GUIDES FOR SOCIAL STUDIES
K-5 Pacing guides with timelines,
year at a glance, and Civics
Integration Lessons
( in grades 3-6)
PACING
GUIDESessential
FOR SOCIAL
STUDIES
Identifying
benchmarks
Sample Third Grade
Timeline- highlighted
essential
benchmarks.
PACING GUIDES FOR SOCIAL STUDIES
Sample 4th Grade Pacing
Guide- highlighted
essential benchmarks.
Pay attention to first page
of the guides and color
codes
Civics in a Snap Lessons for K-5
Click on the Civics in a Snap Icon
Then you are taken to this page where all
Civics in a Snap Lessons can be downloaded:
Icon also embedded in Pacing Guides
TIMELINES FOR SOCIAL STUDIES
ELA Florida Standards in Social Science
Pacing Guides
OVERVIEW of
PRIMARY SOURCE DOCUMENTS
Stimuli-Based
Instruction
Definition: The use of
primary or secondary
sources of information,
emphasizing content/
skills explicitly stated in
standards/ benchmarks,
to increase student
content knowledge,
analytical skills, and
engagement. (e.g.
political cartoons,
graphs, quotes, etc.)
Social Science Best Practices
Stimuli-Based
Instruction
(more examples)
C-E-R
Claim-Evidence-Reasoning
Definition: Requiring students
to state a claim (e.g. an answer
to a question), provide evidence
to support the claim, and state
a reason why the evidence
answers the question.
Let's Apply Inference/Observation Skills
to Social Studies
Directions:
Place an 'I' before the statements
that are inferences and an 'O'
before
the statements that are
observations OR you may wish to
make a T-chart.
1. There are no women in the
painting.
2. The men are signing some
sort of document.
3. This is a very important
event.
4. These men are very
important people.
5. George Washington is
depicted in the painting.
Claim Evidence Reasoning
Sample Student Response
• Claim: This painting shows an important event.
• Evidence: George Washington is in the painting and is considered the
father of our country and an important historical person.
• Reasoning: Since the attention is on the signing of the paper and
George Washington, an important person in U.S. history, is in the
painting, it is logical to assume that this painting is about an important
event. It is also logical to think that the signing of this paper or
document had an important impact on history.
Social Sciences Website
For more details and descriptions of best
instructional practices- click on:
Best Practices Quick Start
Support for Writing- also found
in Pacing Guides
Intensive Acceleration Courses for 3rd and 4th
Grade: Social Science resource embedded
Instructional Resource for Special Events
and Programs
PD Announcements, Essay Competitions, Special
Programs and Competitions
• This website is an excellent tool for enhancing your social studies
curriculum and becoming more familiar with all the program has to
offer. In some grades it is your only textbook resource.
• How to access the site:
• https://mdcpsportal.dadeschools.net/employee/default.aspx
Get to Know YOUR
McGraw- Hill SOCIAL SCIENCE
RESOURCES
Student edition info.
•
•
•
•
•
•
•
•
•
•
To differentiate instruction
Click on Home Tab
Chose either version of student addition
Headphone icon (Audio on or off)
Size of text
Level of difficulty (Approaching grade level or on grade level)
Standards covered
Content and academic vocabulary
Spanish language option
Highlighter
• Upon entering the site, click on the second tab
on the top titled, Lesson Plan. Click on the
appropriate arrow to select the unit
• After clicking on Lesson 1, this screen appears.
• Each lesson will provide you with the standards,
prepare, teach and present, close and assess, curriculum
connections, and access point activities.
• The Teach and Present tab will provide you with the
most information for teaching the lesson. This page
provides all the necessary information ,including
activating prior knowledge, differentiated instruction,
etc. The bar to the right provides various digital
components to the lesson, including, videos, lesson
presentations, etc.
• The next arrow below the Teach and
Present is the Close and Assess. This tab
provides worksheets to use throughout
the lesson.
• Below the Close and Asses tab is the 21st Century
Skills Curriculum Connections. This tab provides you
with extra cross-curricular activities.
• Below the 21st Century Curriculum Connections
tab is the Access Point Activities. This tab
provides multiple activities that correlate to
each standard throughout JUST THE LESSON.
• Resources Tab:
•
•
•
•
•
•
•
•
Searches can be conducted by:
NGSSS & Standard
CCSS Reading Informational Text
Professional Development
Reader's Theater
Idea Factory
Content Library & Unit
Unit – Unit Resources = Common Core Assessments
• Accessing the Leveled Readers:
• On the McGraw-Hill homepage, locate the icons on
the top right-hand side. Click on the open book.
Search according to specific need.
Share the wealth!!! This presentations (and
more to come) posted here:
Team Social Sciences- one team- one message:
Improve student achievement!
District Department of Social Sciences
Mr. Robert C. Brazofsky, Executive Director
Phone: 305 995-1982
E-Mail: [email protected]
Dr. Sherrilyn Scott, Supervisor
Phone: 305 995-1971
E-Mail: [email protected]
Ms. Jackie Viana, Supervisor
Phone: 305 995-2772
E-Mail: [email protected]
Dr. Miriam Klein Kassenoff, Holocaust Education
Phone: 305 995-1201
E-Mail: [email protected]
Mr. Nicolas Valdes, CSS
Phone: 305 995-1781
E-Mail: [email protected]
Ms. Kelly Webner, CSS
Phone: 305 995-2352
Email: [email protected]
Support Staff
Mr. Michel Delgado, Senior Computer Operator
Phone: 305 995-1469
E-Mail: [email protected]
In conclusion… Social Sciences MUST be more than this!
Social Sciences Website
Your ONE-STOP SHOP for everything
Social Studies!
QUESTIONS?
Follow us on Twitter!