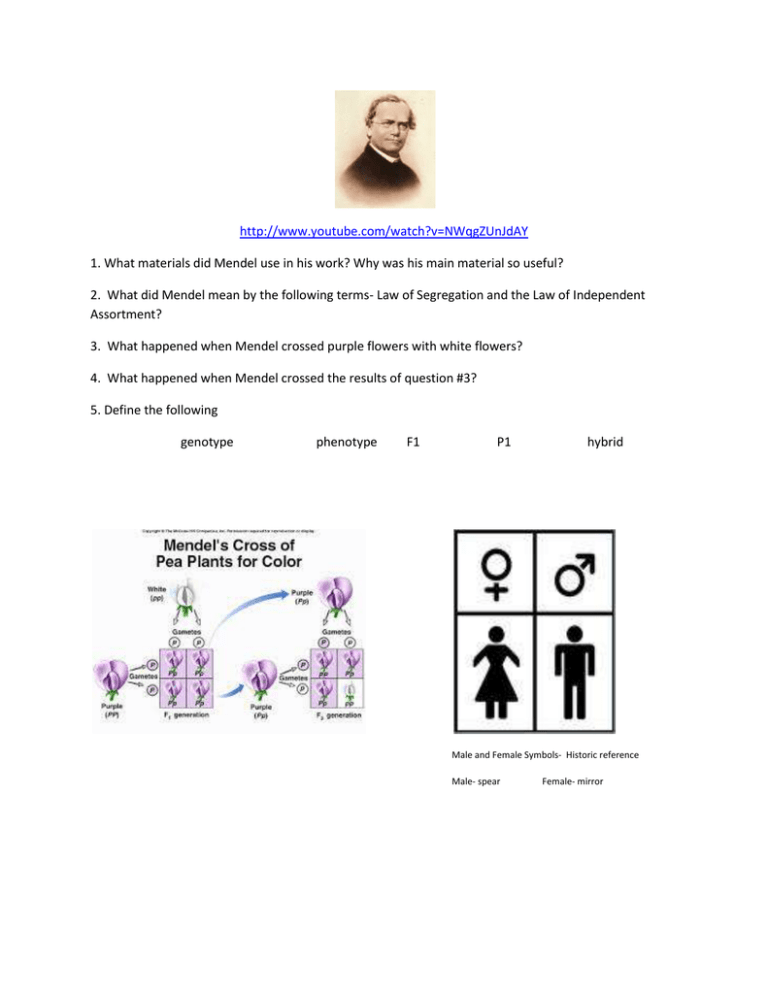 http://www.youtube.com/watch?v=NWqgZUnJdAY
1. What materials did Mendel use in his work? Why was his main material so useful?
2. What did Mendel mean by the following terms- Law of Segregation and the Law of Independent
Assortment?
3. What happened when Mendel crossed purple flowers with white flowers?
4. What happened when Mendel crossed the results of question #3?
5. Define the following
genotype
phenotype
F1
P1
hybrid
Male and Female Symbols- Historic reference
Male- spear
Female- mirror
Definitions
Law of Segregation: During gamete (sex cells) formation gene pairs separate. This is evident in meiosis.
When a sperm or egg cell is being produced, it under goes a reduction in the number of chromosomes by 1/2.
This will allow the normal number of chromosomes to occur in the offspring at fertilization.
The Principle of Independent Assortment - Genes for different traits assort independently of one another
in the formation of gametes. Independant assortment means genes assort independantly, meaning that each
gene has a specific trait. For example, your trait for brown eyes won't determine that you have brown hair,
because these traits assort into gametes independantly.
.