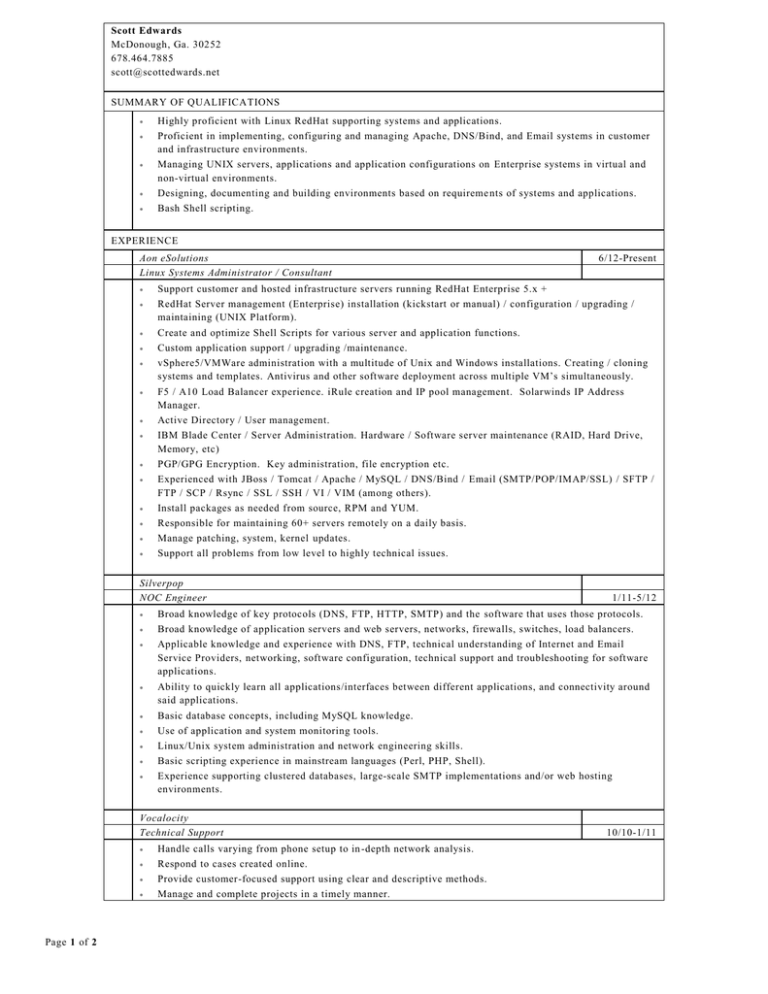 Scott Edwards
McDonough, Ga. 30252
678.464.7885
scott@scottedwards.net
SUMMARY OF QUALIFICATIONS





Highly proficient with Linux RedHat supporting systems and applications.
Proficient in implementing, configuring and managing Apache, DNS/Bind, and Email systems in customer
and infrastructure environments.
Managing UNIX servers, applications and application configurations on Enterprise systems in virtual and
non-virtual environments.
Designing, documenting and building environments based on requireme nts of systems and applications.
Bash Shell scripting.
EXPERIENCE
Aon eSolutions
Linux Systems Administrator / Consultant














Support customer and hosted infrastructure servers running RedHat Enterprise 5.x +
RedHat Server management (Enterprise) installation (kickstart or manual) / configuration / upgrading /
maintaining (UNIX Platform).
Create and optimize Shell Scripts for various server and application functions.
Custom application support / upgrading /maintenance.
vSphere5/VMWare administration with a multitude of Unix and Windows installations. Creating / cloning
systems and templates. Antivirus and other software deployment across multiple VM's simultaneously.
F5 / A10 Load Balancer experience. iRule creation and IP pool management. Solarwinds IP Address
Manager.
Active Directory / User management.
IBM Blade Center / Server Administration. Hardware / Software server maintenance (RAID, Hard Drive,
Memory, etc)
PGP/GPG Encryption. Key administration, file encryption etc.
Experienced with JBoss / Tomcat / Apache / MySQL / DNS/Bind / Email (SMTP/POP/IMAP/SSL) / SFTP /
FTP / SCP / Rsync / SSL / SSH / VI / VIM (among others).
Install packages as needed from source, RPM and YUM.
Responsible for maintaining 60+ servers remotely on a daily basis.
Manage patching, system, kernel updates.
Support all problems from low level to highly technical issues.
Silverpop
NOC Engineer



1/11-5/12
Broad knowledge of key protocols (DNS, FTP, HTTP, SMTP) and the software that uses those protocols.
Broad knowledge of application servers and web servers, networks, firewalls, switches, load balancers.
Applicable knowledge and experience with DNS, FTP, technical understanding of Internet and Email
Service Providers, networking, software configuration, technical support and troubleshooting for software
applications.

Ability to quickly learn all applications/interfaces between different applications, and connectivity around
said applications.

Basic database concepts, including MySQL knowledge.
Use of application and system monitoring tools.
Linux/Unix system administration and network engineering skills.
Basic scripting experience in mainstream languages (Perl, PHP, Shell).
Experience supporting clustered databases, large-scale SMTP implementations and/or web hosting
environments.




Vocalocity
Technical Support




Page 1 of 2
6/12-Present
Handle calls varying from phone setup to in -depth network analysis.
Respond to cases created online.
Provide customer-focused support using clear and descriptive methods.
Manage and complete projects in a timely manner.
10/10-1/11








Work with multiple departments to provide internal education and assistance.
Answer customer questions via phone on all company supported applications.
Troubleshoot application problems.
Determine source of problems (hardware, software, user access, etc.).
Advise customer on appropriate action.
Provide recommendations on company application enhancements.
Document resolutions for future reference.
Work within CRM to document cases.
Cbeyond, Atlanta, Ga
NOC Engineer - Tier I







Support of customer phone services utilizing SIP, PRI, CAS and Analog over a 100% VoIP network.
Support for Cbeyond custom software such as managed firewall, anti -virus/malware, and backup solutions.
GetStacked Web Hosting. Atlanta, GA
Dedicated Server Management - Web Hosting - Web Development Consultant


























Page 2 of 2
3/04-10/09
Support customer and hosted infrastructure servers running RedHat Enterprise 3.x and above.
Red Hat Server management (Enterprise) configuration / upgrading / maintaining (UNIX Platform).
Apache (w/ apache mods such as mod_security and mod_evasive), MySQL, DNS/Bind, Email
(SMTP/POP/IMAP/SSL), SFTP, FTP, SCP, SSL, SSH and VI/VIM (among others).
Install packages as needed from source (Make, Make Install), RPM, up2date (RedHat) or yum (CentOS).
Software firewall installation and configu ration.
Zone file editing and domain configuration for hundreds of customers (DNS Management).
Daily CPU/Disk/Memory management.
Responsible for maintaining multiple servers remotely. On call 24/7.
Phone and Ticket support for customers including most of the above listed protocols. Additionally,
subdomains, nameserver registration, PERL/CGI/PHP script troubleshooting.
Design and develop websites for customers based on their wants and needs.
Responsible for determining what the customer wants and managing the project through completion.
Support for their website on a monthly basis if needed.
Includes graphic design, page layout, custom coding and e -commerce applications installation and support.
Manage patching, systems updates and hardware driver/firmware updates.
Frequently create reports on assets, backups, and oth er needed information.
EarthLink Inc. Atlanta, GA
Web Hosting/Broadband Support Supervisor - Business Services

11/09-10/10
Provide Technical Support for business T1 Lines.
Provide troubleshooting on issues with both voice and data over provided T1 Connections.
Perform remote configuration changes to customer equipment as needed.
Management of customer network services including DHCP, NAT and ACL's.
Configuration and troubleshooting of Cisco routers remotely including 10,000 series T1 and T1
aggregation routers
9/00-3/04
Responsible for managing a team of 18 -24 Web Hosting Technicians.
Responsible for compiling statistics on representatives' job performance, attendance and training.
Responsible for interviewing, hiring, scheduling, scheduling training and vacations on a daily basis.
Responsible for organizing and implementing internal projects and tracking progress through completion.
Disciplinary action when necessary.
On a daily basis, I work with internal engineering departments to get issues resolved.
Managed a team that, on a regular basis, has been one of the most efficient statistical performers in the
Atlanta Call Center. Limited statistics available upon request.
Responsible for taking escalates when customers have requested to speak with a supervisor. Work with
customer until issue is resolved.
Maintained collaboration and teamwork within a group of Monitoring Support Technicians and Engineers.
Created reports on daily operations, productivity, team members and specific events and/or cases.
Trained and coached team on best methods and practices increasing reaction time with a variety of issues.
Investigated high priority and outstanding issues providing a resolution for customers and/or management.
Created work flow documents and diagrams on best practices used in our environment for training
documentation.