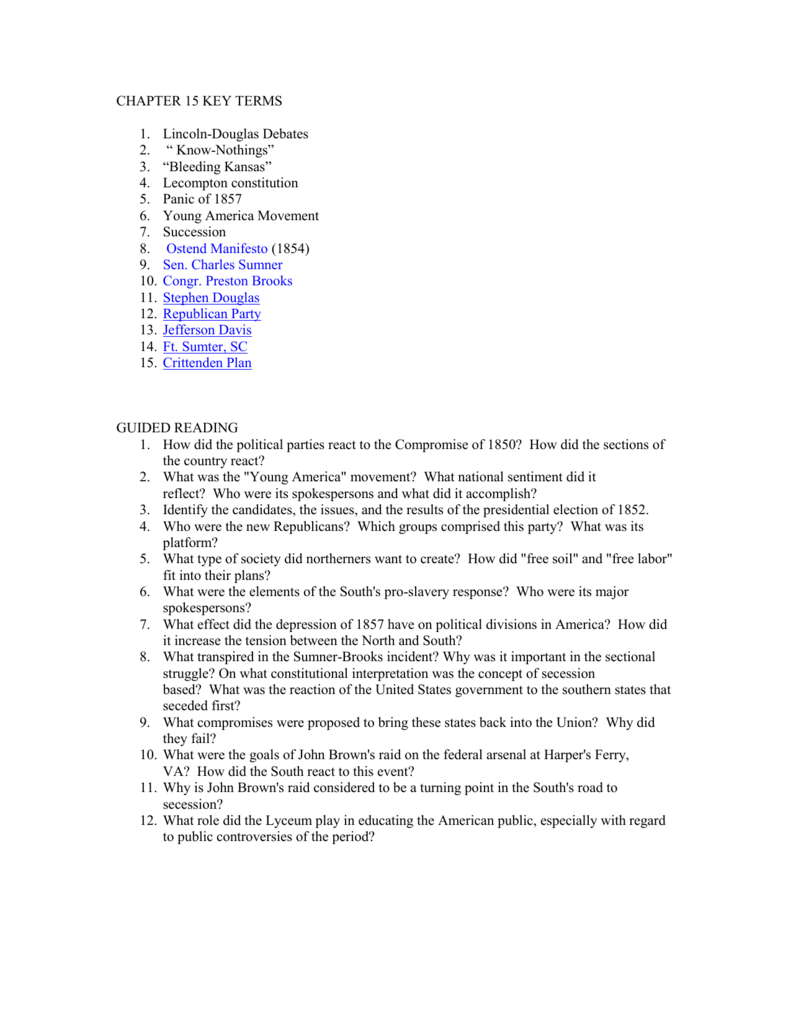 CHAPTER 15 KEY TERMS
1.
2.
3.
4.
5.
6.
7.
8.
9.
10.
11.
12.
13.
14.
15.
Lincoln-Douglas Debates
" Know-Nothings"
"Bleeding Kansas"
Lecompton constitution
Panic of 1857
Young America Movement
Succession
Ostend Manifesto (1854)
Sen. Charles Sumner
Congr. Preston Brooks
Stephen Douglas
Republican Party
Jefferson Davis
Ft. Sumter, SC
Crittenden Plan
GUIDED READING
1. How did the political parties react to the Compromise of 1850? How did the sections of
the country react?
2. What was the "Young America" movement? What national sentiment did it
reflect? Who were its spokespersons and what did it accomplish?
3. Identify the candidates, the issues, and the results of the presidential election of 1852.
4. Who were the new Republicans? Which groups comprised this party? What was its
platform?
5. What type of society did northerners want to create? How did "free soil" and "free labor"
fit into their plans?
6. What were the elements of the South's pro-slavery response? Who were its major
spokespersons?
7. What effect did the depression of 1857 have on political divisions in America? How did
it increase the tension between the North and South?
8. What transpired in the Sumner-Brooks incident? Why was it important in the sectional
struggle? On what constitutional interpretation was the concept of secession
based? What was the reaction of the United States government to the southern states that
seceded first?
9. What compromises were proposed to bring these states back into the Union? Why did
they fail?
10. What were the goals of John Brown's raid on the federal arsenal at Harper's Ferry,
VA? How did the South react to this event?
11. Why is John Brown's raid considered to be a turning point in the South's road to
secession?
12. What role did the Lyceum play in educating the American public, especially with regard
to public controversies of the period?