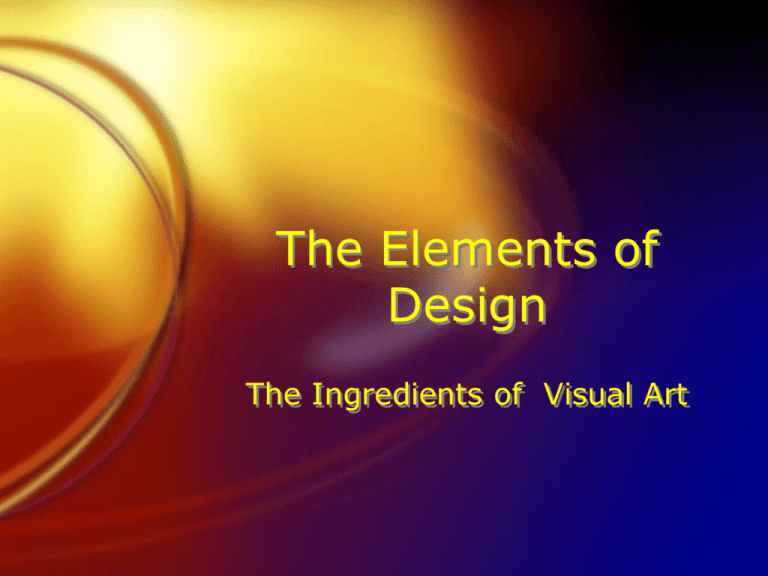 The Elements of
Design
The Ingredients of Visual Art
Color
What would our world look like without Color. There
have been many studies into the psychological
effects of Color. Artists have used Color in such
ways as to create a mood or feeling of a piece of
work. This is done by using colors realistically and
by using colors "creatively". Color is also a very
important Element Of Art..
How does color effect
this piece of art?
This is a painting created by Piet
Mondrian. Did he selectively use one
particular family of colors?
Absolutely. This piece is a good example
of the Primary Colors used in a work of
art.
The title "Broadway Boogie-Woogie"
should tell you something about this work?
Do you know where Broadway is? It is a
very famous street in New York City where
all the theaters are concentrated. Are you
familiar with the term "boogie-woogie"?
Texture
 An element of art which refers to the
surface quality or "feel" of an object, its
smoothness, roughness, softness, etc.
Textures may be actual or simulated.
Actual textures can be felt with the
fingers, while simulated textures are
suggested by the way the artist has
painted certain areas of a picture.

The thick application of the paint and the
use of many colors to accent the paint
strokes gives this painting a Textured
quality.
 What was the artist trying to say by
applying the paint and colors in such a
way?
Oscar Kockaska, (Austrian) 1886-1980,
Self-Portrait of a"Degenerate Artist", Oil
on canvas
Shape
 Shapes are everywhere. More common ones are given
This jaguar
mask
fromas
Mexico
emphasizes
shapes do
names
such
circle also
or square.
ThereShape.
are anWhat
infinite
you see? Are they Geometric, Organic or both? Are the shapes
amount of shape possibilities and combinations. Let's see
arranged symmetrically or asymmetrically? What shape did the artist
what role "Shape" plays in works of art and just how an
use to accent the nose? How about the eyes? What did the artist do to
artist
usesthat
themake
Element
"Shape".
the yellow
shapes
up the
skin of the jaguar?
Form
 Form refers to three-dimensional shapes that have
length, width and depth. In fact, Forms are threedimensional. They take up space. You can hold them, and
walk around them. A sculptor uses Form threedimensionally.
Line
For many art students as well as
professional artists, Line
seems to be one of the important
Elements of Art. Imagine creating a
painting,
sculpture or design without drawing lines
to divide the paper or canvas into
recognizable shapes and forms. Think
about how important a role Line plays
in
the creation process. Lines can
communicate an idea or express a
feeling. They can appear static or
active. Lines define objects.
Kathe Kollwitz (German)1867-1945, SelfPortrait, Woodcut proof, 1923,
5 7/8 z 6 3/4 in
More on Line…
 Look at this simple, yet powerful
mask. The artisan who created this
mask added an echoing pattern of
lines to embellish the mask. What
does this do to the visual quality of
the mask?
 Curved lines follow the rounded
contour of the cheeks and forehead.
Straight lines follow the contour of the
nose and mouth. The artist selected
types of lines that would enhance
specific areas of his mask.
 If the mask was left unadorned, would
it appear as powerful?
Space…
We live in a three-dimensional
world of depth. When we look
around us, some things seem
closer, some further away. The
artist can also show the illusion of
depth by using the following
means:
Size & Vertical Location
Overlapping
Detail (Aerial or Atmospheric
Perspective)
Linear Perspective
Space can also refer to Negative
and Positive Space
 Size & Vertical Location
 Since objects in our
environment look smaller
when they are farther away,
the easiest way to show
depth is to vary the size of
objects, with closer objects
being larger and more distant
objects being smaller. As
well, we perceive objects
that are higher on the page
and smaller as being further
away than objects which are
in the forefront of a picture.
Overlapping
When objects are partially
obscured by other objects in
front of them, we perceive them
as further back than the
covering objects.
We do not see them as
incomplete forms, just further
back.
Detail
(Aerial or Atmospheric
Perspective)
 Atmospheric perspective uses color
and value contrasts to show depth.
Objects which are further away
generally have less distinct contrast
- they may fade into the
background or become indistinct
dark areas. The foreground objects
will be clear with sharper
contrast. Here is a link to Leonardo
da Vinci's use of aerial perspective:
Investigating aerial perspective
Linear Perspective
(Converging Lines)
Linear perspective is based
on the idea that all lines will
converge on a common point
on the horizon called the
vanishing point.
Value
refers to
the
lightness
or
darkness
of
something.