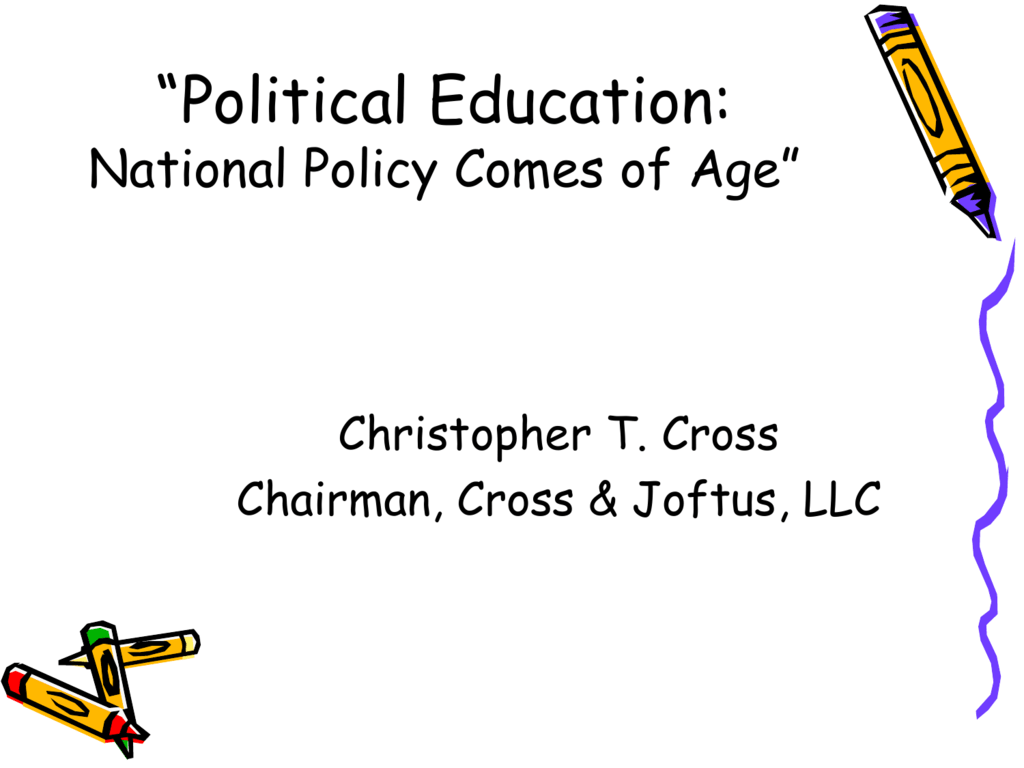 "Political Education:
National Policy Comes of Age"
Christopher T. Cross
Chairman, Cross & Joftus, LLC
The Events and the Issues
That Have Shaped the Federal
Role in Education Since WWII.
We Have a Federal Role:
Not a National Policy
• At the federal level, education has
been shaped by many factors:
• Race and Civil Rights
• Religion
• War on Poverty
• Politics and Special Interests
• The Economy
Factors that Have Shaped
the Federal Role
(continued)
• National Security and Defense
• Failure of the State to Act
• International Economic
Competitiveness
National Security &
Defense
• Smith-Hughes Act
• Impact Aid- WW II and Korea
• National Defense Education Act
Race and Civil Rights
• Brown v. Board of Education –
1954
• Civil Rights Act – 1964
• Issues of busing
• No Child Left Behind
Civil Rights
• Title IX -1972
• IDEA – 1975
Religion
• General Aid Bill – 1950
• Child Benefit Theory – 1965
• Vouchers – Cleveland Case Supreme Court Decision - 2003
War on Poverty
• ESEA – 1965
• Economic Opportunity ActHead Start
Politics & Special
Interests
• Partisanship
• Watergate
• Creation of Department of Education
– Jonestown Factor
• Small Program Creation
Failure of States to Act
• Many Federal Actions Have been
Triggered by States Not Meeting
Needs
• Voc Ed
• Title I
• IDEA
• Gifted
• NCLB
International Economic
Competitiveness
•
•
•
•
NDEA -- 1957
National Education Summit – 1989
National Education Goals – 1990
Goals 2000 - 1994
Selected Key Findings
• Second Chance Heritage
• Anecdotes Drives Policy, Not
Data
• Worst Case Drives Law and Regs
• Federal System is Cumbersome
• A "D" Grade in Capacity and
Timing
• Powerful Ideas Matter
• Importance of Presidential
Involvement
Selected Key Findings
• Hill Leaders Are From Safe
Districts
• The Power of the Business
Community
• Federal Law Often Reflects
Lead States
• Federal Organization Matters
• The Feds Get an "F" for Student
Motivation and Parental
Involvement
Forces Affecting Future
Policy
•
•
•
•
•
Education as a Civil Right
Second Chance Options Remain
Free Markets
Centralization v. Flexibility
Scientifically-based Evidence
Areas for New
Initiatives
• Technology
• Early Learning
• High School Reform
• Teacher Education
As a Nation, We need a
National Discussion on the
Role and Priority of
Education.
The Federal Government
as Orchestra Conductor
• In the 1950s, federal role was
akin to that of second chair
string status.
• In the 21st century, the federal
role has become that of
orchestra conductor, cuing
everything from highly qualified
teachers to supplemental
services to accountability.