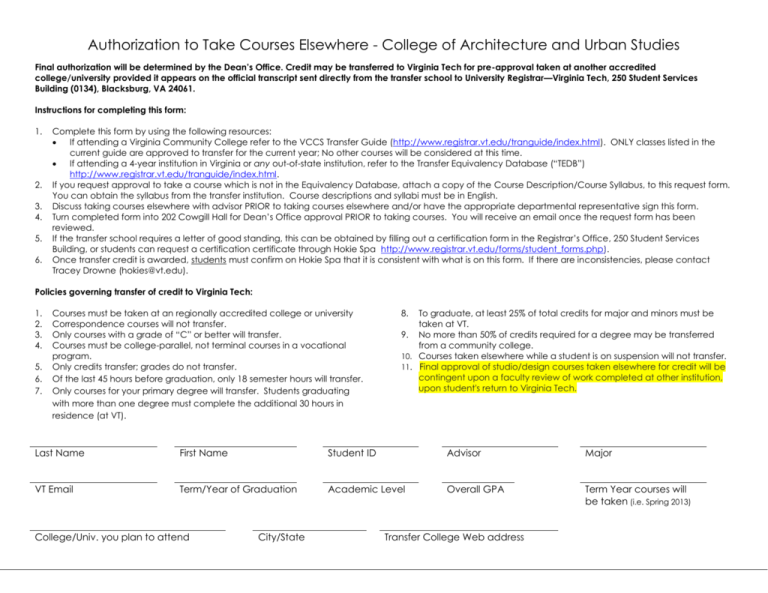 Authorization to Take Courses Elsewhere - College of Architecture and Urban Studies
Final authorization will be determined by the Dean's Office. Credit may be transferred to Virginia Tech for pre-approval taken at another accredited
college/university provided it appears on the official transcript sent directly from the transfer school to University Registrar—Virginia Tech, 250 Student Services
Building (0134), Blacksburg, VA 24061.
Instructions for completing this form:
1.
2.
3.
4.
5.
6.
Complete this form by using the following resources:

If attending a Virginia Community College refer to the VCCS Transfer Guide (http://www.registrar.vt.edu/tranguide/index.html). ONLY classes listed in the
current guide are approved to transfer for the current year; No other courses will be considered at this time.

If attending a 4-year institution in Virginia or any out-of-state institution, refer to the Transfer Equivalency Database ("TEDB")
http://www.registrar.vt.edu/tranguide/index.html.
If you request approval to take a course which is not in the Equivalency Database, attach a copy of the Course Description/Course Syllabus, to this request form.
You can obtain the syllabus from the transfer institution. Course descriptions and syllabi must be in English.
Discuss taking courses elsewhere with advisor PRIOR to taking courses elsewhere and/or have the appropriate departmental representative sign this form.
Turn completed form into 202 Cowgill Hall for Dean's Office approval PRIOR to taking courses. You will receive an email once the request form has been
reviewed.
If the transfer school requires a letter of good standing, this can be obtained by filling out a certification form in the Registrar's Office, 250 Student Services
Building, or students can request a certification certificate through Hokie Spa http://www.registrar.vt.edu/forms/student_forms.php).
Once transfer credit is awarded, students must confirm on Hokie Spa that it is consistent with what is on this form. If there are inconsistencies, please contact
Tracey Drowne (hokies@vt.edu).
Policies governing transfer of credit to Virginia Tech:
1.
2.
3.
4.
5.
6.
7.
Courses must be taken at an regionally accredited college or university
Correspondence courses will not transfer.
Only courses with a grade of "C" or better will transfer.
Courses must be college-parallel, not terminal courses in a vocational
program.
Only credits transfer; grades do not transfer.
Of the last 45 hours before graduation, only 18 semester hours will transfer.
Only courses for your primary degree will transfer. Students graduating
with more than one degree must complete the additional 30 hours in
residence (at VT).
8.
To graduate, at least 25% of total credits for major and minors must be
taken at VT.
9. No more than 50% of credits required for a degree may be transferred
from a community college.
10. Courses taken elsewhere while a student is on suspension will not transfer.
11. Final approval of studio/design courses taken elsewhere for credit will be
contingent upon a faculty review of work completed at other institution,
upon student's return to Virginia Tech.
Last Name
First Name
Student ID
Advisor
Major
VT Email
Term/Year of Graduation
Academic Level
Overall GPA
Term Year courses will
be taken (i.e. Spring 2013)
College/Univ. you plan to attend
City/State
Transfer College Web address
Courses to be taken elsewhere:
Dept & Course #
Course Title
Virginia Tech Equivalent
# of
sem. hrs.
Dept & Course #
Course Title
Dept. use only:
# of
sem. hrs.
______________________________________________________
Student Signature
Date
________________________________________________________
Department/Advisor Signature
Date
By signing this form I signify that I have read and understand all of the policies and procedures governing Authorization to Take
Courses Elsewhere outlined on page 1.
Dept. Signature above affirms that student has discussed his/her plan with academic advisor but
does not guarantee final transfer credit approval.
______________________________________________________
Study Abroad
Date
________________________________________________________
Associate Dean for Academic Affairs
Date
College Approval (202 Cowgill Hall)
If you are participating in a study abroad program, you must obtain a signature from one of the study abroad advisors in ORIED.
The signature above affirms that study abroad plans have been received, all necessary paperwork has been completed, and
accreditation confirmed.
Students going abroad should work with their advisor or dean's office by e-mail if class schedule changes.
Forward new course descriptions/syllabi for review WHILE you are abroad. Do not wait until you return to Virginia Tech.
Request will not be processed without departmental, study abroad (if applicable), and college approval signatures
**Authorization is denied if student is placed on Academic Suspension.**
This form should be returned to 202 Cowgill Hall for final approval.