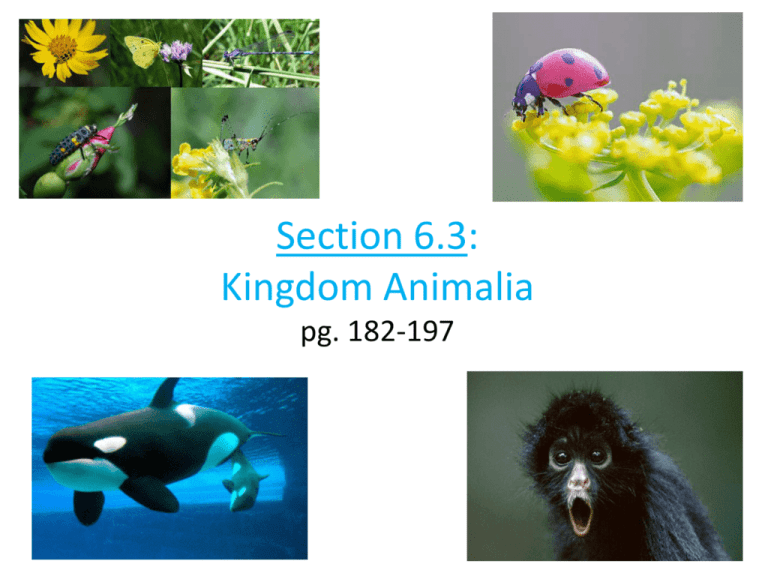 Section 6.3:
Kingdom Animalia
pg. 182-197
Part 1:
Invertebrates
Animal Kingdom
• Includes the very small
to the very large
organisms on Earth.
• Animals:
– are multicellular
eukaryotes
– are heterotrophic
– reproduce sexually
Animal Characteristics
These are used to classify
animals into different phyla:
1. The number of Germ Layers
– "germ" = cells in early stages
– Most have 3 layers: ectoderm
(outer), endoderm (inner) &
mesoderm (middle)
2. Digestive Tract
– Most animals use
extracellular digestion
– Incomplete digestive tract :
only one opening (food &
wastes use the same
opening)
– Complete digestive tract :
separate openings for food
& wastes.
3. Body Symmetry
– Asymmetrical Body : irregular shape (i.e.
sponges, who are the simplest animals)
– Symmetrical Body : most animals are balanced in
their shape
Symmetry
There are 2 types of symmetry
1. Radial (Fig. 6.17a, pg. 185)
2. Bilateral (Fig. 6.17b, pg. 185)
4. Development of a Coelom
– Coelom = a fluid-filled body
cavity
– The presence of a coelom
allows for the development of
more complex organ systems.
– Animals with a coelom =
coelomates
– Animals without a coelom =
acoelomates
5. Reproduction
– All animals reproduce sexually
– Some also reproduce asexually
– Some are hermaphrodites = have both male &
female reproductive organs
Invertebrates
(95% of Animal Kingdom)
• Examples include: (see Table 6.2, pages 183-184)
–
–
–
–
–
–
–
–
–
–
–
–
sponges
sea anemones
jellyfish
coral
planarians
tapeworms
leech
slug
clam
octopus
starfish
sand dollars, etc.
Invertebrate Characteristics
• Lack of internal structures
• Reproduction includes
sexual & asexual
• Some are coelomate
(i.e. earthworm) & some
are acoelomate (i.e.
flatworm)
Invertebrate Characteristics
• Can have asymmetrical (i.e. sponges), radial
(i.e. jellyfish) or bilateral body forms (i.e.
earthworm).
There are over 30 phyla
of invertebrates, but we
will look at the major eight.
8 Phyla of Invertebrates
1.
2.
3.
4.
5.
6.
7.
8.
Porifera
Cnidaria
Platyhelminthes
Nematoda
Annelida
Mollusca
Echinodermata
Arthropoda
Phylum Porifera
• Means "pore-bearing"
• Example: Sponges
Phylum Cnidaria
• Means "thistle"
• Examples: Jellyfish, corals, sea anemones,
hydras
Phylum Platyhelminthes
• Means "flat, wide worms"
• Examples: Tapeworms, flukes, planarians
Phylum Nematoda
• Means "thread-like"
• Examples: Pinworms, hookworms
Phylum Annelida
• Means "ring"
• Examples: Earthworms, leeches, tubeworms
Phylum Mollusca
• Means "soft-bodied"
• Examples: clams, oysters, squids,
octopi, snails, slugs, scallops
Phylum Echinodermata
• Means "spiny-skinned"
• Examples: starfish, sea cucumbers, sand
dollars, sea urchins
Phylum Arthropoda
• The MOST successful phylum!!
• Over 1 million species have been identified.
• Very diverse – some live at the bottom of the
ocean, and some float in the air.
Examples of Arthropods
• Include:
– Insects
– Spiders
– Shrimp
– Barnacles
– Lobster
– Scorpions
Arthropods…
•
•
•
•
have jointed appendages
have bilateral symmetry
have a coelom
have a "tube within a tube"
digestive system
• reproduce sexually
Why are Arthropods
So Successful?
• Exoskeleton:
– a rigid, jointed external skeleton
– is waterproof and protects against water loss
– they must shed their exoskeleton in order to grow.
Other Reasons Why They Are
Successful…
• The nature of their body segments & attached
appendages.
• Their well-developed nervous system.
• Their structures & functions related to feeding
themselves.
Insects
• The most successful species
on Earth.
• But Why???
1. They have many adaptations
for feeding.
2. Most are small in size,
allowing them to hide.
3. They move quickly and many
have wings.
Insect Mimicry
• Some insects have an
adaptation called mimicry.
• Mimicry: the ability to look
like something else.
Two Short Videos
• Insect Mimicry
• Phylum Arthropoda "How Stuff Works"
Section 6.3: Part 1
Review Activities
• Do the "Survey of Invertebrates" handout.
• Go to lab to do the Investigation 6C on pages
188-189.