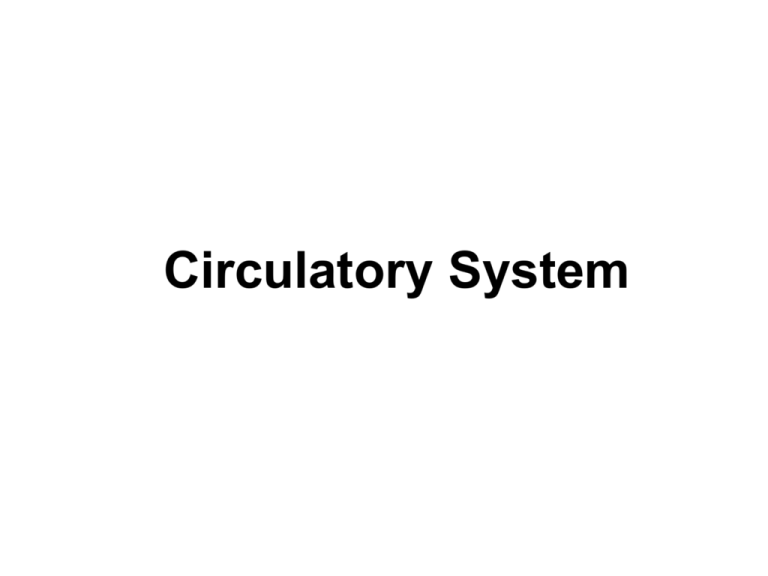 Circulatory System
Main Structure
•
Blood
o
•
Transports nutrients,
wastes, O2 and CO2
and hormones
Heart
Right pumps
deoxygenated blood to
the lungs
o Left pumps oxygenated
blood to all other
organs and tissues
o
•
System of blood
(whole slide source 4)
•
Four Chambers/ Two Pumps
right side:
right atrium and right
ventricle
pumps deoxygenated blood
to capillary beds in the
lungs (pulmonary circuit)
left side:
left atrium and left ventricle
accepts oxygenated blood
that will be pumped to rest
of the body
(systemic
(whole slide source 1)
circuit)
•
Blood
•
•
•
•
Keeps conditions tolerable for enzymes
Speed slows down in capillary beds (4)
Transports O2 , nutrients and other solutes
to cells
Carries away CO2 , metabolic waste, and
secretions (2)
Components of Blood
•
Plasma
o
o
•
o
Red blood cells
o
•
•
50-60% of total volume
Mostly water, serves as transport medium
What everything is dissolved in
o
Contains hemoglobin and carry away CO2 waste
O2 gives it its color
White Blood Cells
o
Some engulf damaged/dead/foreign cells
Platelets
o
(whole slide source 4)
Responsible for blood
clotting
Arteries
•
•
•
large diameter
thick walls to
sustain high
pressure (4)
carries both
oxygenated and
deoxygenated out
of the heart (3)
Capillaries
•
•
•
•
•
Diffusion zones
Between 10 and 40 billion capillaries in body
Large surface area for gas exchange
Close to cells
o
short distance means fast diffusion for O2 and CO2
Red blood cells go single file through
o
o
capillaries are 3-7 micrometers
squeeze puts red blood cells and substances
dissolved in plasma in direct contact with the
exchange
(whole
slide sourcearea
4)
Veins
•
•
•
large diameter
no blood pressure
pushes blood
along with
muscular
contraction (4)
http://resources.fadavis.com/gylyssystems6/Animations/animations.cfm?exercis
e=CO2O2&title=Carbon%20Dioxide/Oxygen
%20Transport
watch parts 3, 6, 10, 11, and 17
References
1. "Heart Anatomy." Anatomy of the Heart. Texas Heart Institute, n.d. Web. 6
Nov. 2012.
<http://www.texasheart.org/HIC/Anatomy/anatomy2.cfm>.
2."Circulatory System: The Circle of Blood." The Human. Franklin Institute, n.d.
Web. 6 Nov. 2012.
<http://www.fi.edu/learn/heart/systems/circulation.html>.
3."Heart and Circulatory System." Kids Health for Parents. Nemours, n.d. Web.
6 Nov. 2012.
<http://kidshealth.org/parent/general/body_basics/heart.html>.
4. Starr, Cecie, and Ralph Taggart. Biology: The Unity and Diversity of Life.
N.p.: Brooks/Cole, 2001.
Print.