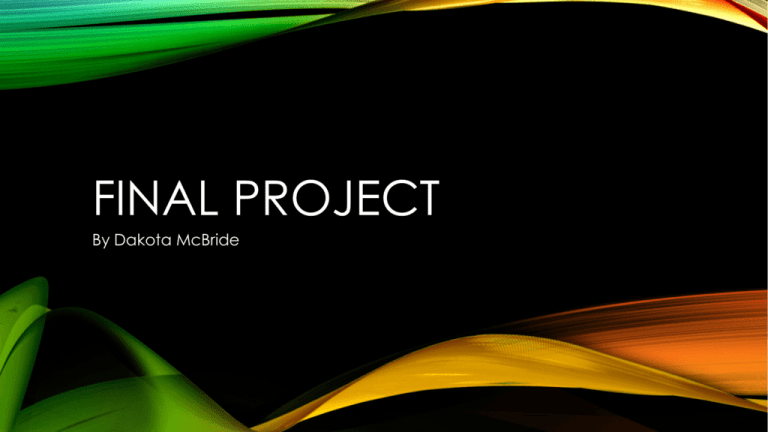 FINAL PROJECT
By Dakota McBride
INTRODUCTION
In this short presentation I will give you a description and example of the plot
diagram, setting, plot element, point of view, narrator, voice, and theme.
Don't worry it will be over before you know it. Hope you enjoy.
PLOT DIAGRAM
Climax
Dénouement
Exposition
EXPOSITION
• The begging of the story
• Intro of setting, characters, and sets time
• comprehensive description and explanation of an idea or theory
Talks about how Montresor was wronged and he would get revenge. The
exposition can very in many leanth and sizes. They aren't just one event. They
tell all the charters details, what there like, and what they look like.
INCITING INCIDENT
• where an event is struck upon the protagonist
• When the characters life changes from the normal to adapt to the story
When Fortunato threatens Montresor
RISING ACTION
• the series of events that begin immediately after the exposition
• builds up to the climax.
When they are walking to the nitre
CLIMAX
• the most intense
• Exciting or important point of the story
Montresor ties Fortunato in the nitre
FALLING ACTION
• Part of a story after the climax
• But before the very end
When Montresor puts up the brick wall in front of Fortunato.
RESOLUTION
• Central conflict has ended
The wall is built to the ceiling.
DÉNOUEMENT
• The final part of a play, movie, or narrative
• The strands of the plot are drawn together
• Matters are explained or resolved.
When Montresor says " Against the new masonry I re-erected the old rampart
of bones. For the half of a century no mortal has disturbed them.
SETTING
• the place or surroundings where something is positioned
• or where something takes place.
The setting for The Cask of Amontillado is in Italy
PLOT ELEMENT
• The main events of a play, story, or movie
One example would be when Montresor builds the wall to trap Fortunato.
POINT OF VIEW, NARRATOR, AND
VOICE
• Point of view
• 3rd person limited- it is limited to one person's thoughts and feelings, and
follows that one person
• 3rd person atomistic- tells every characters thoughts and feelings, and follows
them
• 2nd person- the narrator says you a lot
• 1st person- the narrator tells the story through his eyes
The Cask of Amontillado the theme is 3rd person atomistic because it tells the
side of both parties and uses names
THEME
• The lesson learned in the story
The theme of The Cask of Amontillado is to treat others how you want to be
treated.
CONCLUSION
• In this wonderful power point I have told you about the plot diagram, setting,
plot element, point of view, narrator, voice, and theme. Hope you learned
something.