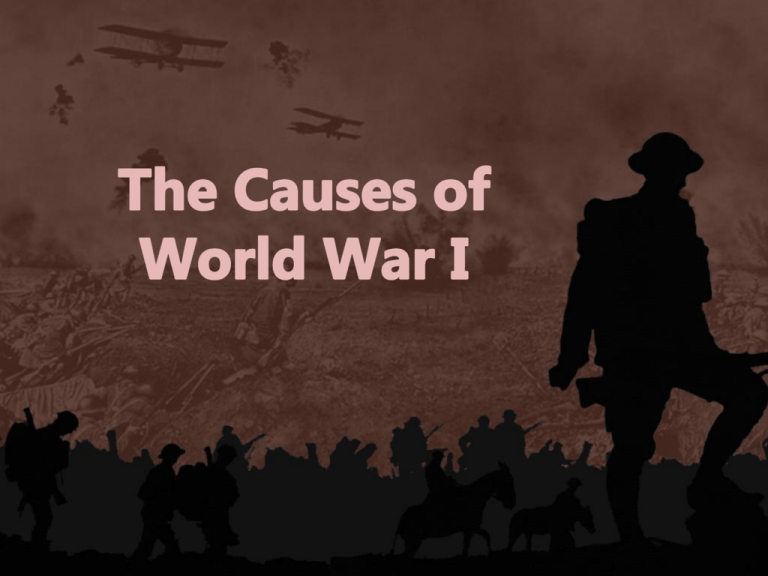 • Who was responsible
for starting World
War I?
•
•
•
•
Militarism
Alliances
Imperialism
Nationalism
Militarism
• European countries:
• To be great– must have powerful military
• "a policy of glorifying military power and keeping
a standing army always prepared for war."
• Large, strong standing army? = patriotism and fear
• Quickly mobilize, organize, and move troops
• Arms race
Alliances
• Growing rivalry and
mistrust
• Designed to keep
peace in Europe
• Competition
• Eventually pushes
toward war
• Increase strength
• One conflict/dispute?
• Entire continent at war
Alliances
• Central Powers (Triple
Alliance)-- 1882
• Allied Powers (Triple
Entente)-- 1907
• Germany
• France
• Austria-Hungary
• Great Britain
• Italy***
• Russia
• (United States)
• Purpose: Link together
for strength and power
• Purpose: worries of
strengthening
Germany
Imperialism
• "a policy in which a
strong nation seeks to
dominate other countries
politically, economically,
and socially."
• Africa and Asia
• Goal: Build national
wealth and influence
with colonies
• Pushed to the brink of
war
• Rivalry and mistrust grew
Nationalism
• "the belief that people should remain loyal to those with
whom they share a culture and history, rather than a king
or empire."
• New desires to create independent nations
• Serbians, Czechs, Slovakians, Bosnians, etc.
Crisis in the Balkans
• Ottoman Empire
declining
• Large number of ethnic
groups
• Groups long to create
and extend their own
borders
• Serbia
• Austria-Hungaryopposed
• Stir rebellion among
Slavs
• Russia- supported
The Balkans…
• 1908- Austria-Hungary
annexes Bosnia and
Herzegovina
• Serbia wanted territory-
outraged
• Tensions rise between
Serbia and Austria
A Shot Rings Throughout Europe
• Archduke Franz
Ferdinand- AustroHungarian heir
• Visited Sarajevo
(Bosnia) in June 1914
• Franz Ferdinand and
Sophie shot point-blank in
their open car
• Gavrilo Princip- 19 year
old Serbian nationalist
(Black Hand)
The Cusp of War
• Victims: Austrian
• Assassin: Serbian
• July 23, 1914- Austria
sends ultimatum to
Serbia
• To avoid war, they
agreed to most demands
• Austria already settled
on war
"The Great War Begins"
• July 28, 1914- Austria-
Hungary declares war
on Serbia
• Russia (Serbian ally)
mobilizes troops toward
Austria and Germany
• August 1, 1914- Germany
declares war on Russia
• August 3, 1914- Germany
declares war on France
(Russian ally)
• Great Britain declares war
on Germany
"The War to End All Wars"
• Central Powers:
• Germany, AustriaHungary
• (Bulgaria and Ottoman
• Allies
• Great Britain, France,
Russia
• (Japan, Italy**)
Empire)
•
War begins– soldiers expect a short war
• Few saw the horrors to come…
World War I Begins…
• http://www.history.com/topics/world-war-i/world-war-i-
history/videos/causes-of-world-war-i
Who is to blame for WWI?