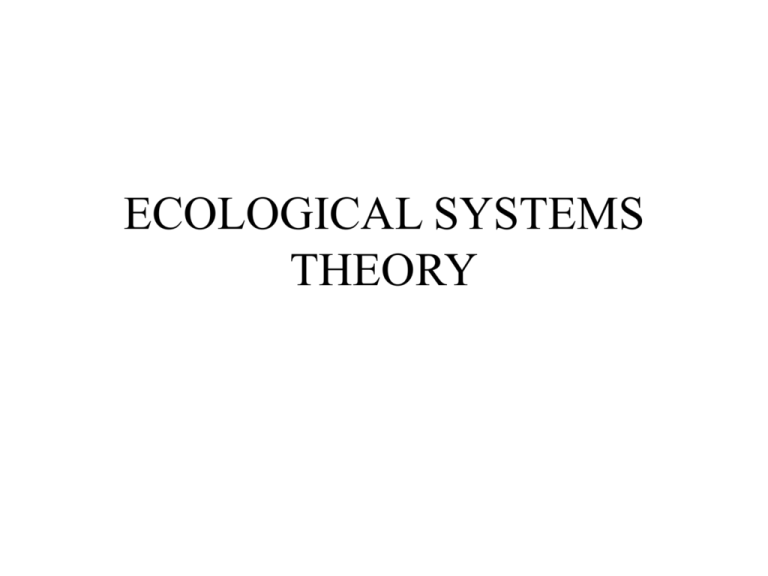 ECOLOGICAL SYSTEMS
THEORY
Urie Bronfenbrenner
• Ecological systems model of socialization
• Used in many texts: ie.
• Mass media and socialization
Livolsi, Marino.
The four systems 1:
• Microsystem: Immediate environments
(family, school, peer group, neighborhood,
and childcare environments)
• Mesosystem: A system comprised of
connections between immediate
environments (i.e., a child's home and
school)
The four systems 2:
• Exosystem: External environmental settings
which only indirectly affect development
(such as parent's workplace)
• Macrosystem: The larger cultural context
(Eastern vs. Western culture, national
economy, political culture, subculture)
MICROSYSTEM• SIGNIFICANT OTHERS
• FAMILY DYSFUNCTIONAL or
FUNCTIONAL
• -EMOTIONAL,
• CARING,
• LANGUAGE RICH.
EXOSYSTEM
• OUTSIDE THE INDIVIDUAL
• CHILD NOT ACTIVE PARTICIPANT
EXOSYSTEM
FACTORS:
• NEIGHBOURHOOD
• POVERTY
• PARENTAL EMPLOYMENT
MESOSYSTEM
•
•
•
•
INTERMEDIATE SOCIALIZER
TEACHERS, PRINCIPALS
FAMILY AND SCHOOL
FAMILY AND PEER GROUP
Chronosystem
-temporal changes
Chronosystem
• Ecological systems or individuals
producing new conditions that affect
development.
Self-Identity:
• While in earlier, traditional societies we
would be provided with that narrative and
social role. (clear cut)
• In the post-traditional society we are
usually forced to create one ourselves.
(ambiguous)
Late modernity and Self
• As Giddens (Modernity and Self-Identity:
70) puts it: "What to do? How to act?
Who to be?
• These are focal questions for everyone
living in circumstances of late modernity –
Questions we must ask: either discursively
or through day-to-day social behaviour."
SELF CONCEPT
• Self-concept or self identity is the mental
and conceptual understanding and persistent
regard that sentient beings hold for their
own existence.
• In other words, it is the sum total of a
being's knowledge and understanding of
his or her self
Self-concept
• . The self-concept is different from selfconsciousness, which is an awareness or
preoccupation with one's self.
• Components of the self-concept include
physical, psychological, and social
attributes, which can be influenced by the
individual's attitudes, habits, beliefs and
ideas.
•
• These components and attributes
can not be condensed to the
general concepts of self-image
and the self-esteem.
Self-concept is learned.
•
•
•
•
(1) It is learned,
(2) it is organized,
(3) it is dynamic.
Each of these qualities, with corollaries,
follow.