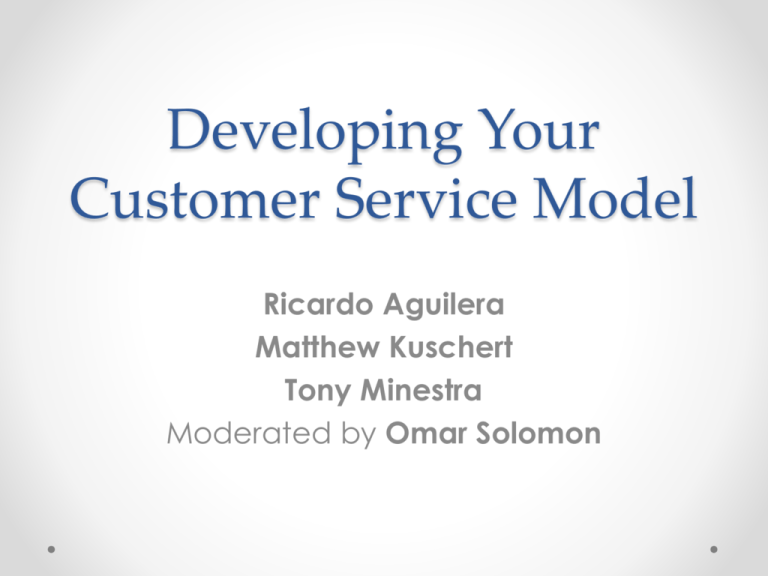 Developing Your
Customer Service Model
Ricardo Aguilera
Matthew Kuschert
Tony Minestra
Moderated by Omar Solomon
Opening Thought
I've learned that people will forget
what you said, people will forget
what you did, but people will never
forget how you made them feel.
Maya Angelou
The Disney Model
"Give the public everything
you can give them."
Lessons from the Mouse
•
•
•
•
•
The front-line is the bottom line
On-stage vs. back-stage
"What time is the 3 o'clock parade?"
2 Ears, 2 eyes,1 mouth - in that order
"Wow" moments
A Quick Thought
Do what you do so well that
they will want to see it again
and bring their friends
Walt Disney
Your experiences…
What makes you different?
School A
School B
Suburban
Liberal Arts
2,900+ undergrad
55+ majors
Class Size: 18
Avg. ACT: 24
Avg. GPA: 3.40
Costs: $42,000
Lots of Trees
Suburban
Liberal Arts
2,700+ undergrad
55+ majors
Class Size: 21
Avg. ACT: 25
Avg. GPA: 3.50
Costs: $40,000
Lots of Trees
What makes you special?
Customer Service is COMPLETELY in your control
•
•
•
•
•
Your willingness and effort
Your availability and timeliness
Your knowledge and honesty
Your commitment to your College and your Career
Your approach and your personal touch
A Quick Thought
If we don't take care of our customers,
someone else will.
UNKNOWN
Why did we do it?
•
•
•
•
•
Honest internal reflection is healthy
We have limited fiscal resources
Build our competitive advantage
Enhance and define our image
It's about students…period
What does it take?
•
•
•
•
•
Everyone needs to go all in
Support from Directors and Dean
Meet often and with open dialogue
Defined leadership
Dedication to the process
Where to begin?
•
•
•
•
Set the tone early
Identify specific areas to address
Develop task forces
Break it down into bite-size pieces
Who's involved?
•
•
•
•
•
•
•
•
•
•
Director of Admissions
Director of Office Operations
Associate Directors
Assistant Directors
Entire Counseling Staff
Visit Coordinator
Office Secretaries
Transcript Analyst
Processors, Mailroom
Key Student Workers
Where did we focus?
Task Forces
• The Campus Visit Experience
• Prospects to Contact Group
• The Application Cycle
• Post-Admission and Enrollment
• Our Day-to-Day Operations
• Customer Service Mission and Model
What did we use?
What did we do?
•
•
•
•
•
•
Meet early, often, and regularly
Open and honest conversations
Inclusive > Exclusive language
Creative and dynamic thought
Value all points of view
RESPECT the people and the process
Sharing out
•
•
•
•
•
•
Consensus building
Assign point person
Schedule a full day
Present findings and thoughts
Open Discussion
Move to an action plan
A Quick Thought
There is a spiritual aspect to all our lives – when
we give we receive – when a business does
something good for somebody, that
somebody feels good about the business.
Ben Cohen, Ben & Jerry's
Prospect to Contact Cycle: Strengths
•
•
•
•
Multiple paths for prospects
Quick turnaround time
Build info to fit prospect = unique
Mailing history documented
Prospect to Contact Cycle: Weaknesses
•
•
•
•
•
Complicated prospect cards
Illegible prospect cards
Athletics prospect system vs. ours
Limited access to general prospect inbox
Unsolicited email process
Prospect to Contact Cycle: Threats
•
•
•
•
•
•
Slow processing
Limited student worker availability
Bad contact info = returned mail
Human data entry error
Travel season = cards backing up
Other schools doing more
Prospect to Contact Cycle: Opportunities
• Online inquiries to auto-populate in system
• Ipads at fairs/HSVs = live prospect card
• Move admit account to exchange server =
more access
• Clarify and streamline mailing campaigns
• Organize cards by school ceebs(not fairs)
• Email to accompany inquiry mailings
• Create "hot tag" for prospects
• Cater mailings based on geographic region
What did we change?
Examples of Direction and Action Items
• Prospect to Contact: Remote access and ipads
• Day to Day Ops: Stagger shifts to accommodate surprise
• Application Cycle: Instant contact to students
• Post-Admission: Electronic articulation for transfer credit
A Quick Thought
Coming together is a beginning.
Keeping together is progress.
Working together is success.
Henry Ford
Our Vision
At every point of contact, we will provide an
authentic Elmhurst Experience.
Our Mission Statement
The Office of Admission at Elmhurst College is
dedicated to serving students, families, and
staff with the highest level of professionalism,
respect, and integrity.
We strive to provide a genuine and personal
experience while connecting our students and
families to the Elmhurst College community.
Our Core Values (3 "Cs")
Commitment
We are committed to supporting our students and
families to ensure that they feel informed and valued.
Connection
Connecting our students and families not only to the
College community, but also to relevant and
accurate information.
Courtesy
Together, and with kindness, we will help students and
families to navigate through the college-going
process to ensure a smooth transition.
The B.L.U.E.J.A.Y Way
A Final Thought
A customer is the most important visitor on our
premises. He is not dependent on us, we are
dependent on him. He is not an interruption in our
work, he is the purpose of it. He is not an outsider in our
business, he is part of it. We are not doing him a favor
by serving him, he is doing us a favor by giving us an
opportunity to do so.
Unknown
Questions?