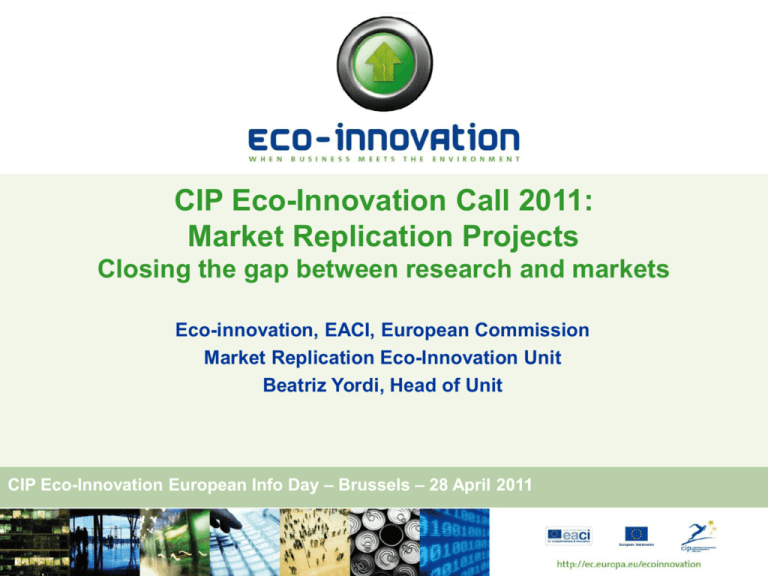 CIP Eco-Innovation Call 2011:
Market Replication Projects
Closing the gap between research and markets
Eco-innovation, EACI, European Commission
Market Replication Eco-Innovation Unit
Beatriz Yordi, Head of Unit
CIP Eco-Innovation European Info Day – Brussels – 28 April 2011
EACI
CIP: Competitiveness and Innovation Programme
EIP: Entrepreneurship and Innovation Programme
2
What do we do?
Eco-innovation – the market replication definition
« All forms of innovation reducing environmental impacts
and/or optimising the use of resources »
 Part of the CIP programme in EIP pillar




New services: greening businesses
New processes: cleaner production
New materials
New products
Good for business, good for the environment
3
Eco-innovation market replication projects
 Support innovative ideas which can
be turned into 'marketable' green
products and services
 These need incentives to penetrate
the market.
 Potential for replication and wider
application must be demonstrated
 Budget ~ €200 million (2008-2013)
4
Main target group: SMEs
 23 million SMEs in the EU
 The backbone of the economy
 99% of all enterprises
 1/3 world market shares
 Yet causing 60-70% of the
EU's industrial pollution
5
How does it work?
Key design elements
 Risk sharing for green ideas (50%)
 Market orientation
 Bridging the gap between RTD and
commercialisation
 Direct funding (no intermediaries)
 A kind of public business angels
Good for business, good for the environment
6
How
does elements:
it work?
Key
design
Key design elements
 Life Cycle Thinking
 Flexible - no partnerships required but
EU added value important
 Leverage factor and replication crucial
 Approximate project size: 1,4 m € total
costs
Good for business, good for the environment
7
Five priorities
 Materials recycling
 Sustainable building products
 Food and drink
 Water → NEW!
 Greening businesses/ smart purchasing
→ 36M€ for ~45-50 projects
 Compared to the 2010 call: resource efficiency transversal
priority, new water priority and small fine tuning on the rest
8
Materials recycling
 Improve quality of recycled material, better waste sorting
and treatment methods
 Innovative products using recycled material or
facilitating material recycling
 Business innovations to strengthen the competitiveness
of recycling industries, such as new market structures
for recycling products, processes and services
9
Sustainable building products
 Construction products and related processes
(construction, maintenance, repair, retrofitting or
demolition of buildings) that reduce consumption of
resources, embodied carbon and production of by-product
wastes.
 More environmentally friendly construction materials and
innovative manufacturing processes.
NEW! → Projects on the addition of various types of fly and bottom
ashes in concrete and mortar are not covered under this Call
10
Food and Drink Sector
 Cleaner and innovative products, including packaging
methods and materials aiming at higher resources
efficiency, reduction of waste and greenhouse gas
emissions, or/and increasing recycling and recovery
 New or improved production processes with high water
efficiency and improved water quality
 Innovative cleaner products, processes and services
aiming at reducing the environmental impact of
consumption of food and drinks
11
Water
 Water efficient processes, products and technologies (reduce
water consumption by at least 30%)
 Water-free processes.
 Water and wastewater treatment: solutions that offer greater
efficiency and reduced environmental impact.
 Smart distribution systems aiming at the saving of water,
chemicals, energy and materials: innovative systems for
measuring and adjusting chemical dosing, flow and pumping
rates; leakage detection and repair, novel pipe materials etc.
12
Greening businesses and smart purchasing
 Green products and services
 Substitution of materials by others leading to a reduced
environmental impact
 Clean production processes
 Re-manufacturing mechanisms and innovative repairing
services
13
Performance indicators
 Improved environmental
performance
 Better use of resources
 Economic Performance /
Market Replication
14
Increasing response to Eco-innovation Calls
 Important attention from the market, mainly SMEs
 More than 1000 web enquiries answered every year
Proposal Received
2008
2009
2010
134
202
+ 50%
287
+ 42%
43
47
~50
Yearly increase
Projects funded
15
15
Reaching the target group: more than 65% SMEs!
100%
SME
90%
81%
private
sector
80%
70%
66%
60%
50%
LARGE Enterprises
40%
30%
15%
20%
10%
19%
Universities/Public/Others
0%
Our beneficiaries (Source: call 2010)
16
SME's breakdown - Beneficiaries Eco-innovation
 79% of SME's are small and micro companies
17
17
Eco-I





versus
Post research
Adaptation for market uptake
Industrialisation
First commercial deployment
Market demonstration
FP 7 Research
 Basic research
 Applied research
 Prototyping/first practical
use of technology
 Technology demonstration
 Knowledge gathering
18
18
Eco-I
versus
 First application of solution and
market uptake
 Integrated approach covering
various environmental aspects
(resource efficiency including
water, energy and raw
materials…)
 Life-cycle approach
 Explicit SME and private sector
focus
 Market uptake important
IEE
 Promotion & dissemination of wellproven intelligent energy solutions
 Energy focus: energy efficiency &
renewable energy sources,
including transport
 Stimulates action through better
market conditions & admin.
procedures, training, awareness
raising, policy analysis etc
 No investment project, no RTD
 Impact and contribution to 2020
EU energy targets important
19
19
Eco-I
versus
 Priority on private sector,
businesses
 CIP umbrella
 Market competitiveness and
market uptake
 Replication is crucial
 Integrated environmental
impacts
LIFE +
 Mainly public sector
 Policy development and
Implementation of legislation
 Dissemination, awareness
raising, capacity building
 Land-use and urban planning
 Environmental solutions but
market uptake is not vital
20
20
Example from the Food & Drink sector:
GREENBOTTLE
A new type of milk bottle made of
a mix of recycled paper and
plastic that can be easily
separated and sorted
 Complete supply chain
consideration
 Closed loop paper supply
 Ensure disposal is consistent
with recycling criteria
throughout the EU
21
Example from the Food & Drink sector:
BRITER-WATER
 Briter-Water project: Bamboo farming to
clean grey water from juice and dairy
production
 Lower investment and operation costs,
no sludge
 Better water quality and carbon capture
gains
 France, UK, Portugal and Germany
22
Example from the Recycling sector: CAPS
 CAPS: Conversion of paper mill sludge
into absorbent material
 An innovative way of reusing waste into
a product
 Outcome: absorbent material for
cleaning up oil and chemical spills in
harbours
 Setting up two new production plants
(Slovenia and Finland)
23
Example from the Recycling sector: SATURN
 Sensor-sorting for recovery of nonferrous metals (NF)
 The aim is to automatically sort NF from
household metal waste into clean
fractions (different metals and alloys)
 A plant is built in Germany to implement
a range of different sensor-based
technologies
 Further replications, UK
24
Example from the building sector: INSULA TFH
 INSULA TFH: pre-insulated wall panels
 Low cost process to produce timber
frame panels with cellulose fiber
insulation
 Material used: recycled waste paper and
wood from the region
 Reduced transport, packaging and
landfill
 Materials with low embodied energy
 IRE, DE, BE
25
Example from the Green Business sector:
ECOTPU
.
 ECOTPU: New bio-plastic for sports
shoes coming from oil plants
 Production line will be set up and
started
 Involvement of footware and chemical
industry from ES and IT
26
Call planning 2011
 Fourth Call: 28 April with a closing date of
8 September 2011, 17h00
 Electronic submission (EPSS)
 Evaluation: end of 2011
 First projects start May 2012
 50% funding rate of eligible costs
 Max 3 years contract duration
27
Eco-Innovation website as source of information









Newsflash subscription
Call for proposals
Guide for proposers
Frequently asked questions
Grant Agreement and
Financial Guidelines
Info days + slides/recordings
Pre-screening: max 2 pages
summary
Link to EPSS
Projects database
http://ec.europa.eu/ecoinnovation
28
AFTERNOON
Bilateral talks
 Registration at the stand before 13:15
 Bilateral talks from 14:00 to 17:00
→ Please check your assigned room!
29
Thank you very much
For questions: contact our mailbox at
eaci-eco-innovation-enquiries@ec.europa.eu
In >95% we reply within 14 days!