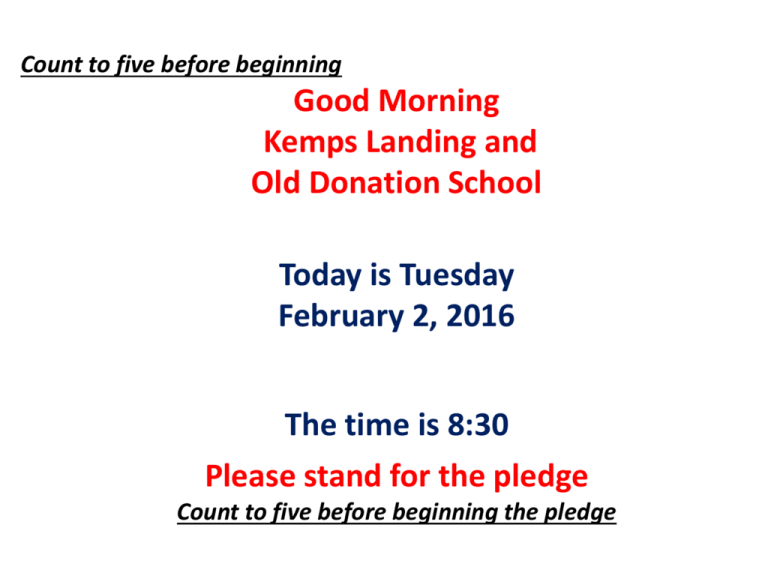 Count to five before beginning
Good Morning
Kemps Landing and
Old Donation School
Today is Tuesday
February 2, 2016
The time is 8:30
Please stand for the pledge
Count to five before beginning the pledge
I pledge allegiance to the Flag
Of the United States of America
And to the Republic
for which it stands
One Nation under God,
Indivisible, with Liberty and
Justice for all.
Pause for 10 seconds
The thought for the day
The Principle of American Citizenship
for the month of February is HONESTY
Honesty is the habit
of being truthful
in all areas of life!
Honesty Shines Bright!
Here's the news you need to know:
Color Guard Team 2 please report for duty this
week.
Color Guard Team 2 please report for duty this
week.
The Astronomy Club will meet tomorrow,
Wednesday, February 3rd afterschool in room
312.
The dodge ball tournament is this Friday,
February 5th from 3:30 to 5:15 and is $16 per
team.
Teams of 8 will face off in this double elimination
tournament.
Forms and money are due to Mr. Shaw today!
Come on get those teams together it will be fun!
The Chili Cook-Off and Basket Raffle/Silent
Auction fundraiser is one week from today,
February 5.
There are over $3,500 dollars in prizes to
raffle off or be in the silent auction. This is
so cool you do not want to miss it!
If you did not come to the silent auction
last year you really missed out because
there are some amazing things that will
be up for auction.
No kidding make plans to attend this
wonderful event!
Keep those chili entries keep coming in.
Make plans to come on Friday!!!!!!
Here are some Capstone Students to
share their service project with you
and how you can get involved
Kemps Landing Old Donation School's We the
people Club earned fourth place in the State
competition this past Saturday.
Congratulations. We are proud of you!
The last We the People meeting will be Monday
February 8
Tomorrow is Student night at the Opera.
Reminder to all Opera Students that tomorrow
is the performance of Romeo and Juliet.
As always we will meet at the Central library at
6:00pm.
We will return will at 10:30pm.
A Capstone Group is collecting used clothing
and winter attire for the homeless on Friday
February 5 during the chili cook Off.
Collection boxes will be set up in the cafeteria.
This is a great chance to donate some of your
clothes that you no longer wear.
This week is a great time to go through your
closets!!!
Friday is a big day there is a Dodge ball
tournament, the Chili Cook Off and the
Used Clothing drive for a Capstone Project!
The group will be running another
collection drive right after Spring Break!
Clean out those closets!
Here is a special announcement from Chloe
Manke
Please make a Valentine's Card for a sixth
grade student who has not been at school very
much this year because she has cancer.
A collection box will be in the cafeteria for the
cards.
Let's make her Valentine's Day great!
Let's let her know we are thinking of her!
I am definitely going to make a card for her.
I hope I can help make her day great!
Me too.
I hope everyone will take time out and put a
card n the collection box that will be in the
cafeteria.
All Middle School SCA Representatives
attending the city-wide meeting on
Wednesday
are to report to the library immediately after
school tomorrow.
Mr. Bone will meet you there for a study hall
prior to departure.
Parents are to pick you up from Plaza no later
than 6:25.
All middle school students who are
attending the Polar Plunge are required to
see Mr. Bone during your Lunch/FOCUS
today.
Teachers have the list of twelve who are
eligible for participation.
The Middle School SCA Executive Council
will meet Thursday after school in room
121A.
Here is an important message from our
elementary SCA!
We have a list of foods that we will be
collecting for Beach Bags
. Individual cereal boxes
8 oz shelf stable milk
Shelf-stable main course items (such as
ravioli, tuna, soups etc.)
Fruit cups or 100% juice boxes
Snack items such as granola bars, poptarts,
crackers, etc.
This is National School Counselor's week.
Challenge: Friendship
Today your School Counselors challenge
each Kemps Landing/Old Donation School
Student and staff member to learn two new
things about someone in your class
or about a colleague that you do not know
very well.
And Remember
*No Excuses
*Make it Happen
*Today is your day to
Shine!