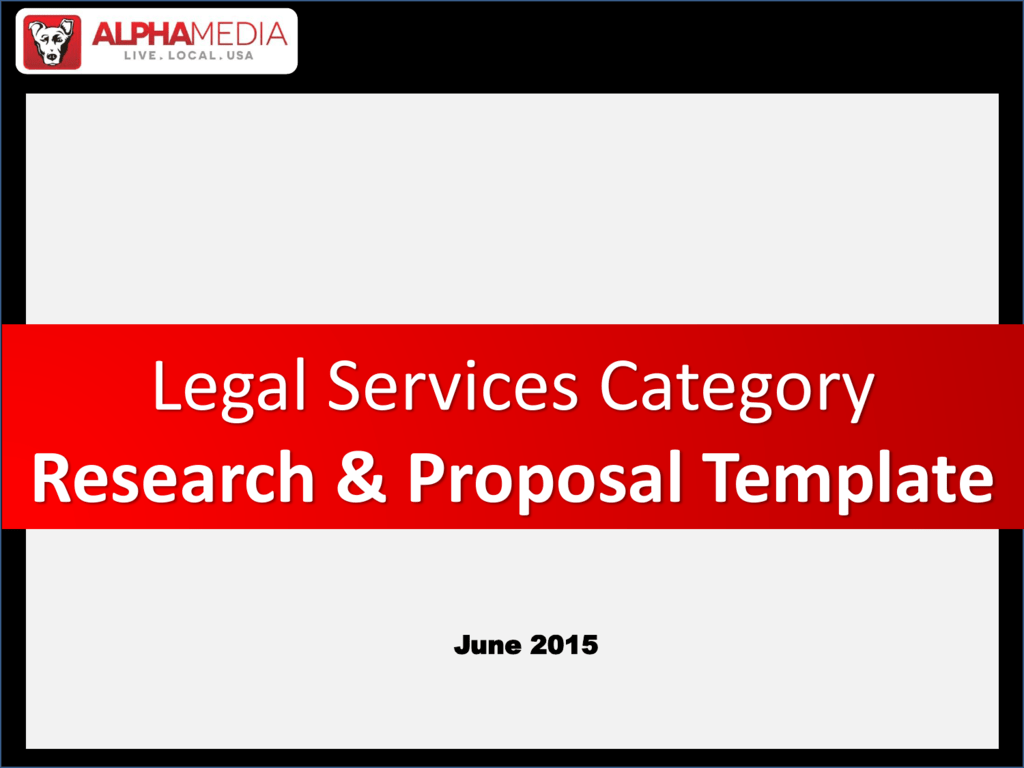 Legal Services Category
Research & Proposal Template
June 2015
Growing The Radio Pie 1 Category At A Time
3rd Quarter: Legal Category
The legal category has seen huge success in
dollars spent on radio, and is untapped for Alpha.
Legal deck and Research Materials prepared
DOS to assign to select AE's
Track progress and provide feedback
Legal Category Overview & Trends
 The number of attorney's in the United States continues to grow, year
after year.
 Demand for lawyers exists regardless of the economic climate, and the
industry weathered the recession well.
 Total ad spending in all media by the legal services industry amounted
to $939.5 million in 2013 (Source: Kantar Media, 2014 )
 The legal field is more competitive than ever and small firms can
compete with larger firms by maximizing their marketing dollars.
Legal Categories Include:











Personal Injury
Criminal Defense
Bankruptcy
Corporate
Tax
DUI – DWI
Divorce & Family Law
Employee Rights/Worker's Comp
Immigration Law
Real Estate, Wills and Estates
Business Consulting
Thought Starters





App sponsorship/texting programs
Block programming
Podcasting
Events
Creative using a female voice
Local Market Leads






Media Monitors
Google: Lawyer (+ Specialty + Region)
Yelp
SalesGenie.com
Book of Lists
Yp.com
Case Studies & VBR

Case Study (Professional Services)
http://www.alphasalesadvantage.com/case-study/
VBR
We recently worked with lawyer wanting to become one of the top Spanish Speaking
immigration attorney offices in region, and build awareness and reputation. As a result of the
campaign, the client had to increase their staff, hire additional attorney's, and buy a new call
center building to handle to call volume and new business. I would like to set a time to walk
you through the case study and discuss ways we might be able to increase your call volume.
Why Radio
Every week, radio reaches 94% of households that used the services of a personal injury
attorney in the past year, 95% of households that used a bankruptcy attorney, and 91% who
utilized any other type of attorney/legal service in the previous year. (Source: Scarborough USA, 2013)
Category Resources








American Bar Association: www.americanbar.org
National Association for Law Placement: www.nalp.org
Altman Weil: www.altmanweil.com
American Lawyer: www.americanlawyer.com
FindLaw.com: www.findlaw.com
AttorneyFee.com: www.attorneyfee.com
American Academy of Matrimonial Lawyers: www.aaml.org
AboutBail.com: www.aboutbail.com
Alpha Law Experts
Have You Covered
Presented To:
July 2015
Campaign Target & Objective
Target:
 People needing legal services
 People who may need legal services in the future
Objective:
 Drive phone calls
 Drive traffic to website
 Promote services/Build awareness & trust/Stay top-of-mind
Campaign Strategy:
Alpha Law Experts Have You Covered
 Category exclusivity (Personal Injury, Criminal Defense,
Bankruptcy, Corporate, Tax, DUI – DWI, Divorce & Family
Law, Employee Rights/Worker's Comp, Immigration Law,
Real Estate, Wills and Estates
Business Consulting)
 Consistent, high frequency campaigns
 Optimize weekends and early week for cost efficient rates
 High impact audio messaging to drive branding and call to
action
Campaign Elements
 :30, :15, :05 audio
 Law Expert Microsite
 Banner ads (using simpli.fi retargeting)
Demo of Microsite and Banner Ads
Campaign Ad Schedule
Campaign Summary:
Time Frame: July – December 2015
 Category Exclusivity and First Right of Renewal (renewal to
be exercised by November 30th 2015)
 Xx :30 commercials
 Xx :15 commercials
 Xx :05 commercials
 Xx banner ad impressions
 Inclusion on Alpha Law Expert microsite
_____________________________
Exclusive Category
____________________________
Client Signature
Thank you!
Presented by
Alpha Media
Radio vs. TV Advertising
TV Advertising Disadvantages





Is expensive to produce and to buy
Prime placement may not be available due to limited avails within the most popular programs
Is typically cluttered, so spots may be placed deep within a string of commercials. Viewers may head to the fridge during long
commercial breaks, or switch channels. Messaging may get lost in the shuffle, long-term recall may be lost.
May be fast-forwarded if program is recorded for later viewing
Increased use of social media in conjunction with TV-viewing may diminish or eliminate any attention to advertising messages aired
TV Plus Radio
 Reach: Radio's reach is similar to TV/Video, delivering approximately 243.8 million listeners or 92% of U.S. persons 12+
each week (Nielsen Audio, RADAR 122, September 2014) -- including many who don't regularly tune in to television or
cable programming.
 Local: Most AM/FM radio programming is local. This establishes a personal connection with the consumer that cannot be
matched by network TV or cable programming.
 Emotional Connections: Radio establishes an emotional connection with listeners, lending credibility to ad messages
aired. This is especially true when on-air personalities deliver the message or endorse products or services.
 Commercial Acceptance: Radio listeners are receptive to commercial messages they hear on their favorite stations.
 Environment: Radio is relatively uncluttered compared to television, especially versus local TV stations and cable.
 Cost: Good radio advertising is inexpensive to produce in relation to TV/cable production costs. Creative for the same
product can be tailored to appeal to a distinct consumer audience within a unique format such as Country, Talk, Urban, etc.
 Speed: The time to create a radio spot, produce it and get it on the air is shorter than the time to get a good TV/cable spot
ready for airing. Radio can be the advance team for messaging that needs to get out quickly, or for timed sales or events.
 Imagery Transfer: Radio can boost a TV/cable advertiser's message through imagery transfer or theater of the mind.
 Mobility: TV has become more mobile in recent years due to the capability to access on computers, tablets, and mobile
phones – but the fact remains that the majority of TV viewing in 2014 still takes place at home. TV advertisers can employ
radio's high in-car and at-work tune-in to extend their messaging to listeners who are out of home and closer to the point of
purchase.
 Recall: A Radio Ad Lab study on radio/TV synergy confirmed that adding radio to a TV ad schedule can boost brand recall.
Swapping out one of two television ads for two radio ads increased unaided brand recall by 34%.
Radio vs. Yellow Pages
Yellow Pages Disadvantages

Clutter: Whether using print or digital advertising, even a costly display ad can get lost among all the others for the same
product or service. And the cluttered environment provides potential customers with many opportunities for comparison
shopping.

Dated: Printed Yellow Pages are set for the year once they are printed.

Limited Exposure: Consumers only see most print and online search ads when they are actively looking for a business
referral, so there's no build-up of frequency of your name and information.

Lack of Mobility: Print Yellow Pages are typically viewed in the home or at the workplace, not out of home; payphones
are nearly non-existent today.
Yellow Pages Plus Radio
 Awareness: Many consumers already have a business name in mind when they turn to the PYP. Maintaining a radio ad
schedule will make sure people have been exposed to messaging about your business and insure top of mind awareness
among future prospects in the market. When consumers are ready to buy, but if they've been exposed continually to radio
ads, your business will be on their mind when they turn to local search.
 Exposure: Ads in the PYP are not seen until a consumer is consciously looking for information. Ads on radio are intrusive
and reach consumers every day, conveying your business's unique selling proposition and providing a known name when
search begins.
 Flexibility: Once the paper Yellow Pages are printed, a business's message is set for the year. Ads on radio can be
changed periodically to focus consumers on different aspects of the business, including sales and location, that they'll recall
when referencing the PYP when a need arises.
 Mobility: Radio listeners frequently hear advertising in cars and they also make decisions on where to shop, eat, etc. while
driving. The ability to now to search for a business online lends immediacy for follow-up to message heard on the radio.
Targeted Display
Put your ad in front of a customized audience using the following retargeted strategies:
Ad formats available include standard display, Facebook, mobile and video.