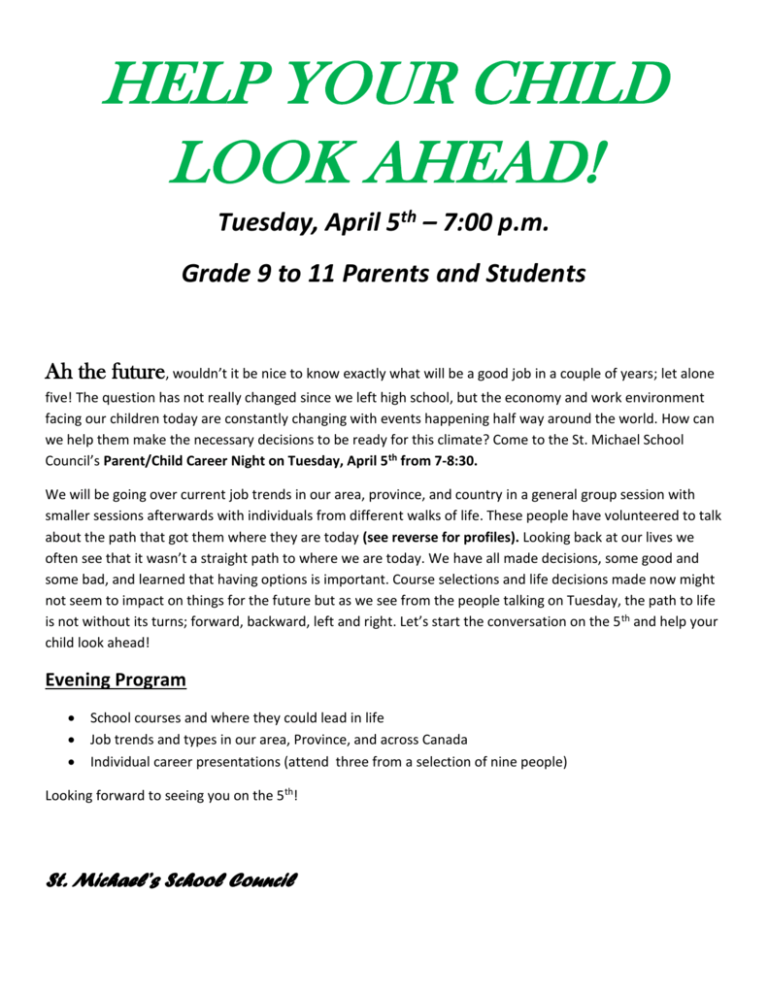 HELP YOUR CHILD
LOOK AHEAD!
Tuesday, April 5th – 7:00 p.m.
Grade 9 to 11 Parents and Students
Ah the future, wouldn't it be nice to know exactly what will be a good job in a couple of years; let alone
five! The question has not really changed since we left high school, but the economy and work environment
facing our children today are constantly changing with events happening half way around the world. How can
we help them make the necessary decisions to be ready for this climate? Come to the St. Michael School
Council's Parent/Child Career Night on Tuesday, April 5th from 7-8:30.
We will be going over current job trends in our area, province, and country in a general group session with
smaller sessions afterwards with individuals from different walks of life. These people have volunteered to talk
about the path that got them where they are today (see reverse for profiles). Looking back at our lives we
often see that it wasn't a straight path to where we are today. We have all made decisions, some good and
some bad, and learned that having options is important. Course selections and life decisions made now might
not seem to impact on things for the future but as we see from the people talking on Tuesday, the path to life
is not without its turns; forward, backward, left and right. Let's start the conversation on the 5 th and help your
child look ahead!
Evening Program



School courses and where they could lead in life
Job trends and types in our area, Province, and across Canada
Individual career presentations (attend three from a selection of nine people)
Looking forward to seeing you on the 5th!
St. Michael's School Council
Alan Archer is the Chief Liaison Officer responsible at Winchester District Memorial Hospital where his responsibilities
range from; planning volunteer services and new business development opportunities that contribute to the hospital
daily operations, human resources planning for recruitment, selection, training, and retention of volunteers, as well as a
consultative role supporting the WDMH Auxiliary incorporation. Alan has a MBA from Ottawa.
Brian Burns is the Chief Financial Officer for the Almonte General Hospital and Fairview Manor. In this role he is
responsible for Financial Services, IT, Diagnostic Imaging and Medical Records. Among other jobs Brian has also been
Director of Institutional Research and Planning at Algonquin College and Manager of Business Operations for Carleton
University. He has a B. Mathematics from Waterloo, a MBA from Queens, and is a CGA.
Jennifer Brown is currently a Guidance Counsellor at St. Michael's. She originally started in the restaurant industry and
moved into teaching first part-time with the Ottawa Catholic School Board and then fulltime in Cornwall with the
CDSBEO in both math and science. Jennifer received her specialist certification in Guidance and has been posted with St.
Michael's since. She has a B. Science – Biology and a Master of Science - Teaching.
Luis Miguel Huapaya is the Chief Software Architect for Comsecware Inc. a developer of security software for virtual
machines and the cloud. Previously, he spent over five years with Microsoft Corporation in Redmond, Washington
where he was involved with the development Microsoft's Windows operating system. Luis has authored several patents
for Comsecware and Microsoft. He has B. Computer Science from Ottawa.
Dan Lortie is the Ontario Youth Apprenticeship coordinator for the Catholic District School Board Eastern Ontario. Dan is
a point of contact for students from all schools who are interested in pursuing an apprenticeship trade through
cooperative education. Dan has had experience working in the construction trade and is also the Board coordinator for
hands on learning. He is a graduate of the Advertising Business program at St. Clair College.
Robert Morais is a serial entrepreneur and Managing Director of the management consulting group Strata. Robert has
also co-founded and operated biotech, edutainment, and software companies. His career started in corporate finance
and commercial banking and evolved into being a CFO for an international company and travelling to corporate deals
around the world. He has a B. Comm. from Ottawa, a FCSI, and is Chair of St. Michael's School Council.
Naomi Morisawa de Koven is an experienced business and financing lawyer and the founder of Morisawa De Koven
Professional Corporation. Among her other accomplishments she has been a member of the Ontario Securities
Commission's Small Business Advisory Committee, Chair of Volunteer Ottawa, and a director and corporate secretary of
a number of private companies. Naomi has a B.A. from McGill and earned her LL.B. at Toronto.
Marilou Robinson is the Senior Vice President – Manufacturing & Payment Services for Canadian Bank Note Company.
Marilou went to South Carleton High School and was President of the Student Council her final year. Afterwards she
earned her B. Arts by combining four years at Carleton and then Brock Universities. Marilou has spent 25 years with
Canadian Bank Note. She is also the Secretary of St. Michael's School Council.
Sean Souter is currently a Guidance Counsellor at St. Michael's. He started out teaching English-as-a-Second-Language in
such far flung places as India, Germany, and Japan for six years. Once he came back to Canada, he became a Guidance
Counsellor here with St. Michael's. Sean has Honours degrees in both history and geography, a B. Education, and a
general Arts and Sciences certificate from Seneca College in Toronto.
Paul VandenTillaart is the President of P.M. VandenTillaart Construction Ltd. a well-known and respected general
contractor, house builder and developer in the North Grenville area. Paul has owned his business for many years and
has been a supporter of our Co-op and OYAP program.