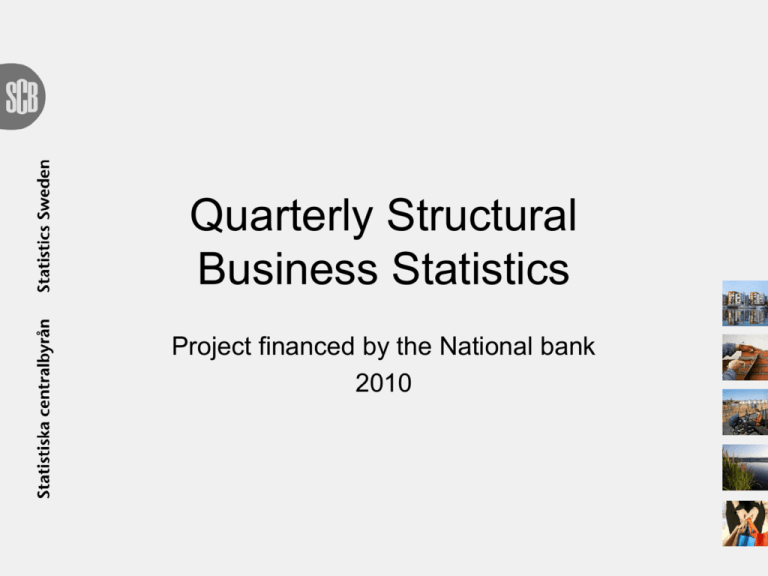 Quarterly Structural
Business Statistics
Project financed by the National bank
2010
Background
Financial crisis 2009
needs for new statistics
Questions:
- Underlying structural problems?
- Access to capital?
The Swedish Committee on Finance
The National bank
Statistics Sweden
Task
• Investigate the possibility to collect income- and
balancesheet data on a quarterly basis
Sub goals:
• Profits
• Key ratios
• Cash flow analysis
• Size class
Proposal for survey design
Steps on the way
• Project starts in April 2010
• Study of profit statistics
• Study of quarterly reports from 15 large enterprise
groups
• User contacts
• Methodological tests
• Project formally ends in October 2010
• Measurement test in January 2011
Test of approaches
• Varying needs from different users
• Test of 3 different approaches:
 National Accounts track (NA track)
 Size class track
 Cash flow track
NA track!
Content of variables
To cover the needs of National Accounts:
Income statement
Net turnover
+Other operating income
-Operating costs excluding employee benefit
expenses and depreciation
- Employee benefit expenses
-Depreciation and impairment____
=Operating profit
Content of variables
To get profit statistics we have to add:
+Financial income
-Financial costs
=Net profit
Content of variables
To calculate key ratios we also need:
Balance Sheet
Inventory
Current assets
Equity
Untaxed reserves
Current liabilities
Balance sheet total
Design according to the NA track
• 12 industrial groups (NACE)
• Stratification on NACE (level of characters)
• Allocation variable: net turnover
• Cut-off: enterprises < 20 employees
• Totally surveyed: > 249 employees
• Sample size: 4 600 enterprises (2,5% precision)
Industrial groups
NACE code
Industry description
05-09
Mining and quarrying
10-12
Food products, beverages and tobacco
13-18
Textiles, leather, wood, paper and graphic industry
19-24
Petroleum, chemical, pharmaceutical, rubber, mineral, steel etc.
25-33
Metal goods, electronics, transport industry, furniture etc.
35-39
Electric- /waterworks, sewage-treatment, waste management
41-43
Construction
45-47
Wholesale and retail trade, repair of vehicles and motorcycles
49-56
Transport, storage, postage, hotel and restaurant operations
58-68
Information/ comm., financial/insurance , real estate services
69-82
Consultancy, research, rentals, staffing- and business services
85-96
Education, healthcare, culture, leisure activities, gambling etc.
Estimated costs
Competence
Start up costs
Data collection
Regular annual costs
2 400 000
Methodology
300 000
830 000
IT
400 000
830 000
Knowledge of subject
matter
Total
100 000
2 300 000
800 000
6 360 000
Thank you for your
attention!