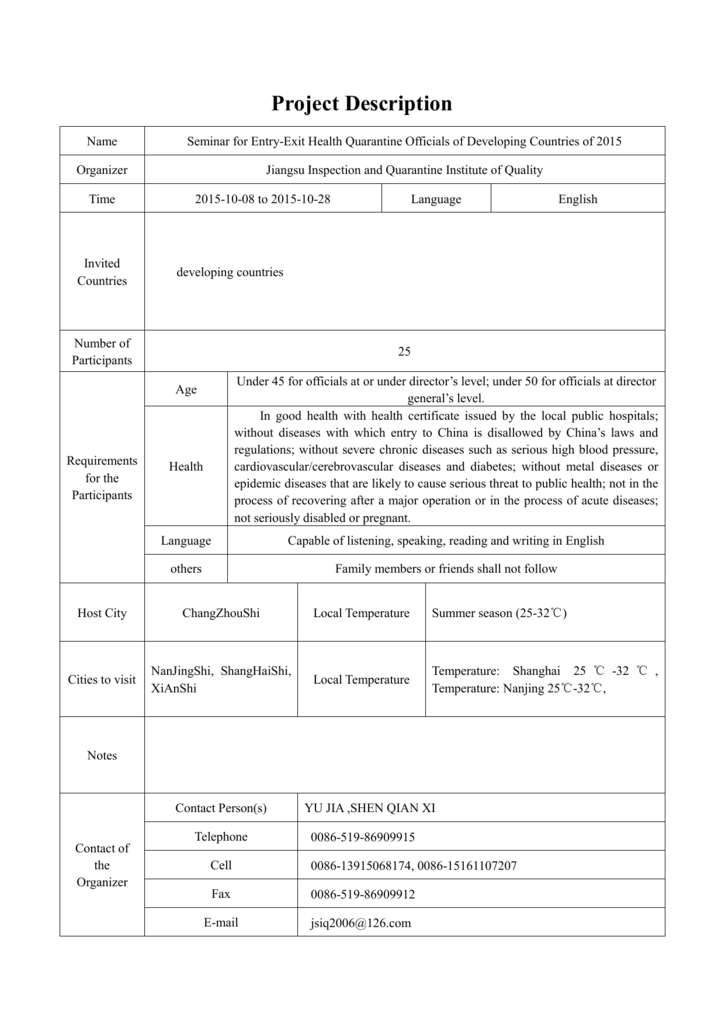 Project Description
Name
Seminar for Entry-Exit Health Quarantine Officials of Developing Countries of 2015
Organizer
Jiangsu Inspection and Quarantine Institute of Quality
Time
Invited
Countries
2015-10-08 to 2015-10-28
English
developing countries
Number of
Participants
25
Under 45 for officials at or under director's level; under 50 for officials at director
general's level.
In good health with health certificate issued by the local public hospitals;
without diseases with which entry to China is disallowed by China's laws and
regulations; without severe chronic diseases such as serious high blood pressure,
cardiovascular/cerebrovascular diseases and diabetes; without metal diseases or
epidemic diseases that are likely to cause serious threat to public health; not in the
process of recovering after a major operation or in the process of acute diseases;
not seriously disabled or pregnant.
Age
Requirements
for the
Participants
Language
Health
Language
Capable of listening, speaking, reading and writing in English
others
Family members or friends shall not follow
Host City
ChangZhouShi
Local Temperature
Summer season (25-32℃)
Cities to visit
NanJingShi, ShangHaiShi,
XiAnShi
Local Temperature
Temperature: Shanghai 25 ℃ -32 ℃ ,
Temperature: Nanjing 25℃-32℃,
Notes
Contact Person(s)
Telephone
Contact of
the
Organizer
YU JIA ,SHEN QIAN XI
0086-519-86909915
Cell
0086-13915068174, 0086-15161107207
Fax
0086-519-86909912
E-mail
[email protected]
About the
Organizer
Jiangsu Inspection and Quarantine Institute of Quality (hereinafter referred to as JSIQ) is an
affiliate of Jiangsu Entry-Exit Inspection and Quarantine Bureau as an independent legal entity,
and also the International Communication and Co-operation Base directly under General
Administration of Quality Supervision, Inspection and Quarantine of the People's Republic of
China, and which is a comprehensive scientific research institution integrates international
communication, quality research, comprehensive training, administration and consultation. At
present, there are seven departments, namely Department of International Communication and
Co-operation, Department of Quality Research, Department of Quality Training, Department of
Administration and Consultation, Department of Customer Evaluation, Department of Science and
Technology Information Service, and Department of General Management. Relying on the
advantages as excellent inspection and quarantine talents, information and technology, JSIQ
constantly strives to study, explore and promote the new theory and new technology in the fields of
commodity inspection, quarantine of animal, plant and their products, health quarantine of
entry-exit persons, food sanitation and safety, certification and accreditation, standardization and
so on; provide the enterprises with support in theory and guidance in technology for the
improvement of the product quality and promotion in the international competitiveness.
JSIQ started to undertake the human resource foreign aid training programs of Ministry
of Commerce since September 2006, and had undertaken 62 foreign aid training programs
concerning quality inspection successfully by 2014. The languages we use in class include
English, French, Arabic, Russian, Spanish and Portuguese, and there're totally 1500 officials and
technicians from 125 countries of 5 continents participating in our programs. JSIQ follows the
principles of "friendly, co-operative and mutually-beneficial", and fully practice the guidelines of
"building the training platform of quality inspection, promoting the image of China in quality".
And JSIQ established a management team of high political awareness, high management and
quality; built a teaching team of high capability of communication and foreign language;
developed a plurilingual translation team of high level and excellent capability; and made
contribution to boost the image of China in quality inspection, and serve the foreign trade!
Seminar
Content
The seminar will be organized by means of lecture, visiting, investigation, communication,
discussion, etc. We have arranged lectures given by the officials and experts from the Ministry of
Commerce of China, General Administration of Quality Supervision, Inspection and Quarantine
(AQSIQ), CIQ Jiangsu Bureau, such as: "General Review of China", "Reform and opening-up and
culture ramble of China", "Overview of China's entry-exit inspection and quarantine", "History
development and laws and regulations system of China's frontier health quarantine", "National
public health capacity building and implementation of IHR in China", "Hygiene and sanitation
supervision on frontier ports", "Health quarantine on frontier ports---quarantine work at airports",
"Health quarantine on frontier ports---quarantine work at seaports", "Monitoring of infectious
disease at frontier ports", "Establishment of China's international health airports and sanitary
ports", and "Prevention and control of medical vectors at frontier ports" etc.