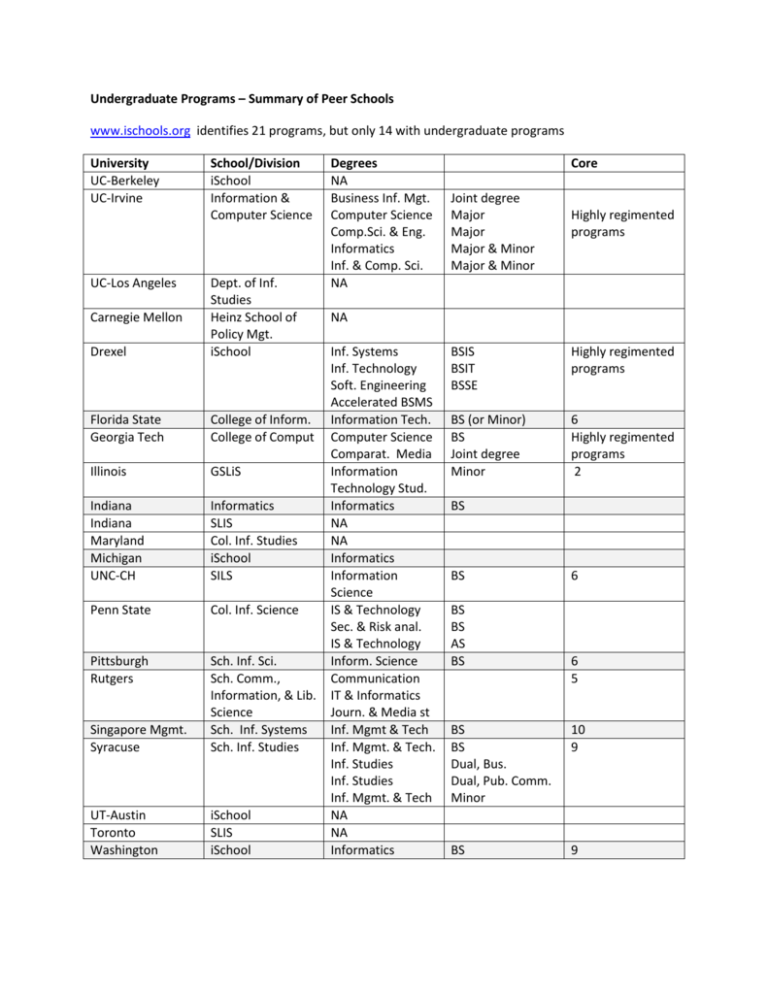 Undergraduate Programs – Summary of Peer Schools
www.ischools.org identifies 21 programs, but only 14 with undergraduate programs
University
UC-Berkeley
UC-Irvine
UC-Los Angeles
School/Division
iSchool
Information &
Computer Science
Drexel
Dept. of Inf.
Studies
Heinz School of
Policy Mgt.
iSchool
Florida State
Georgia Tech
College of Inform.
College of Comput
Illinois
GSLiS
Indiana
Indiana
Maryland
Michigan
UNC-CH
Informatics
SLIS
Col. Inf. Studies
iSchool
SILS
Penn State
Col. Inf. Science
Pittsburgh
Rutgers
Singapore Mgmt.
Syracuse
Sch. Inf. Sci.
Sch. Comm.,
Information, & Lib.
Science
Sch. Inf. Systems
Sch. Inf. Studies
UT-Austin
Toronto
Washington
iSchool
SLIS
iSchool
Carnegie Mellon
Degrees
NA
Business Inf. Mgt.
Computer Science
Comp.Sci. & Eng.
Informatics
Inf. & Comp. Sci.
NA
Core
Joint degree
Major
Major
Major & Minor
Major & Minor
Highly regimented
programs
NA
Inf. Systems
Inf. Technology
Soft. Engineering
Accelerated BSMS
Information Tech.
Computer Science
Comparat. Media
Information
Technology Stud.
Informatics
NA
NA
Informatics
Information
Science
IS & Technology
Sec. & Risk anal.
IS & Technology
Inform. Science
Communication
IT & Informatics
Journ. & Media st
Inf. Mgmt & Tech
Inf. Mgmt. & Tech.
Inf. Studies
Inf. Studies
Inf. Mgmt. & Tech
NA
NA
Informatics
BSIS
BSIT
BSSE
Highly regimented
programs
BS (or Minor)
BS
Joint degree
Minor
6
Highly regimented
programs
2
BS
BS
BS
BS
AS
BS
6
6
5
BS
BS
Dual, Bus.
Dual, Pub. Comm.
Minor
10
9
BS
9
The above table includes analysis of undergraduate program offerings at the 21 iSchools. Seven schools
have no undergraduate programs, one school has an undergraduate minor only, three programs have
highly regimented programs beginning at freshman year and were difficult to compare. Of the remaining
programs, there were six schools that had well-structured programs and adequate data on the Internet
to offer comparison: Florida State University, University of Pittsburgh, Rutgers University, Singapore
Management University, Syracuse University and the University of Washington.
Florida State University offers both the B.S. in Information Technology and a Minor. There are 6 courses
comprising the core. Four of these are foundation courses: Information Science, Technologies, Technical
Communication, and Resource Data and Analysis. The program has two tracks – (1) Information
Systems and Services and (2) Information Organization and Communication – and the introductory
course for each of these tracks (under the same titles) make up the other two courses in the core.
Electives are chosen based upon the track. There is also a two-course capstone perspectives and project
required in the senior year.
The University of Pittsburgh offers the B.S. in Information Science. There are 6 core courses and there
are additional electives allowing students to specialize in one of three concentrations: Information
Systems, User-Centered Design, or Networks and Security. The six core courses include: Introduction to
Information Systems and Society, Object-Oriented Programming 1 for Information Science, Database
Management Systems, Introduction to Telecommunication and Networks, Information Systems and
Analysis, and Human Factors in System Design.
Rutgers University School of Communication, Information, and Library Science offers three
undergraduate degrees: B.S. in Communication, B.S. in Information Technology and Informatics, and B.S.
in Journalism and Media Studies. We concentrated on the B.S. in Information Technology and
Informatics as being more comparable to our own program. There are 5 core courses required of all
students: Information Technology and Information; Social Informatics; Introduction to Computer
Concepts; Object-Oriented Programming; and Management of Technological Organizations. There is a
6th, interdisciplinary requirement, but students have a choice between two courses: Introduction to
Communication and Information Systems and Processes OR Introduction to Media Systems and
Processes.
Singapore Management University offers the B.S. in Information Management and Technology. There
are 6 core courses required of all University students regardless of major that include Analytical Skills
and Creative Thinking; Business, Government and Society; Management Communication; Ethics and
Social Perspectives; Leadership and Team Building; and Technology and World Change. The core
courses required specifically from the School of Information Systems include: Seminar in Information
Systems Management; Information Systems Software Foundations; Object Oriented Application
Development; Data Management; and Software Engineering.
Syracuse University offers a B.S. in Information Management and Technology, a minor, and two dual
degrees, including a degree with the business school and a degree with the school of communication.
The core courses for the B.S. include: the First Year Forum (an issues course); Information Technologies;
Introduction to Computer Networking; Introduction to Information-Based Organizations; Operating
Systems Administration; Information Analysis of Organizational Systems; Managing Information Systems
Projects; Introduction to Database Management Systems; and Professional Issues in Information
Management Technology.
The University of Washington offers the B.S. in Informatics. The program includes 10 core courses,
including: INFO 330 Information Architecture; INFO 380 Information Systems Analysis and Management;
INFO 481 Project Management; CSE 143 Computer Programming for Engineers and Scientists II; CSE 373
Data Structures and Algorithms; INFO 340 Database Management and Information Retrieval; INFO 343
Web Technologies; INFO 450 Information Policy; INFO 470 Research Methods; and INFO 360 Design
Methods for Human Computer Interaction.